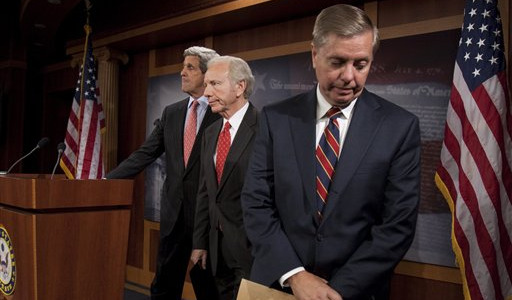 Leaders of 31 national organizations sent a letter to the Senate today pressing senators "not to squander the great promise of bipartisan action" for "strong clean energy and climate change legislation."
"This must be the year that the United States passes comprehensive climate and energy legislation into law in order to create jobs, strengthen our national security, and reduce carbon pollution," the letter said. "We can't afford to delay action any longer; we urge the Senate to take up a comprehensive energy and climate bill in June."
Signers include heads of virtually every major environmental and conservation group, among them the labor-environmental Blue-Green Alliance, League of Conservation Voters, Sierra Club, Defenders of Wildlife, Wilderness Society, Clean Water Action, Natural Resources Defense Council, Audubon Society and the National Tribal Environmental Council and Native American Rights Fund.
In a separate statement, the president of the Utility Workers Union of America, Michael Langford, said, ""Our 50,000 members, most of whom work every day at the forefront of the carbon-based generation of electricity, are truly angry that once again, partisan politics is delaying important national legislation."
The Utility Workers, which represents workers in electrical, gas, nuclear power, water, renewable energy and other industries, says climate change legislation would create 1.7 million new jobs in these industries.
These statements came after Monday's planned release of the climate change/energy bill was delayed because Republican Sen. Lindsey Graham of South Carolina said he was stopping his participation. Graham was one of the drafters of the bill along with Democrat John Kerry and Independent Joe Lieberman. But over the weekend he claimed he was pulling out because he objects to parallel efforts in Congress to advance immigration reform. Others say Graham is covering his right-wing flank, as the Republican far-right, working in tandem with an army of corporate lobbyists, revs up attacks on any curbs on Big Oil and other carbon-spewing industries.
Two important business alliances also called on the Senate to enact the climate and energy legislation.
The U.S. Climate Action Partnership, which includes the Big Three auto companies, General Electric, Dow Chemical and Shell Oil and other companies along with several environmental groups, said on Monday that the Senate should make the bill a "top priority" this year.
"The U.S. faces a critical moment that will determine whether we will be able to unleash billions in energy investments or remain mired in the economic status quo," the partnership said.
American Businesses for Clean Energy, which includes a number of energy companies like Exelon, National Grid and PG&E and nearly 3,000 other companies, issued a statement calling this "a critical moment" for Senate action on climate change legislation "in order to make the United States a world leader in clean energy technology, reduce our dependence on foreign energy sources, and create millions of new jobs."
Utility Workers leader Stewart Acuff, a former AFL-CIO organizing director, said the bill will "move our country to significant investment in green energy generation and conservation creating as many as 2 million new, good jobs."
Writing at the Huffington Post last week, Acuff hailed the newly emerging alliance between labor and the environmental movement on this issue.
"Finally, we have broken down the false walls and barriers between workers and unions on one side and environmentalists on the other side," he said.
Acuff has written a book on the subject, titled "Getting America Back to Work." In it, he writes, "More and more Americans realize that unless we maximize the use of sustainable, domestic sources of energy, our future is threatened. At the same time, it is very hard for the average worker to care about the environment if she or he is worried about how to provide dinner for the family or pay the rent on Friday."
Yet "sustainable jobs, a sustainable economy, and a sustainable environment are mutually interdependent," Acuff pointed out in his Huffington Post article.
"A healthy American future requires all of the above," he said. "In fact, if we are to do what a potentially healthy environment requires we will install scrubbers on coal fired power plants, weatherize our homes, retrofit our commercial and industrial buildings to save energy, harvest the wind that never stops blowing on our great plains from North Dakota south to Texas, harness the unbelievable power and energy of the sun, and the incessant pull of the oceans' tides.
"All of that requires skilled, productive workers – workers that America's unions can provide."
Photo: Sen. Lindsey Graham, R-S.C., right, has forced a delay on the climate change bill. In this photo from last fall, he joined Sens. John Kerry, left, and Joe Lieberman at a news conference about the legislation. (AP/Harry Hamburg)