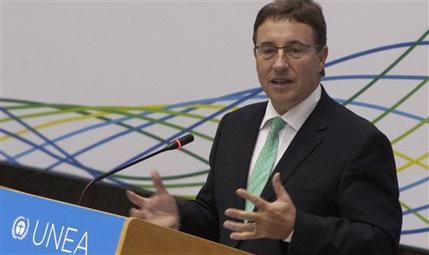 NAIROBI, Kenya (AP) – The first-ever United Nations Environmental Assembly opened in Kenya on Monday, as more than 150 high-level delegations began a weeklong examination of the intersection between global economic progress and the environment.
The environment is no longer a niche topic backed by a passionate minority, Achim Steiner, the head of the U.N. Environmental Program told The Associated Press, but is clearly linked to economic and societal issues.
The changing environment – including climate change, pollution, land degradation and access to water- shows that the world's economy needs to be reinvented or progress will suffer, Steiner said. The U.N. recently upgraded UNEP's standing and the weeklong assembly is the highest-level U.N. body ever convened on the environment.
"Wherever you live on the planet these phenomena are going to change the lives and economies of people, whether it's in Ohio, somewhere in Siberia or western China," Steiner said.
Sanjaasuren Oyun, minister of environment and green development in Mongolia, told the opening session that a shift toward more environmentally sound policies is a prerequisite for sustainable development. Oyun on Monday was elected the president of the newly constituted U.N. Environmental Assembly.
The conference will discuss ways to increase the progress of what is known as the green economy, including alternative energies, smart grids and new transportation options. Delegates will also look at the illegal wildlife trade, including rhino and elephant poaching. U.N. Secretary-General Ban Ki-moon is expected to attend later in the week.
UNEP, Steiner said, argues that the world is on the verge of a technology revolution that in the coming decades will allow humans to tap into endless sources of energy. That will fundamentally change a continent like Africa, where 70 percent of residents today don't have access to electricity.
Put another way, he said, the globe will see another block of people the size of China demanding access to energy. Already, Steiner said, air pollution causes 7 million premature deaths a year, four times the combined number of deaths from AIDS and diarrhea, a huge killer in Africa.
"A healthy environment is about healthy people," Steiner said. "What we are doing is helping people understand how people will live better and longer and how their children will have a world that is not so polluted that the quality of their lives will be compromised."
World leaders recognize that global environmental cooperation must be achieved, Steiner said.
U.S. President Barack Obama this month proposed new rules to cut carbon dioxide emissions from coal plants by up to 30 percent by 2030 from 2005 levels. The proposal has been well received in Africa, which is seen as being highly vulnerable to changing climate patterns, changes African leaders blame on the West.
Obama's announcement sent a strong signal that the U.S. will undergo a sustained and serious effort to bring down its carbon footprint, Steiner said. Climate change is a dramatic driver of a rethinking of global economies, he said.
"At the beginning of the 21st century the environment and natural resources are perhaps more critical than ever before in allowing our economies to advance," Steiner said.
If economic penalties such as carbon taxes are not adjusted and the world continues to see the environment as an expendable commodity for national development, "we are facing an increasing dramatic set of scenarios where tipping points kick in and we reach a point of no return," Steiner said.
Photo: Achim Steiner, Executive Director of United Nations Environment Programme( UNEP) addresses the delegates, at the United Nations Headquarters in Nairobi, Kenya. Sayyid Azim/AP