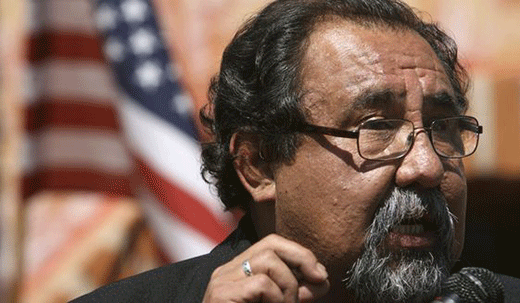 LOS ANGELES – Lawmakers and others at a public forum here this week said that environmental issues in the area and nationally are impacting poor people the most. An example is the water conservation mandate issued by Governor Brown. Poor working-class communities conserve more than do communities such as Beverly Hills or Newport Beach.
There needs to be a change forum, participants said, but information needs to get out to the communities regarding the need for immediate action at all levels of government.
Among those making that declaration at the Apr. 8 forum on environmental justice were members of the U.S. House Committee on Natural Resources including California U.S. Reps. Judy Chu, D-Monterrey Park; Normal Torres, D-Pomona; Linda Sanchez, D-Orange; Allen Lowenthal, D-Long Beach; Maxine Waters, D-Calif.; Grace Napolitano, D-Calif.; and Raul Grijalva, D-Ariz.
Grijalva, who chairs the congressional committee and is a member of the Progressive Caucus, told those gathered that "40 years of environmental policy issues are under attack.
"With this in mind the community needs to improve actions," he said, "to preserve and expand environmental policies and it is especially necessary to involve communities of color in environmental justice issues."
Grijalva told the audience that this was the reason for holding the Environmental Justice public forum in the local community.
Hilda Solis, the former U.S. Secretary of Labor in the first part of the Obama administration and now on the sLos Angeles Board of Supervisor represents the area in which the forum was held. She also reminded the audience that "environmental issues disproportionately hurt low income people."
Torres, who represents a district that is located in the San Gabriel Valley, expressed the need to continue a dialogue with the community over environmental issues. Torres said this is necessary in order to build on actions to oppose those who want to reject any policy that will expand on environmental justice issues. Torres said, "When it comes to environmental issues poor are disproportionately affected. Poor communities seem to pay a higher price than wealthy communities.
Congressional Progressive caucus members Chu and Waters emphasized the fact that environmental justice is a civil rights issue and that poor communities are far more likely to view environmental issues as very important to them, viewing healt, and community economics as part of the civil rights issues. Co Chu and others said they are often told by the Republican leadership in the House that dealing with environmental issues cost too much.
" It costs too much in the long-run," Sanchez said. "Our communities need to push back and say, it costs too much not to act."
Most of the panel agreed that poor communities are marginalized by mainstream environmentalists, government agencies and public officials and the media when comes to addressing environmental issues.
The Public forum on Environmental Justice emphasized the following issues: 1.) Climate is a civil rights issue, a health issue, an economic issue, and an environmental issue as a health. 2.) Poor communities are concerned about global warming because they disproportionately live in the most vulnerable areas. 3) Green access is a civil rights issue as well as a health, economic, and environmental justice concern. 4.) Climate, health, and environmental justice are part of the civil rights revolution that continues today. 5.) The structural obstacles to climate, health, and environmental justice funding must be challenged and changed.
The last speaker was a local high school student from Franklin High School. She wondered why her classmates who were invited to attend a mountain retreat in Yosemite Valley had never before come in contact with nature and in fact never had been informed about environmental issues. She viewed this as a travesty and declared that this must change.
Grijalva informed the audience that a follow-up forum will be scheduled with more emphasis on community-based actions and participation. This was the first type of environmental justice forum held in the Los Angeles area. Full remarks can be viewed at www.cityprojects.org/blog/acchiees/36584.
Photo: Rep. Grijalva, D-Ariz. | AP