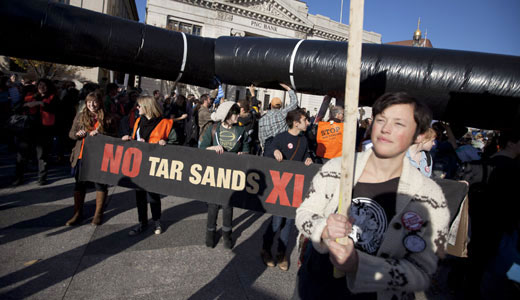 Senate Republicans filed an amendment Feb. 13 to the transportation bill that would authorize the Keystone XL pipeline. Today, activist group 350 called on every environmental group in the nation to send half a million messages to the Senate by the end of the day, with a very clear demand: "back the President and make sure this pipeline doesn't get built." As of now, the Senate has been flooded with over 600,000 messages.
The proposed Keystone pipeline system, which would be used to transport crude oil from Alberta, Canada to multiple U.S. destinations, is considered a serious threat to the environment, and has today resulted in one of the largest forms of online environmental organizing in history.
President Obama halted the pipeline plan in January, in what was a big victory for environmental activists. That could be soured now as Republicans attempt to "sabotage that win," said a press release by 350.
"Congressional approval of the Keystone XL tar sands pipeline is not acceptable," said Susan Casey-Lefkowitz, International Program Director at the Natural Resources Defense Council. "It will create a bad process rushing approval of a tar sands pipeline when the route for the pipeline hasn't even been determined yet, and the environmental review process remains incomplete."
In the midst of climate change and in the wake of prior environmental disasters, the potential of Keystone XL to add to that havoc is, critics feel, enormous.
350 worked today with environmental groups all over the country, and partnered with other progressive allies like MoveOn.org, Political Action, and CREDO Mobile. A large part of the intended goal was also to illustrate that Keystone is not, as Republicans proclaim, a glorious answer to the jobs crisis.
The biggest labor unions in the country also understand this, said 350 in a statement, and therefore support the President's decision to say "no" to Keystone XL.
"The only argument [in favor of] the pipeline," said the statement, "comes from folks like the Koch brothers – 'we can make a lot of money.' It's not a good argument, but that money buys votes in Congress, unless we stand up."
People stood up indeed, and by the afternoon, the number of messages the Senate received was well above the intended goal of 500,000, highlighting the dramatic fashion in which the pipeline matter – once obscure – has quickly become the country's central environmental issue.
The 500,000th signature, moreover, was from a Nebraskan citizen, who pointed out that the only independent study of the pipeline in her state showed it would yield a measly 1,400 temporary jobs – a short-lived band-aid on the jobs problem at best, and certainly not the great fix that Republicans and Big Oil have been touting it as.
Photo: Demonstrators in Washington protest the Keystone XL pipeline. Evan Vucci/AP