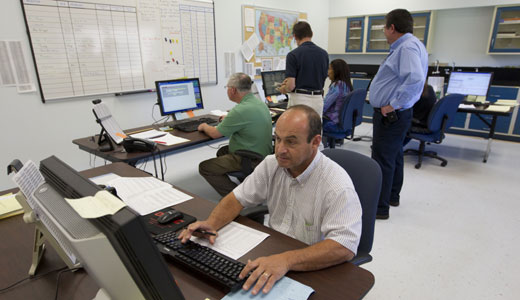 One scientist has been fired, and another suspended, from the EPA's National Exposure Research Laboratory in Athens, Ga. by agency management, in the midst of a union election. The American Federation of Government Employees' EPA Labor Council #238 expressed utter outrage that this was – purposefully, they believe – done at a time when scientists at the Athens lab were seeking union representation.
"The two scientists who were blatantly reprised against were activists in seeking the union election," said AFGE EPA Council 238 president Charles Orzehoskie. "We stand by them in their hour of need."
The scientists worked for the lab's Ecosystems Research Division, and were each dismissed for different alleged reasons. One worker was suspended August 14 for reportedly turning in travel expenses for non-work-related travel, while the other – who was world-renowned – was fired for supposedly failing to submit a medical document for a health-related absence.
Orzehoskie criticized the timing of the firing and suspension, noting they happened right before union ballots were mailed out. "Coincidence only goes so far," he remarked.
"We are more than dismayed that EPA management has chosen to fire a world-renowned EPA scientist and suspend another, creating a chilling effect on the representational election. We have filed an Unfair Labor Practice with the Federal Labor Relations Authority's Atlanta office, citing our belief that these actions were purposeful and designed to chill EPA employees in the exercise of their rights to participate with the union," stated AFGE District 5 national vice president Everett Kelley.
"We intend to hold this election and prevail," he added. "It is clear that EPA scientists need someone to protect them so they can continue to ensure all of us have clean air to breathe and safe water to drink. They stand at the front lines of ensuring that human health and the environment are protected."
AFGE began organizing workers in the division in March, and mailed union ballots on August 28.
The issue of scientists being fired, moreover, is one that extends beyond the U.S. alone. In Canada, excessive cuts in the government's environmental departments resulted in the dismissal of top world scientists, including ocean scientists whose studies are integral to understanding species of sea animals.
But in the states, the fact that two EPA scientists were dismissed comes as a surprise to some, given that under the Obama administration, the agency has employed a number of progressive rulings and has had pro-worker leanings, including awarding contracts totaling $2 million to small businesses this year to help develop new environmental technologies. The current situation may thus be an isolated incident.
AFGE Council 238 has urged that EPA management be reminded, however, of their obligations under federal labor law to ascertain that the Athens lab union election is fair and unbiased. Orzehoskie highlighted the need to "ensure that the Executive Order establishing a cooperative and productive form of labor-management relations at the EPA is followed by management."
Photo: EPA scientists in Montgomery, Alabama monitor the atmosphere for radioactive materials. Scientists, like all workers, have the right to unionize. Dave Martin/AP