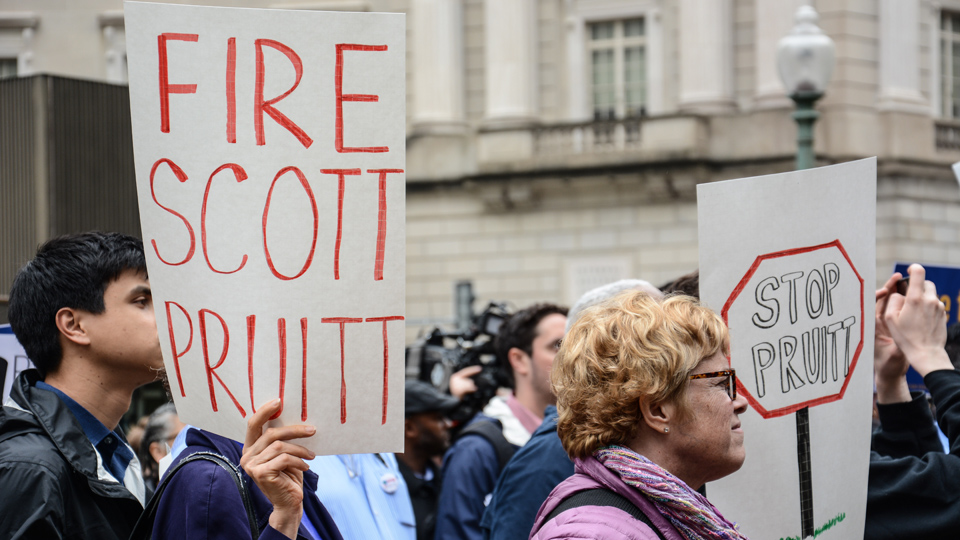 WASHINGTON—Calling EPA Administrator Scott Pruitt an environmental and ethical disaster, a crowd of agency staffers and supportive lawmakers demanded the Trump administration appointee should quit or be fired.
Speakers at the rally in front of agency headquarters in downtown D.C. alternated between slamming Pruitt's ethics and President Donald Trump's policies, which they said would befoul the nation's air and water all to enhance polluters' profits.
An attorney with the agency's St. Louis regional office held up a picture, formerly on EPA's website, showing what pollution was like before the agency began in 1970. It was the Statue of Liberty in New York harbor, surrounded by an oil spill. Pruitt, she said, wants to return to that.
Favorite ethics targets were Pruitt's unauthorized $43,000 "secure" phone booth, his first-class air tickets, his $2 million security detail, and his rental of a $50-a-night bedroom from a lobbyist whose business included clients with cases before EPA. Sometimes Pruitt didn't pay his rent.
The Government Employees (AFGE), whose Local 3331 represents the agency's staffers, called the rally – the second in a series – on April 25, the day after Pruitt unveiled his latest scheme, restricting EPA decision-making only to cases where all scientific evidence is final and public.
Since science, especially around clean air and water, is always evolving, speakers said, the practical effect of such a restriction is to halt any decisions to protect the environment and people at all.
"You here are the EPA. Scott Pruitt is not the EPA. He's the head of the Empower Polluters Always agency," said Rep. Dan Kildee, D-Mich., one of several lawmakers to stick up for the EPA, which Trump and Pruitt want to cut by 25 percent in the fiscal year that begins Oct. 1. "I'm a child of Flint," Michigan who still lives there, Kildee explained.
"I never imagined a city of 100,000 people would be poisoned by its own government."
But that's what the GOP-dominated Michigan government did to Flint, as lead leached into Flint's drinking water precisely four years ago. It poisoned children and caused stillbirths and birth defects, other speakers said.
Pruitt, Kildee said, is "carrying out the same philosophies" as Gov. Rick Snyder, R-Mich. For Pruitt, "Profits come first. Clean air, clean water, the health and safety of our people – not so much."
Other speakers agreed. And all pledged to "have the backs" of the EPA workers as they fight Pruitt and Trump, and to protect the nation's air, water, land and people.
"My first job was as an intern at EPA" in 1979 in Chicago, Rep. Mike Quigley, D-Ill., said. "When Ronald Reagan got in, he fired all the interns. I got a full-time job," but then Reagan's EPA put him on "regulatory reform…to gut the Clean Air Act. I resigned in protest. Don't do that. Stay here. We need you," he implored the workers.
Quigley also challenged Pruitt to openly debate global warming. Both as Oklahoma Attorney General – where he collaborated with the state's dominant oil and gas industry in drafting anti-EPA lawsuits – and now Pruitt denies it exists.
"A year ago, I was at the headwaters of the Colorado River in the Rocky Mountains" on a trip with environmentalists, the Chicago congressman related. "Because climate change produces less rain" in the Rockies, the seven downstream states from those headwaters will have less Colorado water to draw on.
Left unsaid: Landowners, notably farmers in otherwise-parched areas of the Southwest, and booming-but-dry cities such as Phoenix draw so much Colorado water that by the time the river gets to its mouth, in Mexico at the head of the Gulf of California, there is, literally, no water left.
Trump's EPA cuts would not only decimate its programs, but its staff. His budget calls for a cut from 9,729 staffers in environmental programs and management alone this fiscal year to 7,232 in the year starting Oct. 1. Science and technology spending, vital to deciding what to clean up and where, would be cut from $762 million to $489 million and the number of scientists and staffers there would decline by almost one-third – 706 – to 1,481.
Numerous speakers called for Trump to fire Pruitt, but Rep. Jamie Raskin, D-Md., went farther. He said that if Pruitt doesn't quit, Trump should can him – and then resign himself.