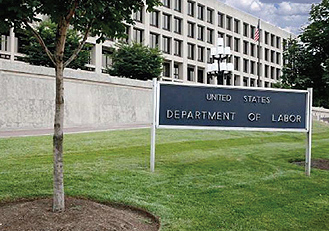 The labor-backed Economic Policy Institute is strongly protesting an attempt by four U.S. House "Blue Dog" Democrats to replace the Labor Department's new overtime pay rule.
Reps. Kurt Schrader, D-Ore., Henry Cuellar, D-Texas, Collin Peterson, D-Minn., and Jim Cooper, D-Tenn., would dump the DOL's new rule, scheduled to take effect on December 1, that would double the overtime pay threshold. The four would substitute a smaller hike and phase in the entire increase over three years.
DOL's rule expands overtime rights to salaried employees who earn less than $913 per week ($47,476 yearly) – more than double the figure under the current overtime rule, imposed by the Labor Department under George W. Bush a decade ago.
The Blue Dogs' legislation, EPI calculates, still would cover some workers now ineligible for overtime: Those earning up to $35,984 yearly, or $692 per week.
The result of the current rule was that only five million workers were actually eligible for overtime pay last year, EPI says. The DOL would more than triple that 2015 figure, to 17.6 million, it calculates. By cutting the overtime pay threshold and phasing in the entire hike, the four Blue Dogs would trim the number of overtime-eligible workers to 11.3 million on December 1, EPI adds.
And the Blue Dogs would kill another Obama DOL overtime provision – to index future increases in the threshold to inflation every three years.
"Rep. Schrader" – the bill's lead sponsor – "wants to reproduce the very disaster for working people the Department of Labor is seeking to prevent: An inevitable and significant loss of guaranteed overtime coverage due to inflation and wage growth," EPI reports.
"Failure to adequately update the salary threshold over 1975-2015 caused the share of the salaried workforce that was guaranteed overtime pay to fall from 49.6 percent to just 9.5 percent in 2015," it adds.
Killing indexing would be even worse, EPI notes. "If Schrader's bill were enacted, by 2035 there would be 10.4 million fewer salaried workers covered by overtime protection because of the failure to index the salary threshold. Lack of indexation would cut in half the share of the salaried workforce provided overtime protection," they found, using federal data.
The four Blue Dogs portray their Overtime Reform and Enhancement Act as an overtime threshold increase, too. But they complain business needs time to adjust, and thus want to phase it in over three years. "Without sufficient time to plan for the increase, cuts and demotions will become inevitable, and workers will actually end up making less than they made before," Schrader warned in a joint statement.
Added Peterson: "A three-year phase in will provide adequate time for business to adapt to the new standard while also ensuring workers are fairly compensated."
Photo: Department of Labor Building in Washington, D.C. | DOL