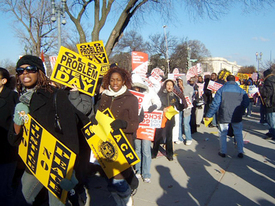 WASHINGTON — As the U.S. Supreme Court heard oral arguments Dec. 4 on two lawsuits seeking to terminate voluntary desegregation programs in public schools, a thousand protesters, mostly Black, Latino and white college students, marched outside chanting "Equal education, not segregation" and "They say Jim Crow, we say hell no!"
Ted Shaw, chief counsel for the NAACP Legal Defense and Education Fund, told reporters gathered on the court building's steps that a favorable ruling on the lawsuits by a few disgruntled parents in Louisville and Seattle would dangerously undermine the Supreme Court's landmark 1954 Brown v. Board of Education decision outlawing school segregation. "We will be witnessing a reversal of historic proportions," he said.
Marching on the picket line was Kim Gandy, president of the National Organization for Women. "This is a day for all of us, Black and white, to stand up against segregation," she told the World. "The residents and educators in these districts sought to create a school system where girls and boys of all races learn together."
Will the Supreme Court "turn back the clock on decades of progress?" Gandy asked.
Tanya Nahman, a Harvard University graduate student, came with a busload of fellow students from Cambridge, Mass. "They have been chipping away at the Brown ruling for years," she told the World. "A decision in favor of these two lawsuits will be the last nail in the coffin."
A good quality education, Nahman added, "is a racially integrated education. Students who go to integrated schools have more compassion for other races and cultures. We need a more tolerant society."
The protesters' anger was directed at the new ultra-right Supreme Court bloc that includes Chief Justice John Roberts and Justice Samuel Alito — both appointed by President George W. Bush — and Justices Antonin Scalia and Clarence Thomas. Civil rights defenders had feared the court would veer sharply to the right after Justice Sandra Day O'Connor's retirement.
In the questions from the bench, the ultra-right justices hid their racism beneath a "color blind" veneer, insinuating that the remedies in the Seattle and Louisville plans are unconstitutional because they are race conscious. The Justice Department's solicitor general argued for the Bush administration in favor of overturning the desegregation plans.
Seattle attorney Michael Madden eloquently argued the merits of Seattle's voluntary plan that assigns students to achieve racial balance. Roberts retorted, "But because they were assigned to those seats on the basis of race, it violated equal protection."
Replied Madden, "Because segregation is harmful."
Unmoved, Roberts continued, "It's an assignment on the basis of race, correct?"
Mary Myers, who is African American, and Amy Metz, who is white, both with children in Louisville schools, flew in at their own expense to join the picket line. They are members of the executive board of the Parent-Teacher Association of Jefferson County, Ky., which includes Louisville. Myers told the World that the 6-million-member national PTA strongly supports the Louisville and Seattle plans.
"A ruling in support of these lawsuits would definitely be a roll-back to segregation," Myers said. "We want the justices to turn them down and maintain what we have. My children, one in the sixth grade, the other in the 11th grade, attend integrated schools. We don't want to be segregated. Separate is not equal!"
Metz interjected, "It is not just Black parents. There are white parents who feel very strongly about the importance of racial integration and that is why we are here today."
The lawsuits, she added, "were brought by a few parents who did not get the school they wanted. Our children must work and learn together. It dispels racial stereotypes."
Nadonya Muslim, a high school teacher from Detroit, marched with 20 of her students. Muslim, who is also secretary of the Detroit Federation of Teachers, AFL-CIO, said, "This is hands-on experience. My students read about the Supreme Court and the Brown decision in their history books. But we all have to fight for our own rights and they are here doing just that. It is going to affect them a lot more than it affects me if Brown is overturned."
One of her students, a sophomore at Detroit's Southeastern High School, said, "The court should uphold Brown. If we lose it, it would push back our right to an equal education."
A friend-of-the-court brief in support of the lawsuits was filed by the right-wing extremist Center for Individual Rights (CIR) whose president, Terry Pell, denounced the Seattle and Louisville plans as "racial mixing" and "state-mandated tinkering with race."
In a statement passed out at in front of the Supreme Court, CIR boasted that it has filed lawsuits against affirmative action in Texas and Michigan and has filed several lawsuits to counter efforts by civil rights groups to block implementation of the misnamed "Michigan Civil Rights Initiative" approved in the Nov. 7 election.
Alona Sistrunk, a sociology major at Howard University, was one of hundreds of Howard students who marched from their Washington, D.C., campus to join the picket line. "I think there is hidden racism in these lawsuits," she told the World. "They push the ideology that we want to take something away from their children. That is simply not the case. Equality helps everyone."
greenerpastures21212 @ yahoo.com