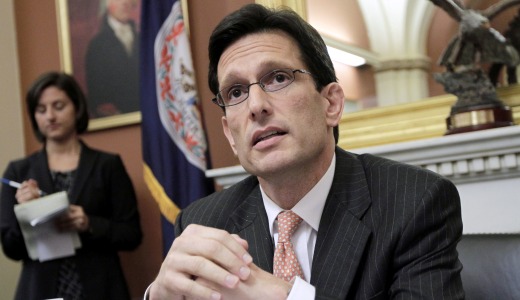 Rep. Eric Cantor of Virginia, the Republican House majority leader, has been in the spotlight with his headlining-grabbing intransigence on the debt ceiling negotiations. While his name recognition has dramatically increased since the 2010 elections, it hasn't always been positive. Now Salon magazine has labeled him "the most dangerous whiner in America."
Cantor has steadily moved up the Republican ranks since 1992, when he ran for and won a seat in the Virginia House of Delegates, where he served eight years. In 2000, he upgraded, winning a seat in the U.S. House of Representatives.
In 2002, after he secured reelection, House Republican Whip Roy Blunt offered him the position of chief deputy whip, the number four position in the Republican leadership. He accepted, beginning a meteoric rise in political power. In 2008, as Blunt retired, Cantor was elected minority whip, the number two spot behind John Boehner. He was even rumored to have been on John McCain's 2008 vice presidential short-list, before McCain made the fateful choice of Sarah Palin.
Cantor's attitude towards the political process became apparent during the initial failed TARP bailout of Wall Street. As deputy whip, it was his duty to wrangle Republican votes for the bill, which he supported (even though he runs away from that now). However, when the bill failed to pass, Cantor knew where the blame fell: Nancy Pelosi, then the speaker of the House, hurt the Republicans' feelings.
Pelosi made a somewhat partisan speech that Cantor claims was why the vote failed. However, other conservatives disagree. Former Bush speechwriter Pete Wehner, in National Review Online's The Corner, called Cantor's attitude "lame and adolescent." Even then-freshman Rep. Michele Bachmann chimed in claiming, "We're not babies who suck our thumbs."
After the heated health care debate, Cantor again found reason to take the spotlight. A bullet crashed through the window of his Richmond office in March 2010. Even though the police determined that it was a random stray bullet that had been fired into the air, Cantor used the opportunity to lash out at Democrats for "dangerously fanning the flames." He chided them for blaming actual attacks on Democratic members on the incendiary and often false language used by the GOP during the debate. (Remember "Death Panels"?)
Perhaps Cantor's most cruel political grandstanding came after the terrible tornado that ravaged Joplin, Mo., killing and injuring hundreds this year. Cantor proclaimed that he would block all federal relief funding for the suffering people of Joplin until Democrats agreed to cut a similar amount from the budget.
As House majority leader, Cantor has applied his grandstanding to the debt ceiling negotiations currently under way. Apparently forgetting what the term "compromise" means, Cantor has repeatedly insisted that any effort to increase revenues by closing egregious tax loopholes for the richest individuals and corporations is off the table. Even after Democrats agreed to over $1 trillion in budget cuts, Cantor abruptly stormed out of negotiations when Democrats pressed for more revenue. The offending proposals include ending tax credits for those who make over $500,000 a year, ending tax subsidies for Big Oil, and ending tax credits for corporate jets.
Then on July 13 when Obama ended debt limit talks for the day (with the talks to resume the next day), saying, "I've reached my limit. This may bring my presidency down, but I will not yield on this," Cantor tried to pin the blame on the president for being "angry" and erasing all progress that supposedly had been achieved.
In fact, Democratic aides present said, Cantor repeatedly interrupted the president, insisting on a diversion to a short term resolution, before being "put in his place" by Obama. Senate Majority Leader Harry Reid, D-Nev., called Cantor's behavior "childish" and said he has shown that "he shouldn't be at the table and Republicans agree he shouldn't be at the table."
Many have speculated that Cantor is gunning for House Speaker John Boehner's job. They say his tea party intransigence against any form of revenue increases only serves to make Boehner's job more difficult.
The Wall Street Journal reported last year that Cantor may have more to gain than just political capital with his ultraconservative base if he keeps acting like a drama queen during the budget debate. Cantor, according to recent financial disclosures, has up to $15,000 in a fund that shorts Treasury bonds – in other words, betting on Treasury bond prices going down. Since Cantor broke off budget talks with Vice President Joe Biden a few weeks ago, these funds have gone up 3.3 percent. Perhaps his motivations ought to be more closely examined.
Eric Cantor's attitude has clearly made efforts to agree on a budget more difficult. However, one cannot deny that his histrionics have likely helped shoot him up the ranks and into the public eye. Perhaps this quote from Cantor's high school yearbook sums up the attitude he brings to the negotiations: "I want what I want when I want it."
Photo: House Majority Leader Eric Cantor, R-Va. (AP Photo/J. Scott Applewhite)