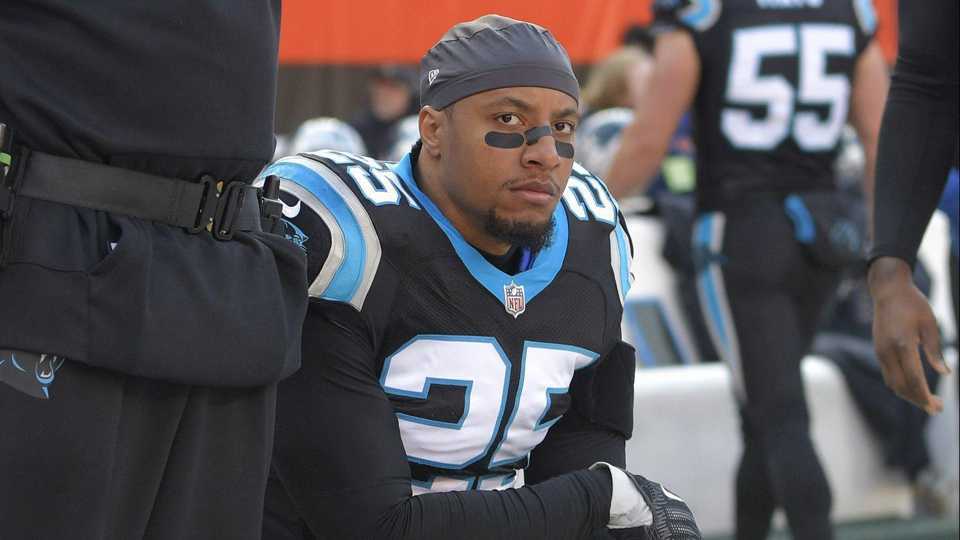 When does a "random" workplace drug screen stop being a simple coincidence and instead becomes suspicious employer behavior?
Seven times in the span of 11 weeks, according to Carolina Panthers safety Eric Reid.
Statistically it's not impossible, just improbable.
"There's a .195 percent chance of flipping heads nine times in a row," said Nick Kapoor, adjunct professor of mathematics at Fairfield University, to ESPN. "You have [about] the same probability of flipping a heads nine times in a row as he is being tested six times in 11 weeks."
If we're operating under the thought that there are underlying factors at play, what reason then would the NFL have in targeting Reid?
As a San Francisco 49ers teammate, Reid was the first to follow Colin Kaepernick in taking a knee during the national anthem.
Reid left the Players Coalition, formed to discuss the protest and other social justice issues, after Kaepernick was excluded from joining, and for being asked by coalition leader Eagles' Malcom Jenkins if he would be comfortable agreeing to end the protest if the NFL made a social justice initiative donation to the coalition.
Reid, along with Kaepernick, still have outstanding collusion grievances against the league and team owners.
After being signed by the Panthers, Reid made it clear he would continue to demonstrate against police brutality and racism.
A hefty list of headache-causing reasons for league bosses, which could lead to them implementing alternative forms of discipline in order to correct behavior—we see this play out in many non-union workplaces often.
In response, the NFL Players Association launched a joint investigation with the NFL to determine if the collective bargaining agreement's drug testing policies were violated, and if Reid was in fact targeted because of his grievance.
Did they find anything? No.
A joint NFL-NFL Players Association statement Jan. 9, 2019 said:
"We take any claim questioning the integrity of our collectively bargained performance enhancing drug policy seriously. We asked the independent administrator of the policy to review and produce a report on the claims of targeting. A copy of this report, which contains personal and confidential testing information, has been provided to Eric Reid. We will not breach any player's confidentiality, but can confirm that the report documents the dates he was randomly selected for testing and the actual dates of the drug tests."
"The report also demonstrates that Mr. Reid's tests were randomly generated via computer algorithm and that his selection for testing was normal when compared with the number of tests players were randomly selected for throughout the league during the time that he was on an active roster. There is no evidence of targeting or any other impropriety with respect to his selection for testing."
According to inside sources, the investigation also found Reid's claims about the number of times he had been tested since joining the Panthers were not accurate.
My question to the NFL Players Association: Why would he lie?
With an outstanding collusion grievance, the hardest to win, why would Reid risk his credibility and the grievance's outcome by lying about being targeted.
It makes no sense.
The following day, Reid's legal team rejected the investigations findings and submitted a letter to the NFL and NFL Players Association demanding a response to the issue, and requested more information as to how the those findings were reached.
Reid's attorneys argue some of the dates the NFL used in its report are incorrect and asked for a public correction as soon as possible. They also claim Reid was tested at least seven times and want access to all evidence, records, electronic messages and information sources used to determine the findings within the report.
If Reid's legal team is right, it would mean that the NFL Players Association knowingly worked with the NFL to put out false and misleading information.
It would be the biggest union scandal to hit as players prepare for contract negotiations in 2021. As the matter moves forward, let's hope the truth finds otherwise.
The NFL Players Association's collusion grievance against the league on Reid's behalf filed in May will go before an arbitrator this offseason.
The grievance argues team owners and the league, influenced by Donald Trump, colluded to prevent Reid's employment because of his on-field demonstrations against social injustice during the pregame national anthem.