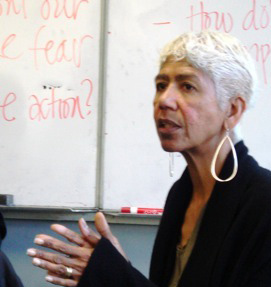 On Monday, Oct. 28th, educator and activist Ericka Huggins spoke to students in an open forum at Laney College in Oakland, California. Huggins infused her own life experience in the Black Panther Party and work at the Oakland Community School to address systematic racism that continues to exist throughout the United States today. She admitted that trying to change these systems is hard and takes up a great amount of cognitive space, but said that it was up to past generations of those involved in the freedom struggles of the 1960s and 1970s to pass on their experience to today's young activists.
"I think we've gotten lulled to sleep," said Huggins, "especially my generation, because we're not willing to go out and talk with the younger people."
Huggins admitted that it can be difficult for historically oppressed groups to share their stories of past struggle. She stated that it's not always easy, but "I speak because I owe young people some information."
Known for her work with the Black Panther Party from the late 1960s into the early 1980s, Huggins was the longest serving female member in the party's leadership. She was also the head director of the Oakland Community School (OCS) – a grassroots, tuition-free school that presented an alternative educational model to Oakland's public schools.
From the early 1970s until 1982 the OCS served predominantly low-income students of color under a revolutionary model of education that encouraged critical and historical thinking, along with both global and local community awareness.
Throughout Huggins' talk, she modeled the open classroom of OCS. Instead of merely talking at the young audience, she began by simply asking them: "What is racism?" After some dialogue with those in attendance, Huggins facilitated a conversation around institutional racism interspersed with historical events and accounts from her own experience in community activism.
Huggins skillfully connected history with contemporary issues, weaving together stories of struggle and triumph. She connected various examples of federally sponsored racial oppression, such as Japanese interment during Word War II and the "War on Drugs" that has led to disproportionately high incarceration rates among Latinos and African Americans over the past few decades.
Huggins also dispelled some of the myths about the Black Panther Party. Though the organization's masculine appeal was in part due to its vocal male leadership and media attention that focused on arms carried in self-defense, women were heavily involved as well. Huggins provided herself as an example of the important role woman played in the party. She was also clear that there was a long history of the organization's efforts at cross-racial organizing, which puts down the understanding that the Black Panther Party only reached out to African Americans.
Many problems affecting communities of color are also afflicting workers of European descent. Huggins was quick to recognize that unity across cultures went far back in the struggle.
She further explained that it's important for all of us, regardless of our background, to go out of our way to call out both individual racist acts and institutional racism. "Sometimes we need to have hard conversations," Huggins said. She called for the need to have more open and honest conversations on race and racism, especially with our children.
Many of our students of color and low-income children are not properly taught culturally relevant lessons that are reflective of our working-class roots.
"If you don't know where you come from, you can't possibly understand your future," said Huggins.
She also encouraged the student audience to tell their own stories, warning them: "If you don't write your story someone else will write it for you."
Tying in her experience as director of the OCS, Huggins explained: "We thought that children should learn how to think, not what to think." She called for the need to continue promoting spaces that are gender neutral, prejudice free, and accepting of all sexual orientations.
Huggins challenged the audience to get involved not only in education, but in other community-based programs as well. Many of us would like to do some of these things in our neighborhoods today. Huggins noted that any of us could impact social change by getting more involved in existing local programs or creating our own. The sparks are there, reminded Huggins.
Photo: ErickaHuggins.com