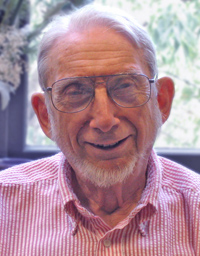 A delegate from Minnesota, Erwin Marquit was in the audience listening at the 30th Convention of the Communist Party USA in Chicago when John Bachtell paid tribute to Party members who had died since the previous convention.
Among the fallen was Marquit's wife, Doris, who died May 29, 2014.
The Marquits, Bachtell said, were "lovers, partners, and comrades for 46 years." They fought against the oppression of lesbian, gay, bisexual, and transgender people, he continued. The Communist Party was "slow to change" but the Marquits persisted in raising the issue at all levels of the party.
"For that, we are eternally grateful," added Bachtell who was elected National Chair of the CPUSA at that convention. "We are a stronger, better party for it. Today, a growing number of LGBTQ activists have found a home in our ranks."
Erwin Marquit, himself, passed away Feb. 19 at the age of 88 less than a year after Doris died.
Marquit recounts his life story in his online autobiography, "Memoirs of a Lifelong Communist."
He was born in the Bronx August 21, 1926. His father had arrived from Odessa with the name Lazar Baer Lapatukhin. He was drafted into the U.S. Army during World War I, and was imprisoned with hundreds of other conscientious objectors at Leavenworth Pentitentiary in Kansas for refusing to fight in an "imperialist war."
When he was finally released after the war ended, he changed his name to Leo Marquit to avoid being blacklisted. Leo Marquit was a garment worker in New York, a staunch union member and a Communist.
Erwin Marquit inherited class consciousness, as well, from his mother, Edna Schweitzer. Both his parents, Erwin writes, were voracious readers, working-class intellectuals, and labor activists.
Marquit graduated from high school in New York and attended City College of New York. He joined the U.S. Navy during World War II. He returned to CCNY after the war. He joined the Communist Party USA in 1946.
He shifted to physics in his post-graduate years, studying Quantum mechanics with Nobelist, Hans Bethe, at New York University.
Unable to complete his doctoral dissertation at NYU because of Cold War anti-communism, he emigrated to Poland where he lived for 13 years securing a position at Warsaw University's physics department and winning his doctorate in physics. He joined the Polish United Workers Party.
He returned to the U.S. in 1963, and found a job in the physics department of the University of Minnesota where he worked until he retired.
His career at UM was marked by continuous battles against efforts by Cold War elements to get him fired. He was repeatedly denied salary raises and promotions granted to his colleagues. Many years later, Marquit finally won his fight for a full professorship.
He led the drive to organize the UM faculty, and graduate students, into the American Federation of Teachers. That election was lost but the struggle continued until the faculty finally won union recognition.
Marquit established a course in Marxism at UM that attracted a steady, impressive enrollment among UM students. He often said that as far as he knew, it was the only course in Marxism offered for credit by any college or university in the U.S.
This writer was privileged to be invited to deliver a lecture to this class while I was serving as Editor of the People's Weekly World.
He re-joined the Communist Party USA in 1974 after discovering the Party's Marxist bookstore in Dinkytown, near the U of M campus. He worked with many Party members including Matt and Helvi Savola, and recruited many new members to the Party in Minnesota.
Erwin Marquit was a Marxist philosopher writing books and articles arguing for the application of the dialectical method to the study of nature and society.
He and Doris founded the Marxist Educational Press (MEP) and for 25 years organized annual conferences of Marxist scholars in the Midwest. MEP published 30 books. He was the founder of the Marxist journal Nature, Society and Thought.
Erwin left the CPUSA during the bitter factional struggle in the early 1990s but rejoined in 1995. Doris joined the CPUSA about this same time.
Marquit fought racism against African Americans, Latinos, Native American Indians, and other victims of oppression. In their living room, in 1973, leaders of the National Alliance Against Racist and Political Repression met with leaders of the American Indian Movement to draw up action plans to defend Native American Indians after the infamous FBI military assault at Wounded Knee on the Pine Ridge Reservation in South Dakota.
Out of that meeting, a rally was organized at Northrop Hall on the university campus attended by 2,000 people. Angela Davis was the main speaker.
Erwin and Doris Marquit promoted independent politics, working with progressive forces in the Minnesota Farmer Labor Party while also helping Communist Party candidates. In 1968, they were active in the campaign of Charlene Mitchell, Communist Party candidate for President and in subsequent elections, Gus Hall, and his running mates, Jarvis Tyner and Angela Davis. In 1974, Erwin Marquit, himself, ran for governor of Minnesota, receiving about 4,000 votes.
Marquit had a whimsical sense of humor and faced the end of life with a matter of fact scientific detachment. Sitting down with other delegates at the CPUSA's 30th convention in Chicago, as if he wished to chat, he announced that he would die "sooner not later." He sent out an email to his legions of admirers around the world announcing his "imminent demise." He attached a link to a website featuring Woody Guthrie singing, "So Long, its been good to know you."
Photo: University of Minnesota, School of Physics and Astronomy