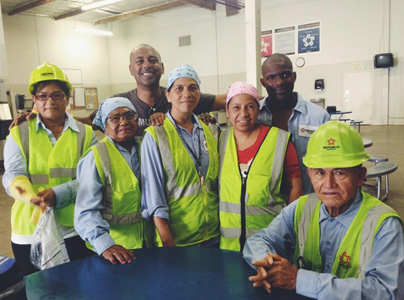 LOS ANGELES – A revitalized, more inclusive and diverse labor movement is in the works this week as the AFL-CIO's national convention opens.
In an indication of that, the convention is expected to elect Ethiopian immigrant Tefere Gebre as executive vice president. Gebre, currently executive director of the Orange Country (Calif.) Federation of Labor, knows hunger and homelessness first-hand. If elected he will replace Arlene Holt Baker who is retiring. Holt Baker, a vital presence on picket-lines and door-knocking campaigns around the country, was the first African American to hold the position.
Gebre's candidacy is backed by Richard Trumka, who is expected to be re-elected AFL-CIO president, along with Elizabeth Shuler as secretary-treasurer. Shuler became the youngest-ever AFL-CIO executive officer when she was elected four years ago.
Gebre, 45, has worked for the past seven years as head of the Orange County labor federation, in a part of this state that has been traditionally considered extremely conservative.
Gebre arrived in Orange County from Ethiopia when he was only 14. It was tough, he said in an interview Sept. 7, to be alone and homeless in a county with much opulence on the one hand, and thousands of low-wage immigrants on the other. Over the past decade, immigration has made the county's population increasingly diverse, including the largest Vietnamese community outside of Vietnam.
Gebre's first attempt at union organizing in Orange County was a smashing success. He successfully signed up 400 workers who toiled as sorters of trash. They waded through tons of garbage that passed them on a conveyor belt at a facility where the truck drivers were unionized but the immigrant garbage workers were not.
When Gebre rose in the ranks of the union movement he did things no one else ever had. Over the years he required 500 candidates seeking union endorsement to take a five-hour class on union history and unions.
Orange County, conservative bastion or not, is now one of the places in the country where the labor movement is growing, not shrinking.
"This convention is very different form anything we have seen in recent history in the labor movement," he said. "I have personally never seen a labor meeting more open and ready to bring in more people – a labor movement that is now willing to speak up for the people who sweat behind the counters and in the kitchens of McDonald's, the cab drivers, the domestic workers, and the day laborers."
Gebre remembers how tough it was when he was not in a union. "I was under age and thus off the books and working in a liquor store with no rights and no protections," he explained, "until I got my first union job at UPS. At least then I was able to afford to go to college."
"I wanted to go to America to be free," Gebre said. "That America that I wanted to go to was one that did not fire union organizers or deport the hard-working parents of children.
"The America I dreamed about coming to was not one that would ever expand the constitutional rights of corporations while it shrank the rights of the people."
Gebre said he felt that his expected election to one of the top three positions in the U.S. labor movement this week shows that the America he did dream about is becoming more and more possible.
Video of Tefere Gebre speaking at the International Labor Communications Association meeting in Los Angeles earlier this month. Rossana Cambron/PW.
Photo: Tefere Gebre's Twitter page.