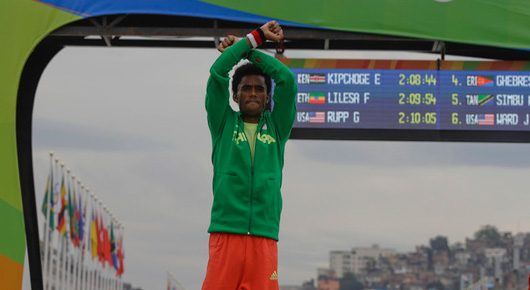 The Olympic games of 2016 held in Rio de Janeiro, Brazil may have come to a close as of August 21st, but many of the triumphs and controversies will continue to be talked about long after the closing ceremony.  One such incident was that of Olympic marathon runner and silver medalist Feyisa Lilesa's protest on Sunday against the government of his country of Ethiopia.  Lilesa defied the Olympics' prohibition of political statements to shine a light for the world on what is happening in his home country. In doing so he may have also risked his life.
As Lilesa crossed the finish line in his marathon run this Sunday, he raised his arms and crossed them above his head in an X, a gesture of protest against his country's government. He did so again at the awards ceremony after accepting his silver medal. In a press conference held after the ceremony, Lilesa explained that his protest came from his sense of his duty to his family and to his people. "The Ethiopian government are killing the Oromo people and taking their land and resources so the Oromo people are protesting and I support the protest as I am Oromo," he explained. "I was protesting for my people," Lilesa said, as reported by The Sydney Morning Herald. "It was for all my relatives in prison. I am worried to ask my relatives to talk in prison – if you talk you get killed."
Unrest and brutal crackdowns
Lilesa's bold statement comes in the midst of the growing political unrest in Ethiopia, a nation once regarded as Africa's most stable nation of the last decade. Although the country has seen an economic boom in the last ten years, in recent months anti government protests have filled the streets. These demonstrations have been met with state violence, as videos have been shared around the world of police officers beating unarmed demonstrators. The videos show security officers whipping protesters with sticks as they are forced to perform handstands against a wall. The United Nations is now calling for a thorough investigation of these incidents.
According to a report by Human Rights Watch the government of Ethiopia has used "excessive and lethal force against largely peaceful protests" in Oromia, the country's largest region, since November 2015. According to the organization "over 400 people are estimated to have been killed, thousands injured, tens of thousands arrested, and hundreds, likely more, have been victims of enforced disappearances."
"The Ethiopian government is killing my people, so I stand with all protests anywhere, as Oromo is my tribe,"  Lilesa said, according to The Washington Post. "My relatives are in prison, and if they talk about democratic rights they are killed." The Olympic marathon runner is referring to the Oromo people, Ethiopia's largest ethnic group, who have a history of speaking out against being marginalized by the government. They, along with the Amhara people (another large ethnic group in the nation), feel Ethiopia is unfairly dominated by members of the Tigrayan ethnic group, which makes up 6 percent of the population yet dominates the military, the intelligence services, commerce, and politics.
In what was considered a controversial national election, the governing party, Ethiopian Peoples' Revolutionary Democratic Front, won all 547 parliamentary seats last May thus taking 100 percent control of parliament.
Along with this the Oromo people have been fighting against an urban plan, often referred to as the master plan, that would link infrastructure development in Addis Ababa (the capital of Ethiopia) with that of surrounding towns in Oromia, including Burayu. Activists say the plan threatens the sovereignty of Oromo communities.
Lilesa's impact
Despite reports that Lilesa's protest was not broadcast in Ethiopia it still quickly attracted supporters on social media as Twitter users chimed in on how the political gesture brought attention to the struggle of the Oromo people. Freelance journalist Mohammed Ademo stated, "#FeyisaLelisa's career with the Ethiopian Athletics Federation ended tonight. But his courageous act of protest is one for the history books."
The silver medalist also called out other countries that support the Ethiopian government and their role in the repression of the people in the nation. "It is a very bad government. Now America, England, France support this government. When they give this support it buys machine guns, then they kill the people."
The government of Ethiopia has played down the unrest of recent months, claiming that "the attempted demonstrations were orchestrated by foreign enemies from near and far in partnership with local forces." Lilesa's bold public gesture is in direct defiance to that claim as the world now has a face for the resistance in Ethiopia.
"If I go back to Ethiopia maybe they will kill me. If not kill me, they will put me in prison. I have not decided yet, but maybe I will move to another country," the Olympic runner explained to the press as reported by USA Today. Whatever happens, the world is now watching as Lilesa risked his life and his career for a cause that he considers much bigger than himself or an Olympic medal.
Photo: Feyisa Lilesa.  |  Luca Bruno/AP