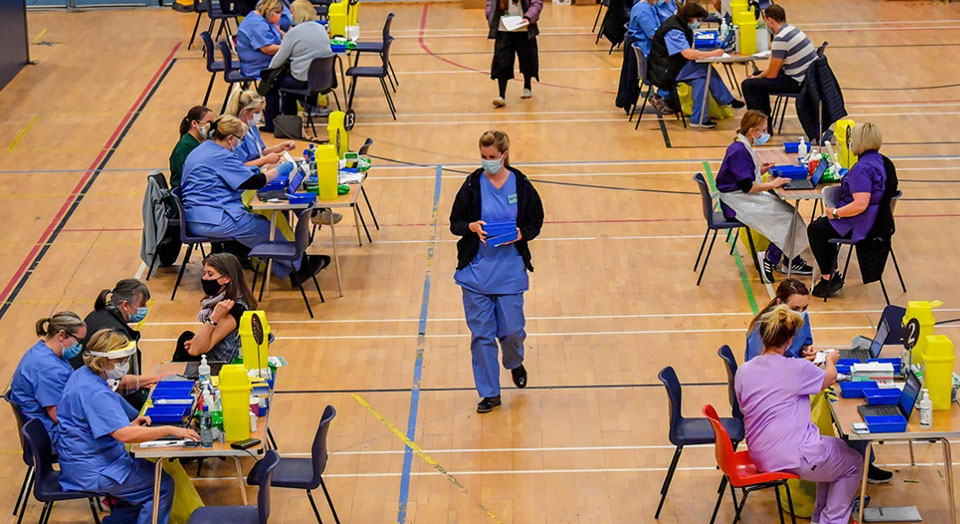 LONDON –Wealthy European countries were slammed Sunday, Jan. 31 for squabbling over their Covid-19 vaccine supplies when poorer nations could be years behind in inoculating their citizens.
It comes after the European Union withdrew threats to put checks at the Irish border in a bid to prevent vaccines made on the continent from entering Britain.
In a panic over its supplies, the EU threatened to invoke Article 16 of the Northern Ireland Protocol and staked a claim to Oxford-AstraZeneca vaccine doses made in Britain — claiming that the pharma firm was reneging on a deal to supply EU nations.
Israel, Britain, and the UAE are leading in inoculating against Covid-19, while most of the world, including EU countries, trails behind. There is currently no data available for most African, Asian, and South American countries.
Global Justice Now director Nick Dearden said the European Commission's Article 16 threat had been "completely wrong," but that the "biggest vaccine border is between rich countries and the global South."
He told the Morning Star: "The EU would be more justified in demanding Britain diverts some of its doses out of solidarity if it was prepared to do the same for all countries.
"Most countries face waiting years to get sufficient doses."
The charity called for the sharing of science and patents to help boost vaccine production.
Labour's shadow Cabinet Office minister Rachel Reeves said that using Northern Ireland as a political football was "absolutely wrong."
"Vaccine nationalism, in the EU or anywhere else, is totally counter-productive," she said.
"We are only going to succeed in defeating this virus if all countries have access to vaccines, otherwise it will mutate and come back in different forms."
The EU is far behind Britain and the United States in getting its population, 450 million, vaccinated against the virus. The slow rollout has been blamed on a range of national problems as well as slower authorization of the vaccines and an initial shortage of supply.
Official figures show 539,389 jabs have been administered across the U.K. on Saturday, Jan. 30, and came as a welcome distraction from the fact that the U.K remains on top of the charts for deaths in Europe.
Germany has so far given at least one dose to 2.2% of its population. Britain has done the same for 13.2% of its citizens.
The European Commission said in a statement it plans to set up a specialized body to improve the bloc's response to health emergencies and "deliver a more structured approach to pandemic preparedness."
As part of the effort, together with private industry, the EU said it will "fund design and development of vaccines and scale up manufacturing in the short and medium term, and also to target the variants of COVID-19."
"The pandemic highlighted that manufacturing capacities are a limiting factor," it said. "It is essential to address these challenges."
Following the weekend vaccine row, pharmaceutical company AstraZeneca agreed to supply nine million additional doses of the vaccine to the EU. The new target of 40 million doses by the end of March is still only half what the British-Swedish company had originally aimed for before it announced a shortfall due to production problems.
People's World Associate Editor Al Neal contributed to this report.