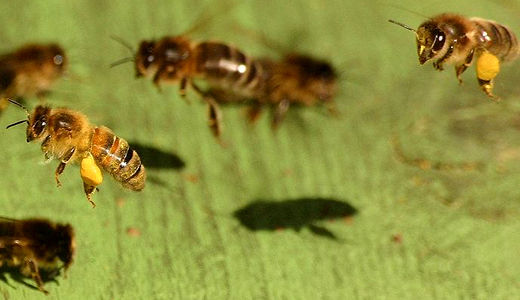 Under proposals now before the European Union, three pesticides that harm bees and have contributed to their overall decline may be banned soon on that continent.
The European initiative to abolish bee-killing insecticides has been hailed by environmental activists as "hugely significant." It will also come as a major blow to chemical companies, as the three poisons being banned are some of the most heavily used worldwide.
Studies have shown that the chemicals seriously threaten bees, which pollinate a third of all food, and as Tonio Borg, the EU's commissioner for health and consumer policy remarked, it was "time for swift and decisive action."
If a majority of the European Union's member states vote in favor of the proposal to ban the three pesticides, it will become law on February 25 and go into effect on July 1.
As of now, France and the Netherlands are in support of the ban, while Germany and the U.K. are reportedly hesitant.
Luis Morago, a campaigner with the Avaaz group, which collected 2.2 million signatures on an anti-pesticide petition, remarked on the issue: "This is the first time that the European Union has recognized that the demise of bees has a perpetrator: pesticides. The suspension of [those pesticides] could mark a tipping point in the battle to stop the chemical armageddon for bees, but it does not go far enough. Over 2.2 million people want the European commission to face down spurious German and British opposition and push for a comprehensive ban" on all such pesticides.
Andrew Pendleton, Friends of the Earth's head of campaigns, added, "This hugely significant proposal promises a first, important step on the road to turning around the decline of bees. The U.K. government," however, "must throw its weight behind it. The evidence linking [the pesticides] to declining bee populations is growing. It is time to put farmers and nature before company profits."