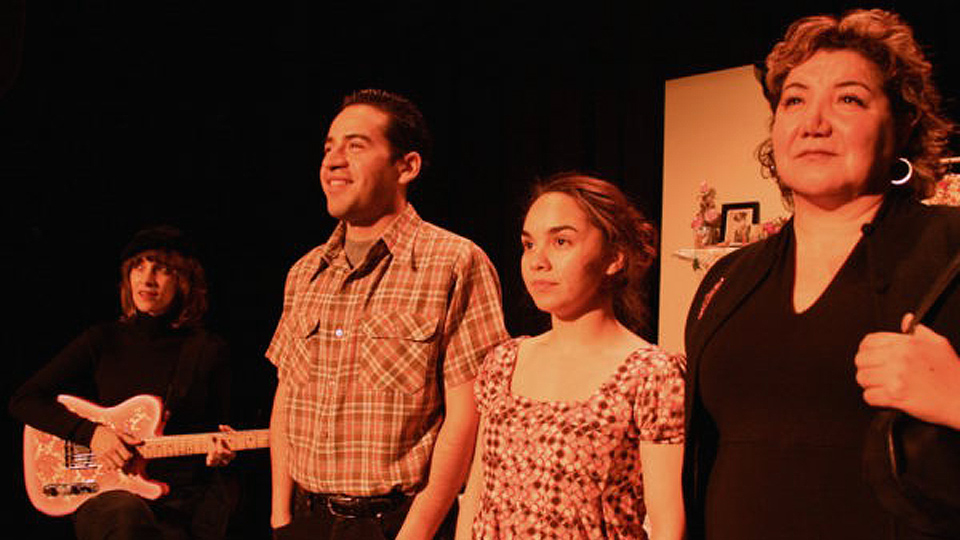 LOS ANGELES—The three-time Grammy-winning East L.A. band Los Lobos may have had its most successful tune in "Evangeline, the Queen of Make-Believe," and now for a short time only, through April 8, you can experience a remount of a 2012 musical play by that name set in 1968 that features Los Lobos songs as performed by Latin Grammy winner Gaby Moreno.
Evangeline is a co-creation of Theresa Chavez (who also directs), Rose Portillo, and Louie Pérez, and it's playing now at Plaza de la Raza in Lincoln Heights, East Los Angeles. The songbook for the production was penned by Los Lobos founding members David Hidalgo and Louie Pérez.
About…Productions is restaging this musical show now to commemorate the 50th anniversary of the East L.A. student walkouts, considered the first mass mobilization by Mexican-Americans in Southern California. Further information about the 1968 East L.A. student walkouts can be found here. This is the first time Evangeline has been staged in East L.A. The time frame of the musical play also includes the great awakening in the Chicano community as to the injustice and immorality of the Vietnam War, which disproportionately affected families of color whose sons were drafted with no other apparent options. The rise of the Brown Berets and Chicano national consciousness dates from this period.
Evangeline is living history, combining a piquant upbeat musical score (Gaby Moreno is joined by Sebastian Aymanns on percussion and Kimon Kirk on bass) with salient resonance to current-day issues like the plight of DACA/Dreamers and the current student walkouts that are galvanizing the nation toward change. In addition, in the evolution of the female characters we see the emerging feminist movement of the 1960s.
The story of Evangeline centers on an East L.A. high school graduate who is a devoted daughter helping her widowed mother and younger brother. But she nurtures dreams of a dance career and stealthily begins exploring the nighttime world of go-go dance clubs in far-off West Hollywood and the distinctly different world of the Hollywood art and music scene. Her emergence into herself corresponds to her East L.A. community also finding its own civil rights movement. "The personal is political," the Sixties taught us, and it is dramatically exemplified here as she reconciles her journey with the need to hold on to healthy relationships with her family and neighborhood.
Guatemalan-born, L.A.-based singer-songwriter Gaby Moreno's non-speaking character in the role of "The Neighborhood" is witness to the play's action, acting almost as a Greek chorus to the events unfolding before us. "It's really been wonderful to revisit these songs that became a part of my DNA after moving to Los Angeles," Moreno says. "I strive to do these songs justice as they represent the hopes, dreams, cultures, and collective voices of a community which thrives no matter what the current climate is."
Moreno adds, "I feel the character Evangeline is a great feminist role model. She follows her own path despite pressures from home. She could easily fall into the common patterns which stereotype women but she marches to the beat of her own drum."
The cast features a perky Ashley Diane performing the lead role of Evangeline Ibarra. Blanca Araceli plays her strict but loving mother Alicia Ibarra, Moises Castro is her brother Ray (Ramón), Adrian Brizuela plays two roles, the Chicano activist Edgar and a singer James who is a composite Los Lobos member, Keyla Monterroso Mejia as cousin Rita, Kiki McCleary as Sandy the dance captain, and Michael "Naydoe" Pinedo and Natalie Polisson as ensemble members.
Groovy and barrio costumes are by Abel Alvarado. The evocative dance numbers are choreographed by Michele Bachar. Sets are by Gerardo Davalos, lighting by Ginevra Lombardo, and video by Claudio Rocha.
The production is a fine example of community-based theatre. The addition of Gaby Moreno as the star musical attraction kicks it up into the don't-miss-it realm.
Evangeline, the Queen of Make-Believe is performed only through April 8 at the following times: Fri., March 30 at 8 pm, Sat., March 31 at 2 and 8 pm (a free panel and community forum on the Legacy of the 1968 Student Walkouts: How Far Have We Come? takes place at 4 pm), Thurs., April 5 at 8 pm, Fri., April 6 at 8 pm (with Gaby Moreno post-play discussion), Sat., April 7 at 8 pm, and Sun., April 8 at 2 pm (with post-show Groovin' on a Sunday Afternoon VIP fundraiser reception & meet and greet with Gaby Moreno and cast). The Margo Albert Theatre at Plaza de la Raza is located at 3540 N. Mission Rd., Los Angeles 90031. For tickets go to this website.
Photo: From left, Gaby Moreno, Moises Castro, Ashley Diane, Blanca Araceli / Theresa Chavez
Body photo: Gaby Moreno / José León