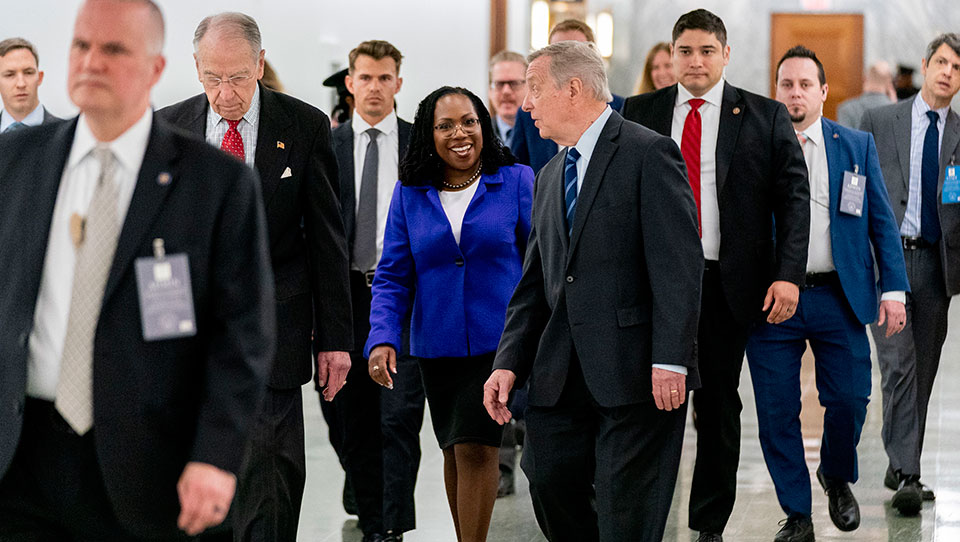 WASHINGTON—Even before federal Appellate Judge Ketanji Brown Jackson had a chance to speak as her Supreme Court nomination hearings began, the Senate's radical right Republicans went on the attack against her—and their barrage continued as her confirmation hearing rolled into its second day on March 22. And Judge Jackson, the first ever African American woman nominated to the Court, turned all the attacks aside.
"My view of the proper role of a judge is as a North Star," so judges should not be speaking on hot-button political issues, Judge Jackson told the lawmakers. A justice should "stay in her lane," and decide issues that come before her, period.
"Judges are not policymakers. We have a constitutional duty to decide cases that are before us, and within that framework, we have a duty to interpret the law, not make the law," Judge Jackson told Sen. John Cornyn, R-Texas.
That didn't stop the Republicans, some of whom used the hearing to posture and cater to GOP white nationalists and right-wingers and to posture for expected 2024 presidential runs:
Missouri's Josh Hawley, the nastiest—and the senator who egged on the seditious invasion of the Capitol last Jan. 6—accused Jackson, even before the hearing opened, of going light on child pornographers. Hawley is expected to seek the GOP presidential nod in two years.
"As a mother and a judge who has had to deal with these cases, I was thinking that nothing could be further from the truth," Jackson rebutted on March 22. "And in every case, when I am dealing with something like this, it is important to me to make sure that the children's perspective, the children's voices are represented in my sentences.
"I tell them about the victim statements that have come in to me as a judge. I tell them about the adults who were former child sex abuse victims who tell me that they will never have a normal adult relationship because of this abuse."
Cornyn previously said Judge Jackson coddled terrorists by defending a prisoner at Guantanamo Bay. Sen. Lindsay Graham, R-S.C., tried to lambast her for wanting to release prisoners.
Jackson deflected Graham by noting she wrote the brief, calling for trials for the Gitmo prisoners, on behalf of her clients—who, though she didn't ideologically identify them, included conservative think tanks.
Graham dragged religion into the proceedings, charging panel Democrats raised Catholic views against GOPer Donald Trump's nomination of Amy Coney Barrett, who's now a justice. Judge Jackson replied that she's a Protestant, without being specific—and that the law comes first.
Cornyn tried to get her to comment on the court's same-sex marriage decision several years ago. "Isn't it apparent that when the court decides something that is not even in the Constitution… doesn't that create a conflict between what people may believe as a doctrine of faith and what the Supreme Court agrees as the law of the land…Who do these people think they are?"
"That is the nature of rights," Judge Jackson replied. "The rights the Supreme Court has recognized are established in its case law."
Iowan Charles Grassley, in one of the milder GOP statements, demanded to know if Jackson was an activist judge who would ignore "original intent" of the Constitution's framers in 1787, instead making law from the bench.
She responded then, and repeated on March 22, that she uses a process based on the Constitution, its guarantees—and respect for precedents. Judge Jackson stated she isn't an ''activist.''
That respect for precedent, though no one mentioned it, has often been flouted by the current Supreme Court's six-person GOP-named majority, including in key cases involving workers and unions, as well as voting rights and a woman's reproductive rights.
Judge Jackson kept emphasizing "I decide cases from a neutral posture. I evaluate the facts, and I interpret and apply the law to the facts of the case before me, without fear or favor, consistent with my judicial oath.
"If I am confirmed, I commit to you that I will work productively to support and defend the Constitution and the grand experiment of American democracy that has endured over these past 246 years."
The questioning from the GOP contrasted with that from panel Democrats, who lauded her credentials.
One exception: Panel Chairman Dick Durbin, D-Ill., noted then-GOP Senate Majority Leader Mitch McConnell's blockade of Democratic President Barack Obama's nomination of Appellate Judge Merrick Garland from joining the court. McConnell succeeded, letting GOP Oval Office occupant Donald Trump fill the seat instead.
When she finally got a chance to speak on the hearing's opening day, Jackson, 51, both lauded the opportunity growing up in the U.S. has given her, pointed out that she knows the criminal justice system from all sides of the picture. She was a public defender, her brother is a Baltimore police officer who enlisted in the Army after 9/11, and two uncles are police officers, one of whom became Miami's police chief. And she pledged fealty to the Constitution and to deciding cases on the law and the facts.
"In all cases, I am looking neutrally at the arguments of the parties," she told Cornyn.