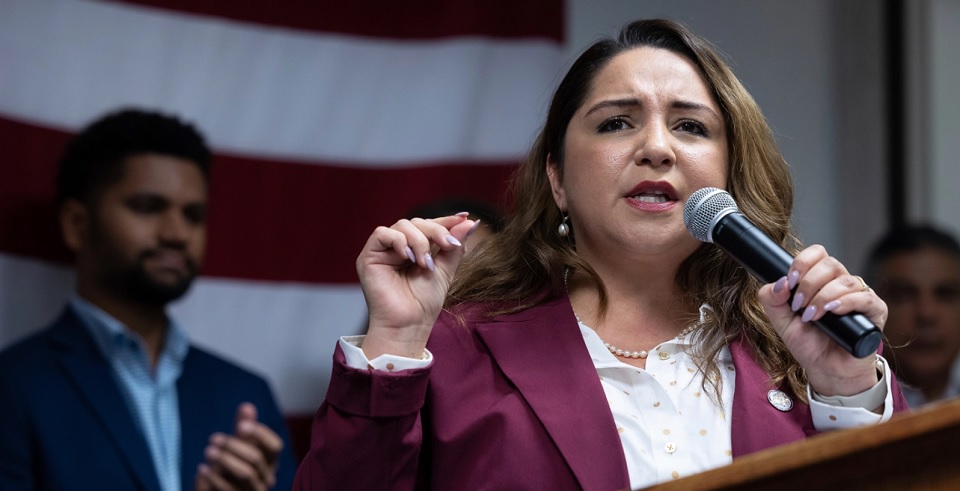 WASHINGTON—Harder than even Democratic President Joe Biden's criticisms of right-wing House Republicans during his State of the Union address, Rep. Delia Ramirez, D-Ill., had some really pointed words for the GOP, often by name, on everything from immigration to inflation to the Republicans' attacks on Social Security and Medicare.
Giving the official response of the Working Families Party, Ramirez didn't spare the new House majority's attack on constitutional rights,  on immigrants' rights to become full U.S. citizens, on women's right to abortion, and on the U.S. Constitution itself.
But the first-termer from Chicago's Northwest Side, like Biden, concentrated on economic issues in defending the Democrats—but with some criticisms–and frontally attacking the GOP.
"We want our government to represent us… not los riquillos, not the super-rich and the giant corporations," stated Ramirez, Illinois's first-ever congressional Latina. Biden criticized corporate profits but picked and chose which firms and rich to tackle—and not their corruption of the political system.
"Some communities" of the working class "are plagued by opioid deaths or gun violence," Ramirez explained." Some have seen flooding, others have faced droughts or wildfires, leaden water, or power outages because of the climate crisis. Whatever part of the working class you're from, we have plenty in common, and together, we are the majority (her emphasis)."
That's why she ran and was elected to the Illinois legislature before coming to Congress.
"I ran for Congress because Washington needs more working-class people making decisions. I know the struggles working people face every day, not because I read about them, but because I've lived them too." The Republicans want to blame workers like her, she said.
"Even while oil companies and grocery chains were making record profits, Republicans want to blame higher prices on workers who got their first raise in a generation," Ramirez said.
Just in one month of U.S. House control, Republicans showed their true colors, she said. "All I've seen from them is a determination to destroy the economic security of families like mine, take away the precious freedoms we still have, and target some of our bravest champions.
"And Republicans…are manufacturing a crisis by threatening to make the government default on its bills. Why? So they can force cuts to Social Security and Medicare. They're willing to risk economic catastrophe for an extreme agenda that no one voted for."
"Let's make it plain. Republicans want to slash health care for working people, so their donors can get another tax cut. We're going to fight like hell to ensure that in the richest country in the history of the world, everyone has good health care," she vowed.
Americans taking climate change seriously
"Republicans and their fossil fuel industry backers are furious Americans are taking climate change seriously. We will keep fighting for clean air, clean water, lower utility bills, good jobs, and a livable planet." But Ramirez wasn't done. She tackled their constitutional threat.
And she named the liar who fostered the Jan. 6, 2021, Trumpite invasion, insurrection, and coup d'etat try at the Capitol: Former Oval Office occupant Donald Trump. For good measure, she added an acolyte: Former Trump press secretary, Sarah Huckabee Sanders, just elected Arkansas governor. Huckabee Sanders gave the official Republican reply to Biden's speech.
"Republicans want to divide people, make us afraid of each other. Trump did everything in his power to spread deadly hate and lies to the American people and to the world, and Sarah Huckabee Sanders helped," stated Ramirez.
"Trump and Republicans are terrified of us–of working people–standing together for what we all have in common," Ramirez said, evoking the vision of a multi-racial coalition of workers.
She also went after Republicans legislatively. House Democrats passed Biden's Build Back Better plan during the depths of the coronavirus-caused depression. BBB had dollars "to make child care and eldercare and community college more affordable. House Democrats voted to extend the child tax credit, putting $300/month in the pockets of working parents.
"Every Republican was opposed. And just enough corporate Democrats joined them to block that bill." Ramirez didn't name them. The tax credit lapsed at the end of 2021.
Prime among the corporate Democrats was Sen. Joe Manchin, D-W. Va. He's still defecting, saying in an op-ed the day after the speech that getting the national debt under control must still be a main goal.
"What I want to say to President Biden and all my fellow Democrats in Congress is we have two jobs. We must stand up to the extremism of the MAGA Republicans. We have to show working people what Democrats will deliver for working families if they put us in control," Ramirez countered.
Ramirez had some criticisms of Biden, particularly on his continuation of Trump's anti-migrant policies. She called for comprehensive immigration reform, including legalization, and also emphasized more money must go for ways to help everyday low-income people—such as her parents—survive inflation.
And she suggested Biden use executive authority "to stand up protections for renters and hold corporate landlords accountable for rent price gouging and housing discrimination."