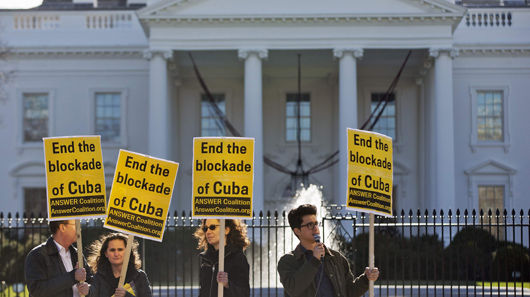 September Days in Washington, D.C. will offer the chance, once again, to raise voices to lift the blockade of Cuba.
This event is organized by IFCO/Pastors for Peace; the International Committee for Peace, Justice and Dignity for the Peoples; the Institute for Policy Studies (IPS); and endorsed by the National Network on Cuba (NNOC).
Activities on September 16 and 17 include lobbying Congress to respect the self-determination and sovereignty of the Cuban people and to end travel restrictions as well as raise awareness about the Cuban reality. Panel discussions and workshops held on September 18 are scheduled throughout the day beginning 8:30 am until 5:30 pm at Calvary Baptist Church, 755 Eighth Street, NW, in Washington.
A recent effort begun by the Norwegian Trade Union Federation to nominate Cuba for the 2015 Nobel Peace Prize is gaining momentum. Inspired by the December 17 agreement to "turn a new page" in U.S./Cuba relations, work began on a framework that would seize people's imagination for long overdue change.
Cuban international medical solidarity programs have now been nominated twice for this honor. Their Norwegian nomination asks for the prize to be given specifically to the Henry Reeve Brigade of Cuban doctors and healthcare professionals for their volunteer work during last year's Ebola outbreak in West Africa. The other is by Professor John Kirk of the Spanish and Latin American Studies Department at Dalhousie University, Halifax, Nova Scotia, Canada, and recommends that the prize be awarded to the whole Cuban international health solidarity effort.
The results are encouraging. In-depth coverage of the scope of Cuba's endeavor was made possible through the Biogenetic Engineering and Research Center, in Havana, based upon a scientific project conceived by President Fidel Castro to alleviate human suffering in the world. These efforts led to the eventual inauguration of the Latin America School of Medicine (ELAM), which was an enormous feat after the Special Economic Period in the face of a devastating blockade. More and more people in the U.S. are realizing that our own health could benefit also from ending the blockade.
Energized by worldwide attention to natural disasters and catastrophic weather events, Cuba's humanist and altruistic response is not a new phenomenon. In 2005, when Hurricane Katrina rocked New Orleans and disrupted life along the Gulf Coast, the Cuban government mobilized the Henry Reeve Brigade composed of 1500 medical doctors, nurses and healthcare technicians to come to the aid of victims of the disaster. George W. Bush spurned their offer.
After years of official neglect, the time has arrived to honor Cuban health solidarity workers. The Nobel Peace Prize is a major way to do this.
The Nobel Peace Prize Committee discourages efforts to lobby it on the subject of who should receive it. But readers are encouraged to sign this petition expressing their view that Cuba's international health solidarity work is deserving of this honor.
We should also be writing letters to the editor, calling in on radio talk shows and circulating literature on Cuba's health work.
In retrospect, this campaign offers a chance for people to confront the lies of anti-Cuba extremists who complain wrongly that Cuba's Latin America School of Medicine is a front for human trafficking and slave labor that only benefits the Cuban government. Nothing could be more cynical. The people spared from Ebola in Africa, victims of crippling earthquakes in Pakistan, Haiti and Chile, and countless thousands who received life-saving medication for treatable diseases unaffordable by children and the elderly, not to mention preventative healthcare maintenance, sanitary consultations and construction of field hospitals in remote areas without access to doctors or medical facilities – all these people around the world know better. So will the American people, some day.
Photo: AP