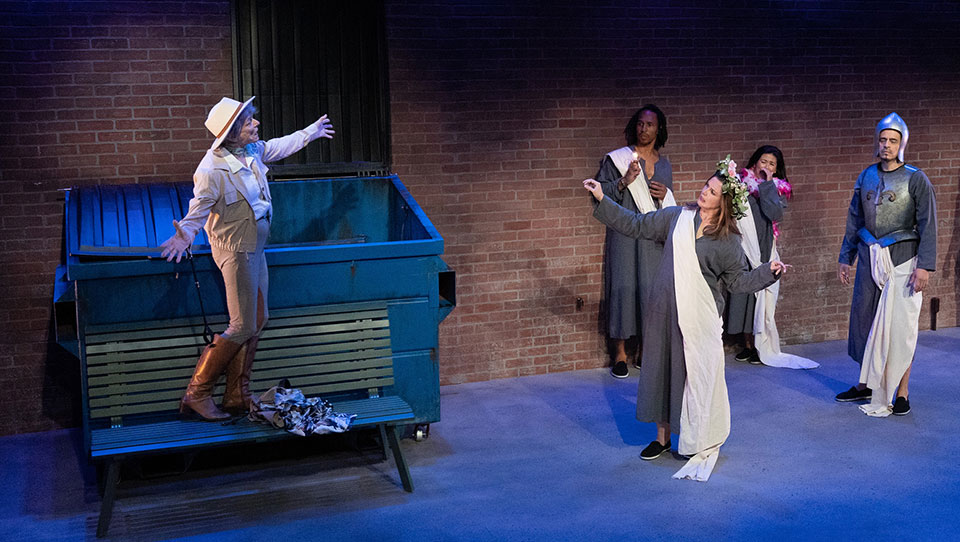 GLENDALE, Calif. — Coming off a global pandemic that may yet have a few punches left in it (got my third booster this morning!), we're reminded of the million-plus Americans who died prematurely and unnecessarily of COVID and the likely 15 million-plus worldwide who succumbed to the disease. It's an appropriate time to be thinking about death.
The era of the great plagues in Europe also gave rise to theater and other arts relating to death—the famous Dance of Death immortalized in music, painting, and graphic art, and no doubt in actual dance. The best-known of such plays was the 15th-century morality drama of Everyman, with multiple obscure literary sources, some possibly even tracing back and over to Buddhist philosophy. If the original play was Christian, it's clear by now that we are talking about Everybody, far beyond the constraints of belief in any particular form of salvation.
The term "Everyman" has come to signify the plight and destiny of all human beings. The Buddhists are right when they say all of us will die one day, but no one knows the hour of their death.
Christians have the phrase "Memento mori"—Latin for "Remember that you must die"—though the phrase actually originated in pre-Christian times.
Some sects, and some individuals irrespective of their faith, morbidly ruminate on death. Yet awareness of death can play an ennobling, uplifting role insofar as it inspires toward greater humanity, deeper compassion, and often finally getting around to those long-postponed, life-defining projects—the memoir, the reconciliation, the forgiveness, the pilgrimage. At the very least (although for many it's a lot), not knowing when you're going to die means you might not have enough time to redeem yourself from an afterlife in Hell.
Deeply embedded in the educational system of the old socialist countries, and in the hearts of millions of Communists around the world, was a passage from Soviet socialist realist novelist Nikolai Ostrovski's How the Steel is Made: "The most valuable thing that a person possesses is life. He is given but a single one. And he should use it so that his years are not wasted without purpose, so that he will not burn from shame for a base and mean past, so that when he dies he may say: My whole life, all of my strength, I have dedicated to the most splendid thing in the world, to the fight for the emancipation of mankind."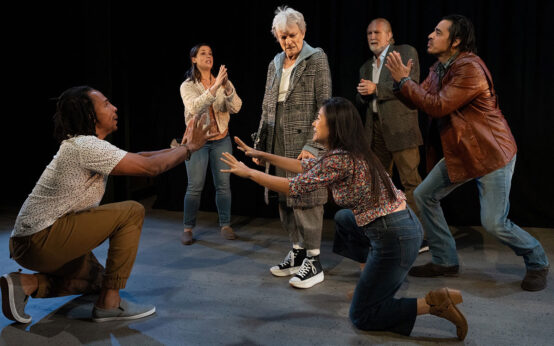 Everybody, a funny, provocative, and utterly urbane, bawdy riff on death by Branden Jacobs-Jenkins, premiered off-Broadway at the Signature Theatre in 2017 and was a 2018 finalist for the Pulitzer Prize. Little could the playwright know—or anyone but the most far-seeing epidemiologists and public health analysts—how shortly a deadly pandemic would once again dominate the universe.
So death has the function of concentrating our attention on the meaning of life. Everybody is informed they will have to make a "presentation," a sort of defense or account of their life. They'll be asked to answer, "Why did you have to live?" How, and why, will you be remembered?
Antaeus Theatre Company presents the play's Los Angeles premiere, directed by Jennifer Chang, playing now through October 17. The New York Times calls Branden Jacobs-Jenkins "one of this country's most original and illuminating writers." Two of this Brooklyn-based playwright's other credits include plays receiving People's World reviews, Gloria and An Octoroon.
"I've always been a huge fan of Branden Jacobs-Jenkins's writing and his playful approach to intense topics, such as, in this case, life and death," says Chang. "It's an important reminder to us all to appreciate life because we don't know how long we've got. As part of the fun, to make it clear that this play really is about everybody—about all of us—we're setting it in Glendale. We hope that as audiences enter the theater, they'll be reminded of the street they just left behind." The script prominently mentions, for example, articles of clothing purchased at local stores, with identifiable shopping bags.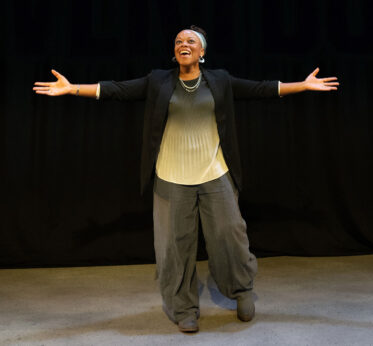 The nine-person cast is divided into two groups. The first group comprise the permanent symbolic characters: Love (Alberto Isaac), Time (Dawn Didawick), Death (Anne Gee Byrd), with whom Everybody will have an appointment sooner or later, and God (Cherish Monique Duke), who also appears in other, perhaps equally meaningful avatars of Usher and Understanding, for the humanistically inclined.
The other five actors are Somebodies. One of them will be the eponymous Everybody, who searches for a companion, a Somebody, to accompany them to their appointment. The other four will play such fleeting worldly roles as Cousin/Mind, Friendship/Strength, Beauty/Kinship, and Stuff/Senses. The arbitrariness of life and death is underlined by a clever theatrical sleight of hand whereby these five roles are portrayed on a random basis assigned by lottery at every performance—resulting in 120 possible combinations! On opening night (Sept. 16), Everybody was Nicole Erb. Antonio Jaramillo played Cousin/Mind, Lisa Sanaye Dring was Friendship/Strength, Gerard W.A. Joseph was Beauty/Kinship, and Harry Groener was Stuff/Senses.
With these five roles chosen by lottery, "the cast will shift a lot," Jacobs-Jenkins explains: "This may be an insane idea. We're assuming all these lovely actors are going to memorize the entire script." The play, staged in an intimate 80-seat theater, runs 90 minutes without intermission.
The Antaeus creative team includes scenic and props designer Nicholas Ponting, costume designer Adriana Lámbarri, lighting designer Bryan Ealey, sound designer Salvador Zamora, projection designer Yi-Chien Lee and choreographer Annie Yee. The dramaturg is Ryan McRee, the assistant stage manager is Jess Osorio, and the production stage manager is Trixie Hong.
At certain points in the play, an actor recites their part and their fellow actors gesture and mouth the words with mirror expression. We can probably conclude that for the sake of the play's integrity from performance to performance, the actors have been rehearsed to employ the same intonations, the same pauses, the same movements for the role they've been allotted. I can imagine scenes where, as a unison chorus, the cast practiced together so as to be in total sync with each other's smallest vocal and physical details. This is not a play in which an individual is free to emote and "interpret" their role: They're playing small but vitally tuned parts in an eternal, ever-repeating pageant that defies personal characterization, even age and gender. This is collective theater requiring a highly refined unity of conscience and style.
The static character of Death has the most interaction with the Somebodies. Given the availability of these other figures—Love, God, Time—I would have liked to see them more integrated into the story. Among the other characters, Friendship receives the most attention as a self-absorbed motormouth (and we all know such types, right?). When Everybody reviews all the Stuff they've accumulated, they meditate on the hours of labor it took to amass the money to buy it. It sounds like Jacobs-Jenkins has read his Marx on the fetishism of the commodity.
If all is vanity—though Mr. Ostrovski might disagree with that non-materialist analysis—he might go along with the new, updated moral to this ancient morality play: "Be nice to each other, for once."
Performances of Everybody continue through October 17 on Fri. at 8 p.m., Sat. at 2 and 8 p.m., Sun. at 2 p.m., and Mon. at 8 p.m. There will be two additional performances on Thurs., Oct. 6 and Oct. 13, each at 8 p.m.
Antaeus operates at the Kiki & David Gindler Performing Arts Center, 110 East Broadway, Glendale 91205 (between N. Brand Blvd. and Artsakh Ave.). The first 90 minutes of parking are free, then $2 per hour, in the Glendale Marketplace garage located at 120 Artsakh Ave. (between Broadway and Harvard). Street parking can usually be found within a few blocks' perimeter. For reservations and information, call (818) 506-1983 or go to www.antaeus.org.