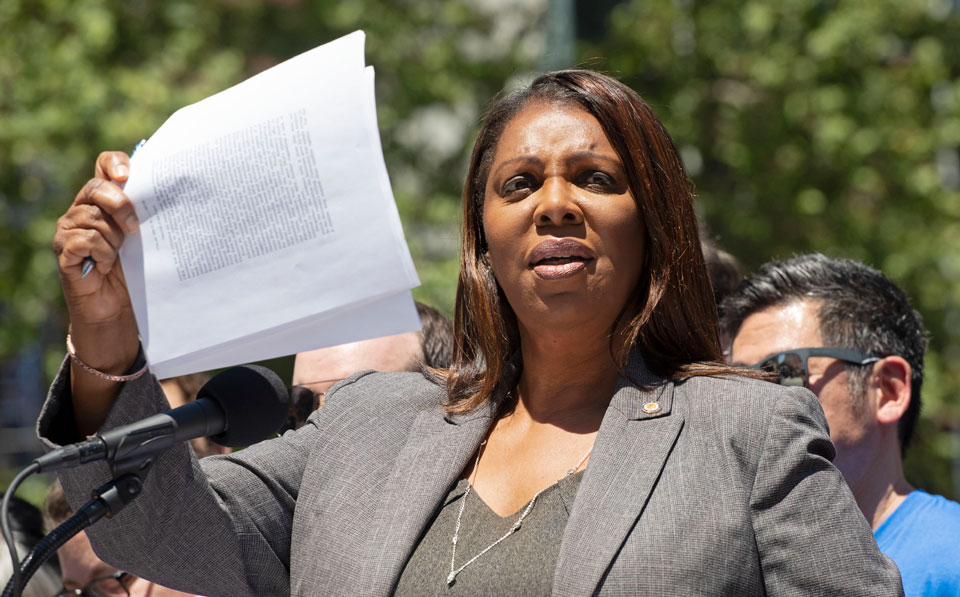 WASHINGTON—Lawmakers and state officials representing Hispanic-named citizens hailed the Trump Commerce Department's July 2 decision to throw in the towel and not add a "citizenship" question, one they deemed racist, to next year's census. So did the American Civil Liberties Union (ACLU), which helped assemble the successful lawsuit against the query.
Commerce Secretary Wilbur Ross, who's responsible for the Census Bureau and its headcount—the agency is part of his department—said he decided to drop the controversial question due to time pressure. The government had to start printing forms for next April's census on July 1.
But the Supreme Court, in the challenge brought by the ACLU, New York, California, and other states, tossed the whole mess back down to lower courts on June 27. Chief Justice John Roberts, writing for the five-justice majority, called Ross's claimed original reason for adding the citizenship question "pretextual," a polite way of saying Ross lied.
What court testimony showed, and later evidence uncovered by the New York Times proved, was that President Donald Trump wanted, and Ross agreed, to add the "Is this person a citizen?" question in order to deliberately undercount people of color, particularly Hispanic-named people and Democrats, and hurt them in representation in Congress and state legislatures.
Census Bureau experts calculated they would miss 5.8%—one of every 17—people nationwide with the question added to the form because people would be afraid to fill it out. That in turn, GOP redistricting experts said, would give more weight to non-Hispanic whites and Republicans.
Ross's decision to dump the question means "the Trump administration had no choice but to proceed with printing the 2020 census forms without a citizenship question. Everyone in America counts in the census, and today's decision means we all will," said Dale Ho, director of ACLU's Voting Rights Project, which put together the case.
"While the Trump administration may have attempted to politicize the census and punish cities and states across the nation, justice prevailed, and the census will continue to remain a tool for obtaining an accurate count of our population," said New York Attorney General Letitia James.
Her state, with large Latino populations in New York City, as well as in smaller cities and rural areas upstate, would have been particularly hurt by an undercount.
So would California, the nation's most populous state, with a large and growing Latino population, especially in and around Los Angeles. So Attorney General Xavier Becerra, too, cheered Ross's decision but warned more work lies ahead because Trump has underfunded the Census Bureau.
Nevertheless, "we celebrate a foundational principle of our democracy: That everyone counts," Becerra said. "While the Trump administration attempted to silence so many people with its cynical agenda, California, like many others, fought to protect our people, our values, and our resources. Today and moving forward our friends, neighbors, families, and loved ones can stand up and be counted. In 2020, with this census, 40 million Californians—and millions more across the nation—young and old, rich and poor, citizen and immigrant, will lift their voices together to declare: We're here, we count, and none of us will be pushed into the shadows."
And Rep. Jesus "Chuy" Garcia, D-Ill., whose Chicago district is predominantly Hispanic, and who filed an affidavit with the Supreme Court about how an undercount would hurt his constituents—agreed.
Ross's decision is "a victory for everyone. Every single person in our democracy counts—and deserves to be counted—in the census. The announcement is especially important for communities of color, working-class families, and immigrants," who would have been uncounted, and shortchanged, Garcia said. But he also warned of another threat ahead: Trump could try to add the citizenship question to future censuses.
Top Hispanic groups and heavily Hispanic unions, such as the Service Employees, had no immediate reaction to Ross's ruling.