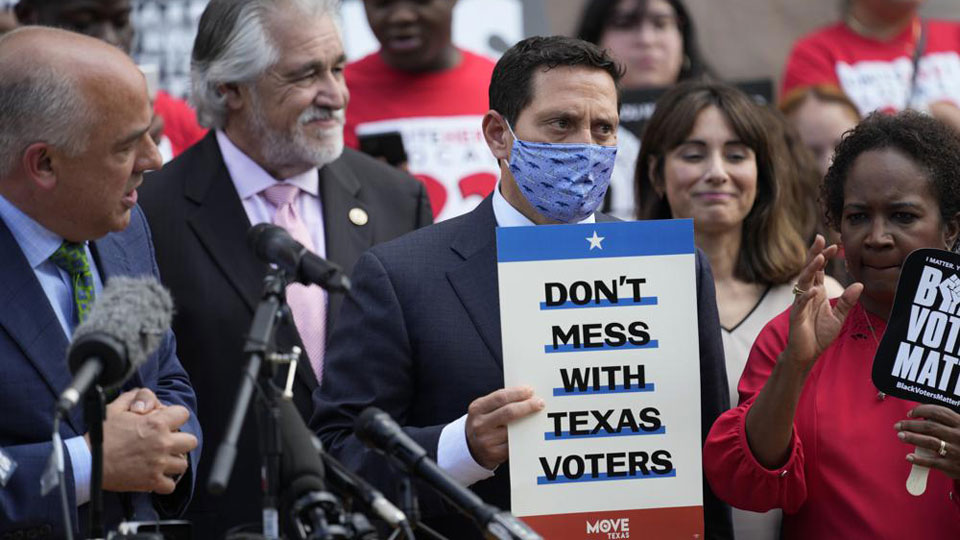 They (almost all Texans you meet) say, "everything is bigger in Texas. And if you read between those words, you will find that "bigger in Texas" also includes racism, bigotry, and direct assaults against democracy. It is a hard pill to swallow, but in these moments following Donald Trump's ruinous single term in the White House, fact becomes stranger than fiction.
And the lie still leaving the right-wing soothsayers' (Fox News) lips—the claim voting fraud stole the second WH term from Trump—keeps growing in the Lone Star state.
The right-wing assault against voting rights, that thin dividing line between conservative racism and everybody else, continues to escalate state by state and at the federal level.
In Texas, Republicans have introduced sweeping bills that would make it harder to vote in a state that already has some of the most restrictive voting laws in the nation.
During the special legislative session called by Republican Gov. Greg Abbott to address voting security two bills, House Bill 3, and Senate Bill 1, were introduced.
Combined, they would create new identification requirements for people voting by mail; prohibit local elections officials from sending a vote-by-mail application to people who have not requested them; and ban drive-through voting. But it did extend voting hours during early voting.
Keep in mind, working people and working people of color depend on mail-in-voting and benefited most from it during the 2020 pandemic presidential election. It makes you wonder, though, why those voting methods, which most minority voting blocs rely on would be on the chopping block?
Could it be because their votes go blue, not red? Yes.
So, in the face of such blatant repression, what can you do? You exit stage left.
As reported nationwide yesterday, over 50 Texas Democrats fled the state for Washington D.C. in a dramatic effort to prevent the state legislature from having the full quorum needed to pass such undemocratic bills. They will stay put for as long as they need to. And will be pushing Democratic legislators on the Hill to act and pass the John Lewis Voting Rights Act, the For the People Act, and end the filibuster.
As expected, Abbott, cloaked in nationalism and pure authoritarianism, said Republicans will not be deterred (in their efforts to undermine democracy), and in supporting Donald Trump's false stolen election claims.
"As soon as they come back in the state of Texas, they will be arrested, they will be cabined inside the Texas Capitol until they get their job done," Abbott told Austin television station KVUE.
Abbott continued: "Texas Democrats' decision to break a quorum of the Texas Legislature and abandon the Texas State Capitol inflicts harm on the very Texans who elected them to serve.
"As they fly across the country on cushy private planes, they leave undone issues that can help their districts and our state."
Strong words from a Governor earning a six-figure salary, plus all the added benefit, compared to the $7,200 per year paycheck of Texas legislators.
But I digress.
The notion that Abbott sits above the rest in terms of morality is absurd. His time in office has been marked with racist, homophobic, xenophobic, and sexist policies topping off his general corrupt nature.
How did you ask?
Abbott has actively moved to strip away reproductive rights and freedom for women in Texas. On May 18, 2021, he signed into law legislation prohibiting abortions once a fetal heartbeat is detected—effectively banning most abortions in the state, leaving only unsafe options for women who needed reproductive care for one reason or another (their body, their choice does not just apply to face coverings).
During 2015–2017 he signed legislation legalizing discrimination based on sexual preference, and in 2014 defended Texas' ban on same-sex marriage while he was the state's Attorney General.
He refused to accept Syrian refugees following the Paris terrorist attacks and he blocked funding for Travis County, Tx, since it was a sanctuary city—so much for being "pro-life", huh?"
All in all, Abbott's feigned outrage is just an act. He has taken a copious number of notes on how to "be like Trump," and when all is said and done, he is nothing more than another bloviating right-wing windbag.
"Our democracy is on the line," state Rep. Trey Martinez Fischer told NBC News.
So, to preserve democracy, we must do whatever it takes. These 50 Democratic lawmakers will go down on the right side of history—preferably the left side, and we should applaud their efforts while ensuring Abbot doesn't get a third term in 2022.