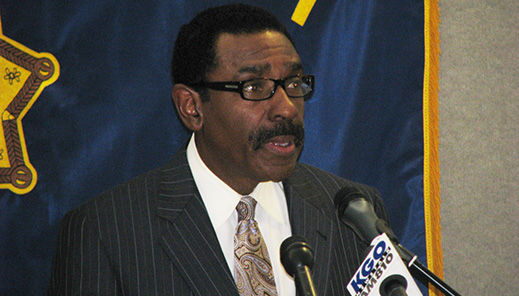 DUBLIN, Calif. – With early release programs already underway in California for people incarcerated for non-violent offenses, Alameda County elected officials, law enforcement officials, community organizations and current and former inmates came together here April 22, to consider how best to help former prisoners successfully rejoin their communities.
Alameda County, across the bay from San Francisco, could receive an additional 1,000 formerly incarcerated people over the next three years, under early release programs propelled by state budget problems and concerns about overcrowding and prison health care, according to County Supervisor Keith Carson.
With many inmates being released with no place to stay, no connection to drug and alcohol treatment or to loved ones, Carson is calling for "an integrated approach which provides everyone leaving our institutions with a chance of becoming an asset to our communities, not a problem."
At the hearing, hosted by Carson and County Sheriff Gregory Ahern at the Santa Rita Jail, current and former inmates gave moving accounts of how education and transition programs have helped them, and called for upgrading and expanding resources.
"Society doesn't owe us, we owe society for every crime we have done that takes away from society," said Jerry Elster, who spent 27 years in San Quentin on a murder conviction, earning a college degree during his stay. "But what we ask from society is that you give us the opportunity to pay that debt."
On release, he said, many inmates don't have the resources, education, transportation and medical care they need to successfully reintegrate into the community. "When you send an inmate into an institution, he or she is already ill-prepared to make it in society, and if you tell them they have to go back into the same circumstances and conditions, you're already preparing them for readmission."
Monica Ortiz, a single mother who formerly served in the military, is now incarcerated at Santa Rita. She said classes at the jail "have changed my way of thinking" in ways neither high school nor the military had done. "They have helped me with my addictions, with organizing my thoughts, and to value myself," she said. Ortiz drew a standing ovation from the audience as she declared, "I'm very positive about my future, I look forward to being released. I'm going to be a success story – just watch me!"
Representatives from agencies and organizations emphasized education, jobs, stable housing and health care as essential to successful reintegration into the community.
Even when they have access to job preparation programs prior to discharge, former inmates face many challenges in becoming employed. While programs such as Clean Slate, which helps people petition for dismissal of criminal convictions, can help, employer attitudes also need to change, jobs program leaders said. Several current programs provide job preparation, and some bring prospective employers into the jail.
Transitioning inmates need more intensive health care planning as well as wraparound services including help with welfare, food stamps, housing and financial literacy, said leaders of several health-related organizations.
"We must change the view of transitioning inmates, from one of fear to welcome and embrace," Linda Evans of Legal Services for Prisoners with Children told the assembled panel of judges, elected officials and law enforcement leaders, including Sheriff Ahern and Matthew Cate, head of the state Department of Corrections and Rehabilitation. Evans called for better use of community resources, and urged removing "the barriers caused by racism and racial profiling."
In brief conversations after the hearing, Ahern said about half of those incarcerated in Alameda County now have access to transitional programs going beyond basic services available to all inmates, with state funds vital to keep them going. Cate pointed out that while proven transition programs save funds in the long term, finding more state resources is difficult in the current budget crisis, and coordinating with community and faith-based organizations is essential.
Photo: Alameda County Supervisor Keith Carson/PW Marilyn Bechtel