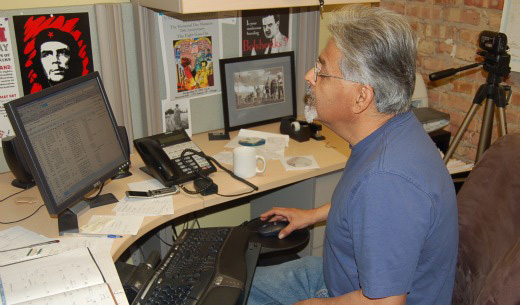 Labor and civil rights groups are recommending the Federal Communications Commission (FCC) do more to expand high speed Internet and broadband services for low-income and minority communities.
In a letter to the FCC the groups, which include the American Civil Liberties Union, the Asian American Justice Center, the Communications Workers of America, the NAACP and others, say broadening the reach of telecommunications services is essential to the economic development of especially hard-hit communities during the current recession.
The letter states: "At a time when so many families are hanging by a thread, we are focused on the needs of workers and their families, along with the structural barriers that threaten to keep entire communities from sharing in the country's economic recovery for generations to come," notes the letter. "That is why we support measures to promote a broad-based economic recovery, and the provision of tools, such as broadband access, to take advantage of that recovery."
The groups note they agree with the FCC in its National Broadband Plan, where it says:
"Broadband is a platform for social and economic opportunity. It can lower geographical barriers and help minimize socioeconomic disparities – connecting people from otherwise disconnected communities to job opportunities, avenues for educational advancement and channels for communication. Broadband is a particularly important platform for historically disadvantaged communities including racial and ethnic minorities, people with disabilities and recent immigrants."
In other words broadband is the critical communications infrastructure in the 21st century. Yet data shows vast disparities in access, the groups charge.
In their letter the coalition also points out how the Commission's Broadband Consumer Survey shows that 93 percent of households with an income under $75,000 have broadband at home, while only 40 percent of adults with an income of less than $20,000 have such access.
However such access is critically important for success in a competitive job market especially at a time when unemployment is a reality for so many. For example in March unemployment was 8.8 percent. Among Blacks it was 15.5 percent and 11.3 percent in the Latino community.
Qualifications in science, technology, engineering and math are vital for gaining entry to sectors where there is greatest job growth, notes the letter. But gaining those qualifications is almost impossible without access to broadband.
The coalition recommends the FCC:
• Move quickly to expand Lifeline and Link-Up to support broadband services that can support voice as well as other applications;
• Expand Lifeline and Link-Up to support broadband services this year, and move expediently to initiate the broadband pilot projects so that the Commission can restructure Lifeline supports by the end of 2013;
• Create a financial set-aside for competitive grants within the Lifeline program to encourage states to adopt improved program administration that will promote more consumer control, increased competition, develop public-private partnerships, enhance efficiency and protect privacy;
• Expand and simplify eligibility rules, create incentives within the program to reach target populations and reduce waste and fraud, and mandate combined outreach (and possibly administration) of this program with other similar programs;
• Increase efficiency and reduce waste by incorporating into the Lifeline program the latest and best thinking regarding federal benefit programs-particularly by expanding and simplifying eligibility rules, creating incentives within the program to reach target populations and reduce waste and fraud, combining outreach of this program with other similar programs, redefining -household,‖ and continuing to promote broadband access in Indian country;
• Postpone any consideration of a cap until the reforms proposed in the current proceeding can be implemented, especially in light of the growing need for Lifeline in these challenging economic times and the unambiguous evidence that Lifeline and Link-Up are taken up by about 32 percent of the population that is eligible to receive it; and
• Take this opportunity to reevaluate the current distribution of financial support between universal service funds to support low-income consumers and programs that support high cost areas to ensure greater economic efficiencies and value for money.
Nearly half of U.S. residents have Internet connection speeds that do not meet the Federal Communications Commission's minimum broadband standards and the U.S. ranks in the bottom half of the world in broadband speed, according to a report released in December.
Hilary Shelton, the NAACP's senior vice president for advocacy and policy, said at the time that, "Every American, regardless of race, gender, ethnicity, income or geographic location should have affordable access to high-speed Internet. This is essential to economic growth and will help advance and improve our global competitiveness."
In December the FCC adopted rules for Internet and wireless providers that protect the public in various ways. But the rules have drawn criticism for allowing wireless companies to restrict their customers' Internet access.
During an April National Conference for Media Reform in Boston, House Democratic leader Nancy Pelosi advocated for "net neutrality" – an open Internet with equal access for everyone.
The recent letter was also signed by the National Urban League; National Coalition on Black Civic Participation; National Consumer Law Center on behalf of its low-income clients; National Disability Rights Network; National Hispanic Media Coalition; National Organization for Women Foundation; The Leadership Conference on Civil and Human Rights; and the United Church of Christ, Office of Communication, Inc.
Photo: Broadband is the critical communications infrastructure in the 21st century. Pepe Lozano/PW