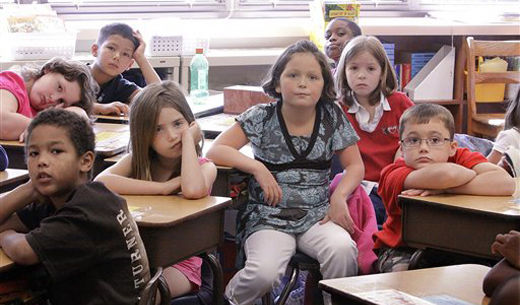 The Obama administration is proposing major changes to the nation's No Child Left Behind education law. The bipartisan No Child was signed into law eight years ago by President George W. Bush. Critics say tens of thousands of schools have been branded as failing without any real resources or leadership to help improve them. Failing schools are often closed, stranding children, teachers and administrators, and throwing communities into turmoil.
One proposed change is to eliminate the 2014 deadline for making every U.S. child "academically proficient." Such a deadline is "utopian" and unrealistic, Secretary of Education Arne Duncan said.
Other proposed changes include the way federal school financing is awarded. Federal funds to schools would be based on academic progress, rather than by longstanding formulas that incorporate the number of low-income students and other factors. Such an income-based formula for distributing tens of billions of dollars in federal aid have, for decades, been a mainstay of the annual budgeting process in the country's 14,000 school districts.
Standardized testing is perhaps the most controversial issue under the current law. Educators, parents and students argue that standardized tests have many flaws and cannot tell the whole story of academic progress and learning.
In a statement after President Obama's State of the Union address, National Education Association President Dennis Van Roekel said standardized tests do not give an accurate assessment of student learning. We have to "stop this testing mania. Students are so much more than a test score." Van Roekel said student learning can't be assessed accurately just "one day out of the year." He called for a more holistic assessment that could measure student learning, what they need to learn and the best practices for teachers.
Randi Weingarten, president of the American Federation of Teachers, is calling for an entirely new teacher evaluation system that includes drastic improvements. Such initiatives should incorporate state standards that define teacher competence, and mentoring and support to assist teachers succeed in educating children.
Most teacher evaluation today is flawed because its too closely linked to scores students receive on standardized tests, she said.
"The public education system, which teaches over 90 percent of our children, still operates on an Industrial Age model and does not prepare students for the 21st century economy," said Weingarten. "And No Child Left Behind has made it worse, creating the pedagogical equivalent of a factory, reducing learning to a conveyor belt of rote prep sessions and multiple choice tests."
Both unions say the current use of standardized tests result in "teaching to the test," which gives short shrift to all subjects other than math and English.
Under the No Child law the nation's 98,000 public schools are required to use standardized test scores as the final determinant in issuing a failing score to an entire school. A failing score means the school district would either close it down or fire the whole staff and radically restructure it. Such standards cause teachers, school employees, low-income students and minority communities even further hardships, which they say already lacks proper resources and adequate economic support.
Obama administration officials say such a process fails to differentiate between schools in perpetual failure mode and schools where low-scoring students are improving with help and high-performing schools, which still appearing to neglect some low-scoring pupil. The administration seeks to implement a system that would divide schools into more divisions, offer recognition to those succeeding and adequate resources to failing schools to help them improve. The administration is not planning to abandon the current law's commitment to closing the achievement gap between minority and white students. Encouraging teacher quality is also going to be a continued goal.
No Child has generated tremendous opposition over the years especially from educators who contend the system has set impossible goals for students and humiliates teachers and students when they fall short.
To date, the current law has labeled some 30,000 schools — or almost one-third of the nation's public schools — as "in need of improvement," meaning they have missed the test scoring goals.
Teacher unions seemed cautiously optimistic about reforming No Child, although there are sticking points that include teacher merit pay based on test scores, and guaranteeing adequate resources to the nation's schools, especially federal funding commitments to what are called "unfunded mandates." For example, special education funding from the federal government is only a small percentage of the total costs to educate special needs children under the federal law, Individuals with Disabilities Education Act.
Third graders at Jane Addams Elementary School in Springfield, Ill., watch and listen to President Barack Obama deliver a televised address to classrooms across America challenging them to work hard, set educational goals, and take responsibility for their learning, Sept. 8, 2009. Seth Perlman/AP