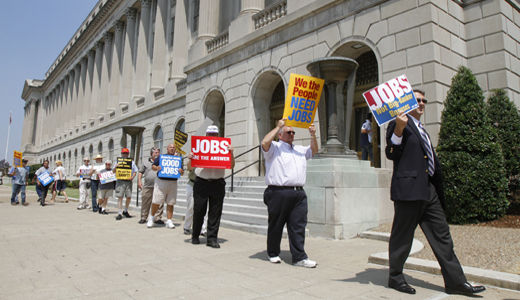 By stripping out any provisions that create jobs and by waiting until Tuesday when Carte Goodwin, a Democrat, is set to be sworn in to replace the late Sen. Robert Byrd of W.Va., Democrats are expected to have the 60 votes needed to cut off a GOP filibuster against extension of unemployment benefits.
They plan to take the vote that will end the filibuster just minutes after the new Democratic senator is seated.
The move will free the Senate to approve a measure that will extend until November the standard jobless benefits millions have exhausted.
President Obama, this morning, ripped Republicans who, he said, supported such extensions of jobless benefits under Republican presidents but oppose them now. Obama attacked Republicans for their unwillingness to help the jobless, on the one hand, and their enthusiasm for tax breaks for the rich, on the other hand.
Republican leaders meanwhile, appearing on TV over the weekend, may have left local GOP candidates open to charges that their party has done nothing but embrace the Bush agenda. During an hour-long discussion on Meet the Press, National Republican Congressional Campaign Chairman Pete Sessions and National Republican Senate Campaign Chairman John Cornyn were repeatedly asked to name one policy difference they had with the Bush administration. Sessions finally said, "We need to go back to the exact same agenda."
Although the latest aid to the jobless package has been scaled back, Jim Bunning, the first GOP senator to campaign nationally against jobless aid, is still not satisfied. "The Democrats are still saying to us that this (the jobless situation) is an emergency. This is not an emergency," said Bunning.
Photo: AP Photo/The Courier-Journal, Michael Hayman Protesters gathered outside the offices of Kentucky Sen. Mitch McConnell's office in Louisville, July 7, to protest McConnell's leading a Republican filibuster that blocked an extension of federal jobless benefits.