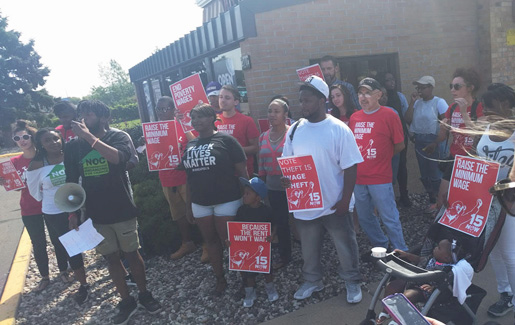 Ed. note: This story reprinted with permission from Workday Minnesota.
MINNEAPOLIS — Supporters of a $15 minimum wage gathered in the parking lot of a north Minneapolis Wendy's restaurant Tuesday to celebrate – and chart a course to victory on the November ballot.
For Tenice Hodges, a minimum wage worker living out of her car, the campaign brings the hope of self-sufficiency. For Charles Thornton, who has worked for seven years at Wendy's, it means the chance for a better life for his grandchildren.
More than 100,000 Minneapolis workers – many of them women and people of color – would benefit from the $15 wage, the campaign said.
On Monday, Hennepin County Judge Susan Robiner issued a decision ordering the City of Minneapolis to put the $15 minimum wage charter amendment on the November 2016 ballot. She ruled the City Council's action to block the amendment, taken earlier in August, lacked basis in Minnesota law.
Members of the Minneapolis $15 campaign were exuberant as they spoke to the media in the Wendy's parking lot. They included 15Now Minnesota, Neighborhoods Organizing for Change and CTUL, Centro de Trabajadores Unidos en Lucha/Center of Workers United in Struggle.
"We are very happy to see our legal suit has won," said Tyler Vasseur, an employee at Jimmy John's sandwich shops and one of the plaintiffs in the suit challenging the City Council's decision. "We are ready to win $15 an hour in November!"
Ginger Jentzen, executive director of 15Now Minnesota, said the coalition plans a rally Sept. 12 to kick off organizing for the vote on Nov. 8.
"It will be a launch to get folks all plugged in across the city of Minneapolis," she said.
Hodges and Thornton said they are ready to knock on doors and make phone calls to get the amendment passed.
"This is not about getting a handout," said Hodges, who has a full-time job as a food server. "We work hard every day like everybody else.
"It's imperative we get $15 an hour so we can sustain a quality of life and self-sufficiency."
Thornton, a fast food worker at Wendy's, said it's all about the future. "I'm doing this for my grandchildren," he said.
It's not clear if the City Council plans to challenge Judge Robinar's decision. If they do, an appeal would have to be filed before the Aug. 26 deadline for any changes to the November ballot.
If passed, the amendment would phase in the $15 minimum wage between 2017 and 2020 for Minneapolis employers with 500 or more workers and between 2017 and 2022 for smaller employers. It also calls for the wage to be automatically adjusted each subsequent year to keep pace with inflation.
Advocates gathered nearly 20,000 signatures on petitions to put the issue before voters in November. A recent poll shows nearly 70 percent of Minneapolis registered voters back the wage increase.
Photo: Becky Dembach/Workday Minnesota