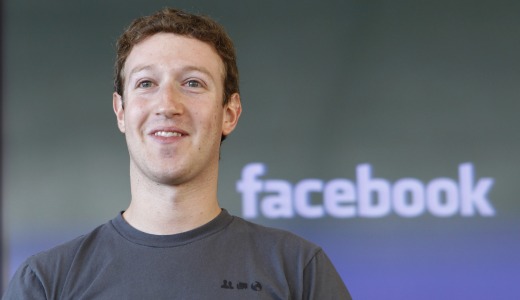 Mark Zuckerberg, 26, Facebook's founder and CEO was recently named Time magazine's Person of the Year 2010.
In 2004, Zuckerberg created Facebook, the world's most popular social networking site, while attending Harvard. The site became extremely popular and widely influential, reflecting the online revolution changing the way people communicate and share information worldwide.
"Being named Time Person of the Year is a real honor and recognition of how our little team is building something that hundreds of millions of people want to use to make the world more open and connected," wrote Zuckerberg on his Facebook status. "I'm happy to be a part of that."
Time's managing editor Rick Stengal said, "Facebook has merged with the social fabric of American life, and not just American but human life: nearly half of all Americans have a Facebook account, but 70 percent of Facebook users live outside the U.S. It's a permanent fact of our global social reality. We have entered the Facebook age, and Mark Zuckerberg is the man who brought us here."
Time noted that in less than seven years, "Zuckerberg wired together a twelfth of humanity into a single network, thereby creating a social entity almost twice as large as the U.S. If the service were a country it would be the third largest, behind China and India." The site, says TIME, has changed the way human beings relate to one another on a species-wide scale.
This year Facebook added its 550 millionth member. One out of every dozen people on the planet has an account. Its membership is growing at a rate of 700,000 people a day. The site hosts over 15 billion photos and users upload 100 million more daily. Since 2007, it gets more traffic than Photobucket, Flickr or Picasa and has now become the world's most popular website.
Earlier this year Zuckerberg pledged to give $100 million to the Newark, N.J., school system. And in December he joined a campaign pledging to give away at least half of his wealth over the course of his lifetime. Zuckerberg owns about a quarter of Facebook's shares and is "a billionaire six times over," notes Time. Facebook's 2010 revenue is estimated anywhere from $1.1 billion to $2 billon.
Zuckerberg is part of the last generation of human beings who will remember life before the Internet, writes Time's Lev Grossman. Facebook is the realization of a dream. But it's also the death of a dream, one that began in the late 1960s, he adds.
The Internet, he says, was an expression of 1960s counterculture. "No single computer runs the network. No one is in charge. It's a paradise of equality and anonymity, an electronic commune."
When the Web arrived in the early 1990s, it went mainstream. The number of people online exploded, from 2.6 million in 1990 to 385 million in 2000.
"The equality and anonymity that made the Internet so liberating in its early days turned out to be disastrously disinhibiting," says Grossman. "They made the Internet a haven for pornographers and hatemongers and a free-for-all for scammers, hackers and virus writers."
Although Zuckerberg encourages Facebook users to be "open and share," the issue of privacy is a danger, but in a new way, notes Grossman – "Which is that instead of feeling forced to share, we won't be able to stop ourselves from sharing – that we willingly, compulsively violate our own privacy. Relationships on Facebook have a seductive, addictive quality that can erode and even replace real-world relationships." Some authors are even suggesting that a Facebook addiction could eventually become an actual diagnosable ailment.
Facebook, according to Grossman is so big that it's starting to bump up against governments as well including the FBI. "Facebook has a richer, more intimate hoard of information about its citizens than any nation has ever had, and the U.S. government sometimes comes knocking, subpoena in hand, looking to borrow some."
China has blocked the site since 2009 and Iran, Pakistan and Saudi Arabia have all banned it at one point or another.
Grossman concludes, "For all its industrial efficiency and scalability, its transhemispheric reach and its grand civil integrity, Facebook is still a painfully blunt instrument for doing the delicate work of transmitting human relationships. It's an excellent utility for sending and receiving data, but we are not data, and relationships cannot be reduced to the exchange of information of making binary decisions between liking and not liking, friending and unfriending."
Meanwhile, Zuckerberg says Facebook is the wave of the future. The next five years are going to be about building out this social platform, he told Time. "It's about the idea that most applications are going to become social, and most industries are going to be rethought in a way where social design and doing things with your friends is at the core of how these things work. If the last five years was the ramping up, I think that the next five years are going to be characterized by widespread acknowledgement by other industries that this is the way that stuff should be and will be better."
The annual Person of the Year award is a staple of American journalism. Others considered for this year's award were Afghan President Hamid Karzai, the trapped Chilean miners, the tea party movement and WikiLeaks founder Julian Assange, who incidentally won the online vote over Zuckerberg.
Melissa Bell with the Washington Post explained why Time chose Zuckerberg. "While Assange attacks big institutions and governments through involuntary transparency with the goal of disempowering them, Zuckerberg enables individuals to voluntary share information with the idea of empowering them. Assange sees the world filled with real and imagined enemies; Zuckerberg sees the world with potential friends."
Photo: Facebook CEO Mark Zuckerberg smiles during an announcement in San Francisco, Nov. 15, 2010. AP Photo/Paul Sakuma)