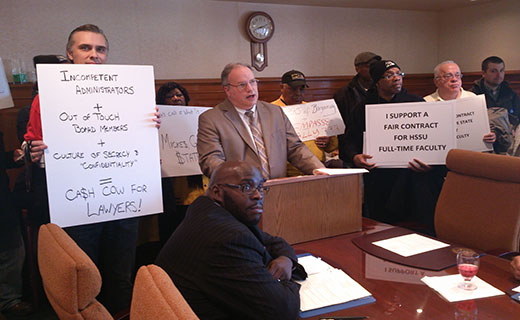 ST. LOUIS – "It often feels like students are an afterthought and professors are an inconvenience," history professor Brian Elsesser told the People's World as dozens of union members and their supporters crowded into the Harris-Stowe State University (HSSU) Board of Regents meeting here Feb. 25.
The Board of Regents had recently presented their "last, best and final offer" to the HSSU-National Education Association (NEA), Elsesser's union, which has been in contract negotiations since last fall.
Elsesser, an assistant professor at HSSU who has worked there for 11 years, makes about $48,000 per year, or "about $30,000 below market, especially in a urban university," he said. With a wife and two daughters, Elsesser says he "moonlights" at nearby Webster and Fontbonne Universities due to HSSU's low pay – a option the HSSU administration hopes to eliminate.
According to Mark Abbott, HSSU-NEA president and 26-year history professor, HSSU professors are "severely underpaid in comparison to comparable institutions." The professors are asking for a modest 3 percent pay raise over two years.
HSSU faculty haven't had a general pay raise in six years.
However, the grievances of Elsesser, Abbott and the NEA go beyond bread-and-butter wage and benefit issues.
According to Elsesser, their negotiations have also centered on academic freedom and student retention. Abbott told the Regents, "I want to make the university and its faculty stronger – and I truly believe a collective bargaining agreement will do that."
At HSSU, a historically African American university, only about 18 percent of students graduate, which means about "82 percent of students pack on debt and then don't graduate," Elsesser said. Additionally, with a student population of about 1,300, the administration is bloated, he said. According to Elsesser, for every $1 spent on teaching, 75 cents is spent on administration.
The university is "not responding effectively to students" and is running the school into the ground due to mismanagement and administrative overhead, Elsesser said.
Faculty members say the HSSU administration has been "tone deaf" to faculty proposals regarding student retention. Elsesser and others have proposed "degree programs that fit the interests and needs of the students." Simply put, they say, current degree programs aren't working.
They also object to an administration-imposed program that professors are calling "tag and track," which requires professors to meet with every student in person twice per semester. Some professors may have 100 students "or more" enrolled each semester, said Abbott. "To require two office visits per student is simply not doable," he said. And requiring faculty to record office visits on a daily basis is "demeaning as professionals."
Elsesser calls the program a "forced and artificial relationship" that does not account for individual students' needs. Professors want to be able to "define how they relate to their students," Elsesser continued. "This isn't just about teaching. It's about being an organic part of the fabric of the university community, its intellectual life," not mandated meetings.
The administration also wants to increase professors' office hours from 4 to 12 per week, which Abbott calls "not feasible." Adding insult to injury, he says, "most faculty do not have an office with floor-to-ceiling walls or door," making it very difficult to "prepare lectures and class assignments."
The Board of Regents also wants to cap faculty sick days and bereavement leave, which Abbott calls "both regressive and punitive," and wants to impose "semester-to-semester" contracts – Abbott calls this "a slap in the face to existing faculty."
Elsesser, Abbott and other HSSU-NEA members reject the demand for semester-to-semester contracts, which would "make it impossible to attract new outstanding faculty to the institution" and cause "irreparable harm" to HSSU, its faculty and students.
According to Elsesser, during a closed session of the Feb. 25 meeting the Board of Regents agreed to "impose slightly modified versions" of five key sticking points: mandatory office hours, "tag and track," 10-year probationary period before tenure, capping sick days, and elimination of "moonlighting" (working at other universities to supplement the low pay at HSSU).
"Obviously, no one likes to have anything imposed on them," Elsesser added. "We would rather continue negotiating."
Last fall, the faculty at HSSU voted overwhelmingly – by 80 percent – to join the NEA, making it the first university in Missouri where faculty have unionized. It is a "mandate" we take "very seriously," Abbott said. In all about 50 faculty and staff joined the union at that time. Currently, the NEA is also working to organize adjunct professors, who earn as little as $1,650 per semester.
The NEA represents about 35,000 members in Missouri and about 3 million members nationally. The HSSU-NEA is planning ongoing actions with their community and labor allies.
Photo: History professor Brian Elsesser, left, and other Harris-Stowe State University faculty hold up signs as a university official speaks at the HSSU Board of Regents meeting Feb. 25. Tony Pecinovsky/PW