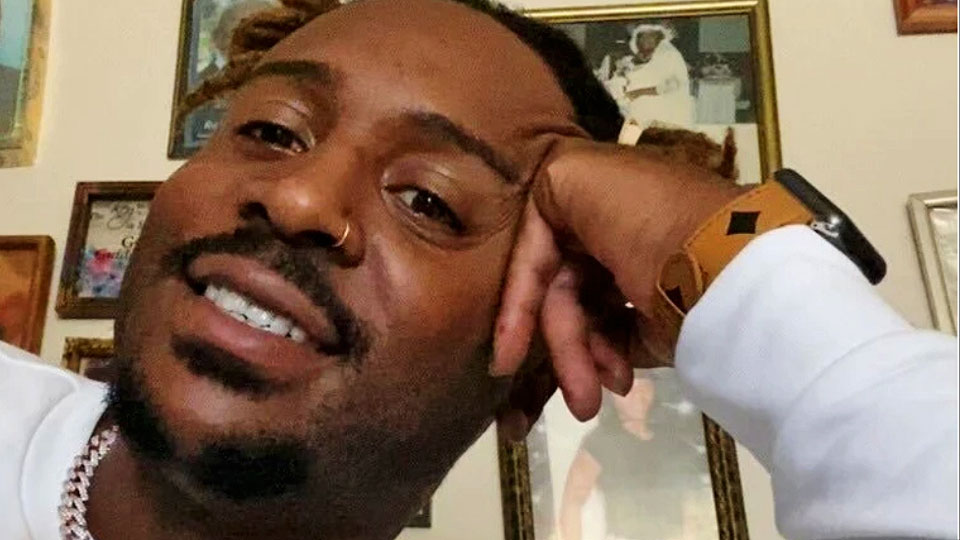 FAIRFAX COUNTY, Va.—On Feb. 22, 2023, a man named Timothy Johnson hopped on the Metro to go to the big Tysons Corner Center mall near his home in Fairfax County, Va. Hours later, he was shot and killed by Fairfax County Police.
Details of what happened in those intervening hours are unknown, except that an alarm went off as he left the Nordstroms department store, allegedly because he stole a pair of sunglasses, and two police officers pursued him. They chased him out of the mall, through the parking lot, and into the woods. He was not armed, and one of the officers shot him once through the chest and killed him.
Fairfax County is a quiet suburb of Washington, D.C., yet last year, this same police department had a record of six officer-involved shootings.
Friday, March 3, was a dreary, cold, and miserably damp evening—not the most inviting conditions, but perhaps illustrative of the mood for a vigil. A small crowd huddled under umbrellas near a pop-up awning. Despite the weather, dozens stood together outside of the Fairfax County Government Center.
It was too windy for candles, instead, folks held small electric tea lights. Some brought homemade signs saying, "Justice for Timothy Johnson." Most of these people have been at an event like this before. You could feel that everyone knew, sooner than later, they would be attending another vigil like this one.
No one wanted to be there; no one wanted to mourn another life lost at the hands of the police. But without action, there was a feeling that all those present would meet one another again at the next vigil for a Black person killed by police.
Tim Johnson's mother, Melissa Johnson, spoke about her son, the father of her grandchildren. She spoke of the kids who will never see their dad again and of the son she misses daily.
Those at the vigil prayed together. Some cried; others shuffled their feet to keep warm as the wind picked up. The mood was somber, and in the air, there was a sense of stifled anger and deep sorrow. How could this have happened here, again, to this mother? How many Black people have to die at the hands of police? Will I know the next victim?
The family's attorney, Carl Crews, then laid out the facts. He talked about how Tim Johnson went to the biggest mall accessible to him, at Tysons Corner. He talked of how few details are known about what transpired between Johnson's arrival at the mall and his death. According to his police, Johnson stole sunglasses from Nordstroms. There is not yet any evidence available to confirm or deny that.
It is known that two police officers chased Johnson out of the mall and that in the nearby woods, they shot him dead. The officers involved have been on Fairfax County streets for seven to eight years, each.
It is known that they worked with other police involved in killings: Fairfax County police killed a Black man during a wellness check last year. It is known that they've gone through hours of training on de-escalation. It is known that they wore body cameras. It is also known that they still killed an unarmed Black man, named Timothy Johnson.
The footage from the body cameras has not yet been released, nor have the names or records of the officers involved.
Michelle Leete, President of the Fairfax NAACP, stepped up to the mic as the last speaker. Her voice rang out across the crowd, wavering with emotion, but powerful. "I do not want to be here," she began.
She echoed the phrase, interspersed with words from elders in the movement—the Rev. Martin Luther King, Jr., Malcolm X, Nelson Mandela, and John Lewis. She reminded those present of why they were there, part of a long struggle. Leete said, "Enough is enough," and told attendees that "together, we must, and will, stop police from harming our community further."
She then listed the names of several Black folks murdered by police.
"George Floyd, wanted to breathe, and deserved to live."
The assembled crowd joined in.
"Jayland Walker, wanted to breathe, and deserved to live.

"Keenan Anderson, wanted to breathe, and deserved to live.

"Timothy Johnson, wanted to breathe, and deserved to live."
A GoFundMe has been established to help Timothy Johnson's family with burial expenses.