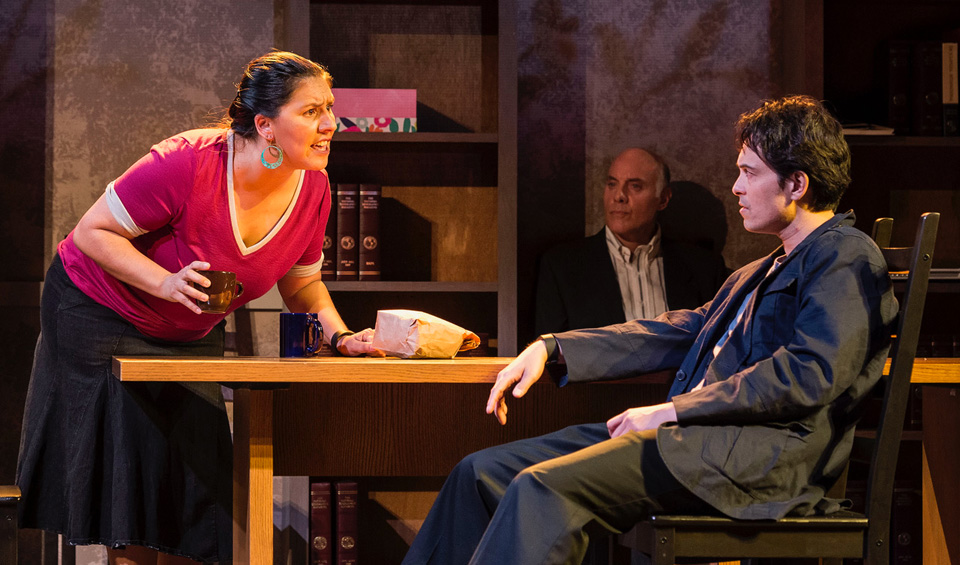 LOS ANGELES, Calif.— Native Voices, the only Equity theatre company dedicated exclusively to developing and producing new work by Native American artists, is currently staging the world premiere of Fairly Traceable by Mary Kathryn Nagle. This play is part of the company's 2016-17 season, themed "Take Back the Land."
Without any irony regarding a work that focuses on Hurricanes Katrina and Rita, and the 2011 tornado in Joplin, Mo., I can honestly say I was blown away by the subject, the substance, the professionalism and impact of this production. It's the best work I've seen from this company.
Fairly Traceable follows the journeys of Randy (Jason Grasl, Blackfeet), a young Ponca man, and Erin (Kyla Garcia, Taino), a Chitimacha woman from the Pointe-au-Chien people of the Louisiana bayous. They awkwardly balance personal and career ambitions—which encompass disparate interpretations of the meaning of Indigenous identity in America today—with advocacy for the environment and their ethnic heritage. Nagle exposes the culpability of big oil, corporate polluters, and climate change deniers in environmental disasters.
The title refers to Justice Antonin Scalia's written opinion for the majority in the 1992 Supreme Court case Lujan v. Defenders of Wildlife. "Scalia's 'fairly traceable' doctrine has been used repeatedly by federal courts to prevent climate change victims from holding those who profit from environmental destruction accountable," explains the playwright. In a society where virtually everyone drives cars, employs tractors on their farms, uses air conditioners, travels by plane, consumes hamburgers from methane-farting cattle, in a world where other great nations such as India and China also use fossil fuels, the Supreme Court declined to accept that environmental injury could be "fairly traceable" to the oil companies.
In other words, Scalia et al got the message put out by Exxon-Mobil, the world's largest publicly traded international oil and gas company, that climate change was a fiction, even while privately they planned for warmer temperatures and rising sea levels. Thank you, Rex Tillerson!
Nagle adds, "We, as Americans, must recognize that preserving our land, water, and air for future generations is critical to the preservation of human civilization. We must also consider the Supreme Court's decision to ask whether it truly represents the values enshrined in our Constitution."
Mary Kathryn Nagle comes to this material with unique expertise. She is a partner at Tulsa's Pipestem Law Firm P.C., as well as a nationally acclaimed playwright. She currently serves as the executive director for the Yale Indigenous Performing Arts Program. Born in Oklahoma City, she is a citizen of the Cherokee Nation. She studied theater at Georgetown University and went on to Tulane Law School, where she graduated summa cum laude. Her law review articles have been published in five different journals. Nagle has received theatrical commissions from several leading regional theatre companies.
When Randy Reinholz (Choctaw), co-founder and producing artistic director of Native Voices, stood up to welcome the audience to the show, he described it as "a love story," and an effective one it is. But the love spreads far beyond the traditional formula of "boy meets girl, etc.") to embrace love of family, people and place, love of a clean and generous environment, and love for the law and for the struggle to make it serve life, not just profit.
Nagle integrates all of these strands economically and convincingly, basing her story on actual case law and on the real-life Professor Oliver A. Houck (Chris Jorie), founder of the Tulane Environmental Law Clinic. "Ordinary citizens can, through the legal process, make their governments protect the environment when that may be the last thing their governments want to do," Houck has said.
For the sake of dramatic pith, Nagle does not address the BP Deepwater Horizon explosion in the Gulf of Mexico in April 2010, jumping ahead, instead, to the Joplin tornado. But with receding coastline along Louisiana's protective bayous and marshes—which that other Indian, Republican Gov. Bobby Jindal did nothing to preserve—it is no surprise that Tulane should host one of the premier environmental law centers in the country.
In fact, Nagle's play opens and closes in a Tulane Law School class in the year 2042, by which time, owing to the disappearance of New Orleans and other coastal areas, the university has moved its entire campus to Baton Rouge. The interlocking stories of the past—Randy's Oklahoma Trail of Tears survivor ancestors and Erin's Louisiana hardy bayou forebears—the present, with its increasingly violent climatic catastrophes, and the future, with its successful victories to recount and analyze, all merge seamlessly on stage. Purely as a matter of construction, the play works intriguingly and charmingly well. Much credit for the smooth transitions goes to director Jon Lawrence Rivera, who also helmed Stand-Off at HWY #37 for Native Voices three years ago.
The cast of seven also includes Jennifer Bobiwash (Ojibway) as Randy's mom Carol, the third generation of her family devoted to working for Conoco in Joplin, Mo. Like other performers, Bobiwash plays multiple roles, one of them the judge who initially throws out the environmental case Erin has brought against Big Oil for the suffering brought on by Hurricane Rita—more powerful than Katrina—where up to 6000 Native Americans lost their homes and possessions. They had no legal standing because the Pointe-au-Chien did not have that all-important federal tribal recognition.
Kinsale Hueston (Navajo-Diné) plays Randy's sister Annie with bright girlhood élan; Shyla Martin (Choctaw) plays Erin's mom Suzanne, with a lovely reminder of the French Creole influence in that part of the country; and John Nielsen plays Randy's father Mark, a newspaperman for the Joplin Globe who endorses "the print media, the only reliable source left in America." His grieving leads him to write affecting portraits of the 164 lives lost in the deadly mile-wide tornado, history's most severe to date.
Nagle's well made play accomplishes all it sets out to do: Tell a relevant story with rounded, complex characters, compelling internal, romantic, political and legal conflicts, and a potent message that the struggle for life is worth it.
Among the lost of sponsors of Native Voices appears the National Endowment for the Arts, presently on the federal budget chopping block for elimination along with the National Endowment for the Humanities. It makes sense if you never, ever want these stories to be told.
During the run of Fairly Traceable the theatre includes an art installation by Cannupa Hanska Luger (Mandan/Hidatsa/Arikara/Lakota) in the lobby. Extending back to the gold rushes that devastated so many American Indian communities, natural resource booms that created prosperity for some Americans also extracted great costs from others. Even today, the rush to extract resources such as oil and solar has destroyed Native sacred sites and sparked protest from Native peoples. The display contains examples of Mirror Shields, a concept developed by Luger during the recent Dakota Access Pipeline protests. Designed to symbolically and physically defend the "water protectors," the shields also encourage reflection on the costs of transporting fossil fuel resources across the lands and waters of the nation.
Fairly Traceable tickets include complimentary museum admission to the Autry (but not special events there) during the month of March. Simply present your Eventbrite ticket during regular museum hours. The Autry's Crossroads West Cafe offers a limited menu before and after matinee performances, and from 6-8 pm prior to evening performances. Beer, wine, and light dinner fare are available for purchase. Native Voices became the resident theatre company at the Autry Museum in 1999.
Fairly Traceable runs through March 26, with performances Thurs., March 23, Fri., March 24, and Sat., March 25 at 8 pm, and Sat., March 25 and Sun., March 26 at 2 pm. The Wells Fargo Theater is located at the Autry Museum of the American West, 4700 Western Heritage Way, Los Angeles 90027, within the grounds of Griffith Park. For reservations and additional information, call 323.495.4354 or visit TheAutry.org/NativeVoices.