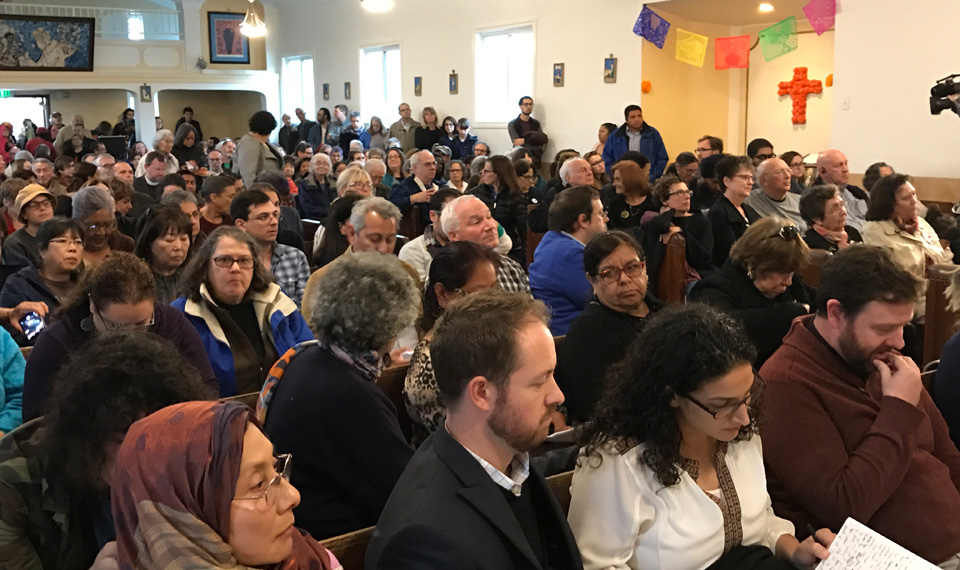 LOS ANGELES — Several hundred Angelenos packed the pews and lined the walls in a standing room only turnout Sunday afternoon at Dolores Mission Catholic Church in the working-class Boyle Heights neighborhood close to downtown. They came out despite a steady rain that, if anything, seemed providential after many months of severe drought. The downpour, and the courageous, militant speeches and songs, renewed and refreshed the soul after the electoral trauma of November 8th.
LA Voice teaches people to speak, act, and engage in the public arena, and Sunday's event — #IamAmerica, Widening the Circle of Belonging — demonstrated its organizing skill, co-sponsoring the afternoon with the Muslim Public Affairs Council as well as 20-plus other partner organizations in an interfaith coalition. Drawing on its connections with a couple of dozen congregations throughout the city, LA Voice presented a wide array of speakers and performers who led the audience from mourning and depression over the impending Trump presidency to a fighting spirit of resistance and love. The entire proceedings were simultaneously translated into Spanish and English, and many in the crowd wore headsets so they could understand every word spoken.
"We are here to lament," Deacon Jason Welles of the Dolores Mission opened, "and to share our lamentations together." He moved quickly to reassure that the afternoon would be a vigorous expression of solidarity and related that similar interfaith events were happening this day all over the country.
Ellie Hidalgo, a pastoral associate at the church, called for "perseverance, unity, and creativity" in the coming period, assuring that "We will stand with you in the good times and in the bad times." A women's chorus from the church sang the bilingual hymn, "Renew Us, Lord — Renuévanos, Señor."
Speakers reflected the diverse and some of the most threatened communities of Southern California if the new government follows through on Trump's promises. One of the first testimonies came from Marta Galadery, from La Asociación Latina Musulmana de América. "Now I face two discriminations with the new president, as a Latina and as a Muslim…. How are we all together going to help each other?… God has the last word, but we have to act."
At the invitation from the podium, the community broke into a hundred mini-conversations among three strangers. The room hummed with the cacophony of excited individual voices. When it finished, we were asked to say just a word about what emerged from these talks. People called out: "Courage. Unity. Scared. Hopeful. Kinship. Organize. Fight back. Action. Faith. Compassion. Be together. Diversity. Involvement. Justicia. Sí se puede!"
Drawing the lessons of history
Edina Lekovic represented the Muslim Public Affairs Council. "Our common faith calls us to act," she said, citing the well-known phrase, "the fierce urgency of now." She based her thinking on a verse from the Quran 94:6: "With every hardship, there is ease."
Singer-songwriter Craig Taubman introduced a song partly in Hebrew — "We can build this world with love / Long live love, long live the people." Rabbi Ron Stern from Stephen S. Wise Temple followed, remarking about "a lot of Hebrew being spoken in Boyle Heights," a reference to the fact that this area was at one time the largest Jewish community west of Chicago, and the epicenter of much social activism. He taught the audience the importance of the line from Deuteronomy, "Tsedek tsedek tirdof – Justice, justice shall you pursue." "We've always said that," as he recalled not just Jewish history but the history of all oppressed people. "We've picked ourselves up, buried our dead if we had to, and we've said Tsedek tsedek tirdof. We will not stop. History tells us we cannot give up. We want to make sure that the world we dream of is the world we will live in."
The Rev. Zach Hoover, executive director of LA Voice, reminded us of a piece of wisdom from the Rev. Martin Luther King, Jr. "This is not the place we've come to," King said. "This is the place we go from."
In the wake of the election and the first wave of cabinet appointments, cities across the United States are standing firm against mass deportations. Los Angeles, with an estimated one million undocumented immigrants, in the most populous state in the nation, is perhaps the most vocal in declaring its opposition to Trumpism. Mayor Eric Garcetti was attending talks in Mexico City over the weekend, but was represented here by Daniel Tamm. "I've never lived through a presidential election where the outcome is real, palpable fear," Tamm declared. "We are with you, we are united. There is no 'us' and 'them.' There is only us. This is the beginning of a new day in America. We will respond to whatever they bring down the pike. No one can do everything, but everyone can do something."
The witnessing continued, with each profession more moving than the last. Father Ted Gabrielli, head pastor of Dolores Mission, told us that each night up to 120 homeless men sleep in this space, while the women's shelter is just a block or two away. One morning they woke up to find that someone had spray painted "Wetback Church" on its wall. "We kept that graffiti as a badge of honor," said Gabrielli. "Fear of the stranger — this sickness is taking over the world, but we are the medicine. We need to love our enemy, to bless those who curse us, to pray for those who wish us harm. Here in this church of God, exclusion does not exist."
Powerful memories came from Haru Kuromiya, who was 12 when her family and neighbors were picked up and shipped off to the Manzanar detention camp for Japanese Americans after the bombing of Pearl Harbor. She spoke in "opposition to the proposal to register American Muslims. I do not want to see any community suffer like we did." Recently, she had brought a group of Muslims to visit the Manzanar site to see a genuine American concentration camp.
Pastor Delonte Gholston sang movingly in the African American civil rights tradition. After the election a gathering of civil rights leaders took place at the Highlander Center in Tennessee, a place where early generations of spokespersons were trained. He attended that meeting, and as he sat down at the piano there to work out a new song, someone from the Center told him, "This piano here — this is the piano where 'Keep Your Eyes on the Prize' was written." He then led attendees in that song. "Ain't gonna let nobody turn me 'round…"
Registering as a Muslim
The Church Without Walls operates in Los Angeles' Skid Row. Its Pastor Cue spoke thunderously: "I'm scared to say I'm a Christian, because I don't know who some of those folks is…. We need to resist what [Trump] stands for — we can't have that. I will register as a Muslim." The audience burst out in surprised and grateful applause. "If you worked in this country, built this country with your blood, sweat and tears, you are America!"
A woman of Afghan descent named Crystal Keshawarz spoke most effectively about her understanding of American history, and how "we the people" made this country. She spoke of our nation as a young sapling needing constant nurturing over the generations. But "if the tree does not bear fruit, there is a problem at the root" — slavery and disenfranchisement. "Our sapling is planted in wounded soil…. When they ask you where were you in November of 2016, you can say, 'We were creating a more perfect union.'"
"Human dignity is a divine gift made secure only by the work of human hands," said Rahuldeepgill, a Sikh (at only 500 years old, a relatively recent religion on the scene, he informed us). "The days of standing up for ourselves are long gone. This is the time to stand up for each other."
"I feel safe tonight," Kenyatta Bakeer confided to her multi-faith audience. Kenyatta is a Black American Muslim whose family were involved in the civil rights movement. "Until now I have not felt safe. My parents taught me not to feel too safe."  She felt safe today, though, in the face of the threats from the incoming regime, because "they don't like it when we come together in numbers — they are cowards. We're gonna fight with love and we're gonna change them."
A former gangbanger and prisoner, now preacher André Scott, got a restorative laugh out of his crowd when he shouted, "Donald Trump, you make us rally together. God bless Donald Trump!"
The last speaker of the afternoon was Rabbi Ronit Tsadok from the congregation IKAR. "I am scared as a woman," she said, "as a lesbian, as a Jew, as the daughter of an immigrant, the sister of someone with disabilities, as an American — and yet, as I stand here I am heartened and I have hope." She related the iconic story of the Exodus from slavery in Egypt and the march across the Red Sea. "We are ready to walk: We refuse to be dragged back to Egypt." And she gave us her final blessing:
"May we be bathed in possibility and light."
Resounding voices sent us back into the redemptive rain. A gorgeous new resistance is born. And a generation of leaders is emerging, ready to inspire.