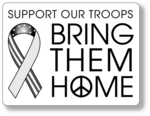 CLEVELAND — Parents of a Marine killed in Iraq are building support for a plan to end the war through a negotiated political settlement with a phased withdrawal of U.S. troops. The plan is predicated on a measured reduction in violence by all involved.
"When our son died," said Rosemary Palmer, a Cleveland high school teacher, "in a war that we had serious questions about, we were determined to do everything possible that other families would not have to suffer our grief."
Their son, Lance Cpl. Edward "Augie" Schroeder was killed Aug. 3 along with 13 other Marines when their troop carrier was blown up by a roadside bomb on their fifth mission to "clear and secure" the town of Haditha from insurgents.
Last December she and her husband, Dr. Paul Schroeder, formed an organization, Families of the Fallen for Change, to search for a feasible plan to end the war. Together with Norman Robbins, a professor at Case Western Reserve University, who is active in the peace movement, Schroeder drew up the proposed "American Withdrawal with Measurable Benchmarks," which is being promoted through the media, the Internet, and public forums.
Schroeder and Palmer have also met with public officials in hopes that a bipartisan bill, mandating the plan, will be introduced in Congress. According to the Plain Dealer, both Sen. George Voinovich, a Republican, and Democratic Rep. Dennis Kucinich have responded favorably to their ideas.
"Our plan appeals to the great majority of Americans," Schroeder said at a recent public meeting called by the West Side Friends of the People's Weekly World. "This majority does not support the 'Stay the Course' policy of President Bush but also do not agree with calls for unconditional withdrawal."
The plan calls for the U.S. to declare its intention to withdraw and to have no permanent bases. By linking troop withdrawal to a phased reduction in both military and civilian casualties the plan imposes "an important self-enforcing element," Schroeder said. "Those who continue violence would be held responsible by Iraqis for prolonging the American occupation."
It also addresses economic and political sovereignty. "The United States would formally rescind economic strictures imposed during the occupation, let the Iraqi government freely choose its form of economic development and natural resource use, and allow the parties to work out their own form of co-existence," the plan states.
Families of the Fallen has grown to 1,000 members, including families and friends of soldiers who have died, military families and personnel and a broad array of supporters.
You can read the full plan at www.fofchange.org, where membership forms are also available. Membership is free, confidential and involves no obligation, Schroeder said. "We are anxious to increase the membership," Schroeder said. "That's what counts with Congress."