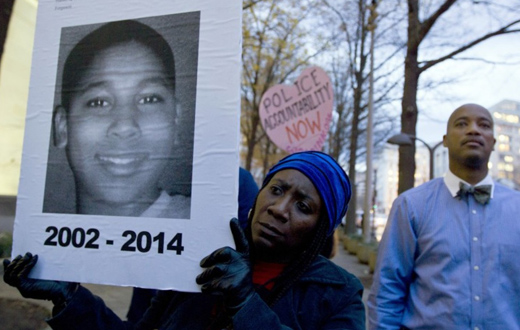 The following is the introduction to a change.org petition written by Tamir Rice's cousin, LaTonya Goldsby of Cleveland, Ohio, demanding criminal charges be filed against the police officer who shot and killed the 12-year-old in November last year. The family launched the petition drive this week.
My 12-year-old cousin Tamir Rice was tragically shot to death by Cleveland police on November 22, 2014. My family needs your help to make sure that the police officers who killed Tamir don't get away with murder.
Tamir was in a local park playing with an airsoft toy gun when someone called 911. The caller said that the gun was "probably fake" and that the person was likely a juvenile, but even so, two police officers rushed to Tamir's location. 
The officers jumped out of their car and shot him twice at point-blank range within 1.5 seconds of arriving – we know this because the incident was caught on video. The officers then waited for more than four minutes to treat Tamir with first aid. Tamir died from the gunshots the next day. 

My family wants justice for our Tamir. We are demanding that the Cuyahoga County prosecutor file criminal charges against the officers who killed Tamir. Please click here to sign our petition. The way the police behaved was absolutely unacceptable. After shooting Tamir, Tamir's mom says that the police put his 14-year-old sister in the back of the patrol car when she tried to help her brother. The police even threatened to arrest Tamir's mom as she plead with them to help her dying son. 

These officers gunned down Tamir in broad daylight, then terrorized his mother and sister when they tried to help. They must be held accountable for their actions.
Tamir was a bright, energetic young man who had his whole life ahead of him. He was a loving brother, grandson, nephew and cousin who loved sports and being around people. Now he will never get to live his life, simply because the police decided it was easier to assume a black child was dangerous than to protect him.
 
The federal government recently issued a report detailing the Cleveland Police Department's chronic, disturbing use of excessive force. That won't stop until officers like the ones who killed Tamir are held accountable for their actions. We know that petitions can work in cases like this. After Trayvon Martin was killed, the police refused to arrest his confessed killer, George Zimmerman, until millions of people signed a petition on Change.org. We know we can get justice for Tamir, but we need your help. 

Please click here to sign our petition to bring criminal charges against the officers who killed Tamir. Thank you for standing with our family, and with children like Tamir all over America.
LaTonya Goldsby
Cleveland, Ohio
Photo: Jose Luis Magana/AP