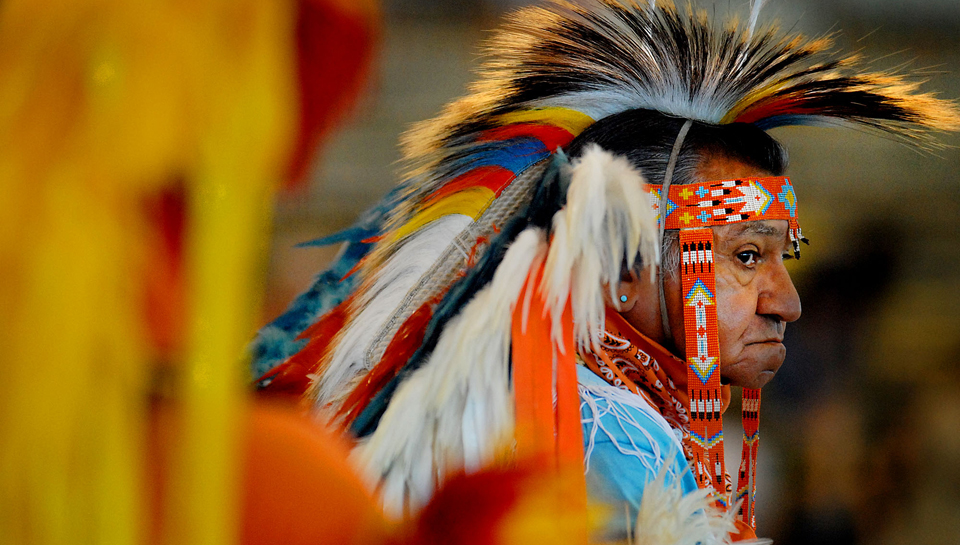 LAWTON, Okla.—Colors of beaded regalia swirled in the rhythm of the sacred drum beating as the singers pray for our people. This past weekend, I attended the Yellowfish Family Pow Wow in this town. Lawton is about one-and-a-half hours southeast of Oklahoma City and home to Fort Sill army base. The family pow wow was started in the 1970s when relatives returned from the Vietnam war. It has been a Memorial Day weekend tradition ever since.
In all my travels with pow wows across the state of Oklahoma, this one most reminded me of my youth in Broken Arrow, Okla. Broken Arrow was a bedroom community about 14 miles southeast of Tulsa. When the Muscogee founded a new community in the Indian Territory, they named it after their old settlement in Alabama. The town's Muscogee name was Rekackv (pronounced thlee-Kawtch-kuh), meaning "broken arrow."
Our Yuchi/Muscogee family would participate in the pow wow held at the armory coordinated by Jess Haikey. Jess was part of the Broken Arrow Indian baseball team in the late 1920s. He worked with my paternal grandfather, Israel Maxey, who lived a few acres behind our home. The boom boom boom sound of the drum reverberating off the steel structure of the armory: You could feel the drum beats under your feet. The late humid summers of Oklahoma would filter through the open doors.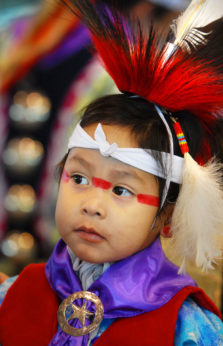 It was a social but also spiritual event for us in those days of the late 1960s and early 1970s. Jamie K. Oxendine says of pow wows, "Many ceremonies and customs were outlawed during the reservation period. The Grass Dance, being more social, was one of the only events allowed.  As so many Tribes were pushed together, it soon was clear and necessary to transfer the traditions of the Grass Dance between tribes. 'Inter-Tribalism' began to emerge with the sharing of songs, dances, clothing, food, and art. Gift giving and generosity became integral aspects of these early festivities and they are still with us today."
For me, the pow wow summers in Broken Arrow were exciting. I would see my great-grandmother Neosho Brown Maxey come visit us along with her sister, Alice Perryman. I would sit on my great-grandmother's lap with Alice sitting by. I would hear stories of their youth and of my great-great-grandfather Sam Brown. Alice did not wear dentures, and when she laughed, her face opened up with glee and her face radiated joy. These memories are part of my tribal history and culture.
My cousin Jane Breckenridge has kept my family's allotted land alive to this day. Her Euchee Butterfly Farm is on my great-grandmother's land where her house used to sit. On her website, she writes about our family's history:
"The Euchee Butterfly farm was established by the heirs of Neosho Parthena Brown, a Native American woman of Euchee and Creek descent, on the original 160-acre allotment deeded to her in 1899 by the United States Government. It is one of the last intact allotments in Oklahoma and stands as a reminder of the tragic history of what was once known as Indian Territory.
"Neosho was the daughter of Samuel W. Brown, Chief of the Euchee Tribe. The Euchees, also known as the Yuchis, are one of the most mysterious and ancient cultures in North America. Historical records show that when the Cherokee and Creek people first arrived in the southeastern United States, the Euchee were already well-established. When asked where they originated, the Euchees would answer, 'We come from far away. We are Children of the Sun.'
"Adding to the mystery was their strange and completely unique language which bears no resemblance in vocabulary or linguistic structure to any other language in the world, and is today preserved by just five remaining fluent native speakers. In the late 1700s, some of the Euchee bands joined the Muscogee (Creek) Confederacy, comprised of 48 other autonomous tribal towns, each maintaining political autonomy and distinct land holdings. Euchee people were considered as one town within the Confederacy, and to this day they are still federally recognized as Muscogee (Creek) citizens."
I do have a memory of Neosho wearing the turtle shell leg shakers as she danced during some of the songs. I heard the drum beats and songs in our ancient language, accompanied by the shhh shhh shhh of the shakers.
When intertribal songs are sung, all dance styles, all ages and genders participate, and Indian as well as non-Indian may enter the dance. Those were my favorite, as I got to join my great-grandmother and other relatives in dancing. The other times I was either running around with relatives or kids my age, getting sweaty and excited to finally be able to be on my own. In Indigenous settings, kids are allowed to be kids, and some mischief is permitted. Families share stories of old and catch up on what is new with everyone.
Each pow wow the host family will provide the evening meal. Indian fry bread is a staple. Sofke, grape dumplings, potatoes, beans, and tea would be served. The meal gathering words in Muscogee were called out, Hompvs vtes, come eat! My grandfather Israel said as long as I knew those words, I would never go hungry!
Numerous Saturday nights were filled with my dancing, eating, and running around the Broken Arrow Armory, special moments with my great-grandmother and my grandfather. All this remembrance rushed past my mind this past weekend. The Yellowfish pow wow in Lawton made me realize how much I miss my youth with my relatives.