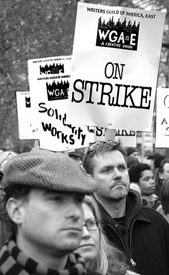 NEW YORK — A thousand striking writers and their backers rallied in Washington Square Park here Nov. 27 to kick off the fourth week of a strike by the Writers Guild of America against an array of U.S. media conglomerates.
The first strike by Hollywood writers on both coasts in 20 years began Nov. 5, disrupting soap operas and talk shows. It is now cutting into the ability of producers to make everything from movies to profits.
The strike started because producers and networks refused to negotiate satisfactory methods to pay writers for material that ends up on the Internet.
Writers are part of a volatile industry. Without job security, they depend on residual payments — which is what payment for material used on the Internet would be — to handle financial needs ranging from health care to children's school expenses.
The media moguls have claimed that high-tech methods they use to market writers' work are too new for them to be able to come up with satisfactory compensation structures.
"That's exactly what big companies told workers at the beginning of the last century," Rocco Fazzolari told the World.
Fazzolari, a former extra on "The Sopranos," was at the Washington Square rally in another double role — as a member of the Screen Actors Guild and as business manager of Local 122 of the United Industrial and Service Employees Union.
"All my roles come together as a union man," he said. "When this country industrialized, the bosses didn't want to share the wealth that came from the new manufacturing technology. It's the same thing now. They're greedy and they don't want writers, actors, or any workers for that matter, to get a fair share."
Democratic presidential candidate John Edwards, who has turned down offers to appear on "Ellen" and "The View" because the union is striking those productions, received prolonged applause as he climbed the podium in Washington Square Park.
"As president," Edwards declared, "I will fight to make sure the creators of wealth, the workers, get their fair share of the wealth they create. I will sign legislation that makes it illegal for someone to walk through your picket line when you are on strike and take away your job." He pledged that if CBS workers go on strike before an upcoming presidential debate in Los Angeles, he would withdraw from the debate.
Rep. Jerrold Nadler (D-N.Y.) told the crowd, which was full of New York trade unionists, that "power concedes nothing without a struggle and workers would be nowhere without unions."
Unions represented at the rally included the Screen Actors Guild, SEIU, District Council 37 (city employees), United Federation of Teachers, New York State AFL-CIO, New York City Central Labor Council, Carpenters, Unite Here and many others.
Ed Ott, executive director of the New York City Central Labor Council, drew prolonged applause when he said, "The struggle of an $11.90 per hour restaurant worker is linked to the struggle of the writers. Progress comes when we lift the bottom up. That benefits everyone and it is the united labor movement we see here that understands this."
Tim Robbins, the actor, told the crowd that "without writers we would have no programs, bad jokes, crap movies and an endless string of 'reality TV' shows."
"Without unions and without a labor movement, we would have worse and worse poverty and endless horrible wars," he said.
The crowd responded with chants of "What do we want? A fair share." Perhaps the reverberations reached up the street to Madison Avenue, home for some of New York's biggest media moguls.
jwojcik @pww.org