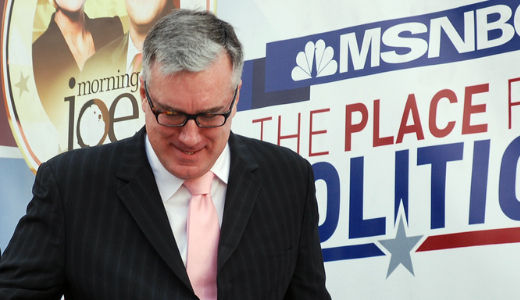 Fans of Keith Olbermann, the fiery MSNBC host with a hefty liberal bent, are cheering his network's decision to end a suspension imposed on him because he had contributed money to Democratic political candidates.
Olbermann, whose suspension was announced Nov. 5, returns to television tonight.
MSNBC president Phil Griffin announced Olbermann's return Nov. 7, saying, "After several days of deliberation and discussion, I have determined that suspending Keith through and including Monday night's program is an appropriate punishment for his violation of our policy. We look forward to having him back on the air Tuesday night."
Griffin's terse statement did not address an issue Olbermann's supporters brought up: inconsistency in following MSNBC rules. In 2006, Joe Scarborough, a host on the same network, made $4,200 worth of contributions to Republicans – hardly different than the amount Olbermann gave to three Democratic candidates, $2,400 each.
The suspension was all the more hypocritical, critics charge, because GE, which owns NBC and its affiliated networks, has made millions of dollars in campaign contributions.
"If supporting politicians with money is a threat to journalistic independence," asked an action alert from Fairness and Accuracy in Reporting, "what are the standards for Olbermann's bosses at NBC, and at NBC's parent company General Electric?"
According to the Center for Responsive Secrets, which runs the "Open Secrets" website, GE gave more than $2 million in political contributions during the 2010 election cycle. While the contributions were bipartisan, and even leaning towards Democrats – 39 percent of the money went to Republicans – the question as to why Olbermann was singled out remains unanswered.
The suspension became a public relations fiasco for the network, which is considered a liberal alternative to more right-wing outlets such as Fox News. Progressive viewers, the loss of which would threaten MSNBC's ratings, started petition drives and "Bring Back Keith Olbermann" Facebook groups, drawing hundreds of thousands of signers or members.
Olbermann said he had no idea of the network's rule. "I mistakenly violated an inconsistently applied rule – which I previously knew nothing about," he said in an open letter to his viewers.
The talk show host also pointed out that there was nothing secret about his donations. They were all made legally and openly, and his name appears in the campaign contribution disclosures filed by the candidates, and made public by the Federal Election Commission.
The network originally announced that Olbermann's "Countdown" show would continue, but with The Nation's Chris Hayes as a temporary replacement. However, Hayes decided not to take the offer.
"OK," Hayes said, via his Twitter account, Nov. 5, the day Olbermann was suspended. "I'm not filling in on Countdown tonight because I didn't feel comfortable doing it given the circumstances."
The rumor mill quickly began to churn, with a number of people suggesting Hayes would not host the show because he had himself donated to some Democratic candidates.
"My not hosting tonight has *nothing* to do with several donations I made to two friends *before* I ever signed an MSNBC contract," Hayes replied on Twitter.
"I genuinely look forward to rejoining you on Countdown on Tuesday," Olbermann wrote to his fans, "to begin the repayment of your latest display of support and loyalty – support and loyalty that is truly mutual."
Photo: Adam Fagen // CC BY-NC-SA 2.0