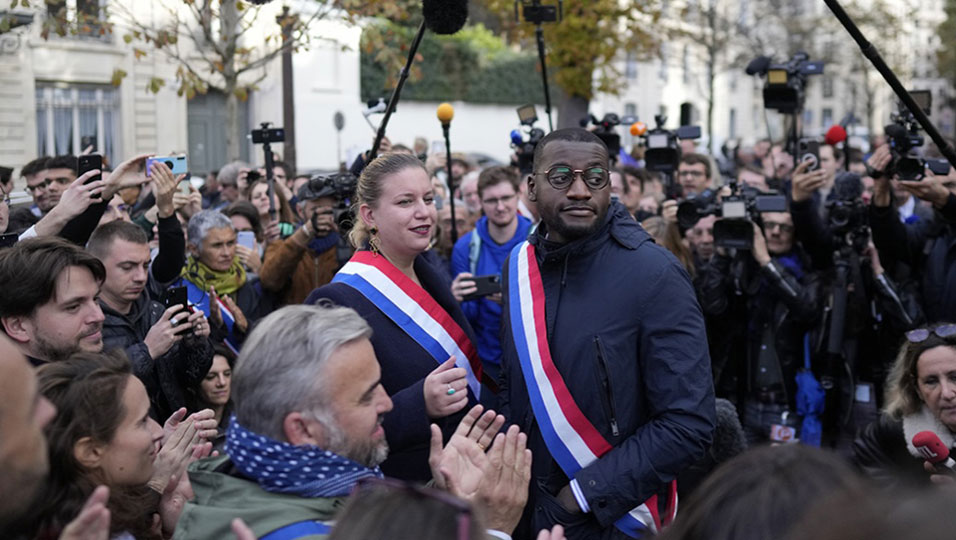 A far-right lawmaker in France was blasted on Thursday for shouting "go back to Africa" while a black politician was speaking about migrants stranded at sea.
Gregoire de Fournas, of the National Rally party, made the comment in the National Assembly as Carlos Martens Bilongo, from the left-wing Unbowed Party, was challenging the government over maritime rescue boats stranded at sea carrying hundreds of migrants.
France, along with Italy, has refused to provide a safe port for the vessels.
Mr. de Fournas's comments sparked uproar in the Assembly Chamber over whether the remarks were aimed at Mr. Bilongo.
In the furore that followed, Yael Braun-Pivet, the president of the lower house of the French parliament, decided to suspend the sitting.
National Rally spokesperson Victor Cabert said Mr. de Fournas was referring to the migrants out at sea in his remark and not his fellow lawmaker.
But Mr. Bilongo, who was a teacher and activist before entering politics, responded to the alleged abuse saying: "I asked a question to the government, as is done every week in the assembly.
"Except that I couldn't get to the end of my question, because a deputy from the National Rally interrupted me by shouting at me 'Go back to Africa!'
"I didn't think I would ever hear these words in the National Assembly. But racism always catches up, even in the most prestigious places of the republic."
Stephane Sejourne, leader of President Emmanuel Macron's centrist party, said Mr. de Fournas should resign while the left-wing Nupes alliance said the lawmaker should be expelled.
Prime Minister Elisabeth Borne said: "There is no room for racism in our democracy."
The National Assembly was set to reconvene today to decide on what steps to take to deal with the incident.