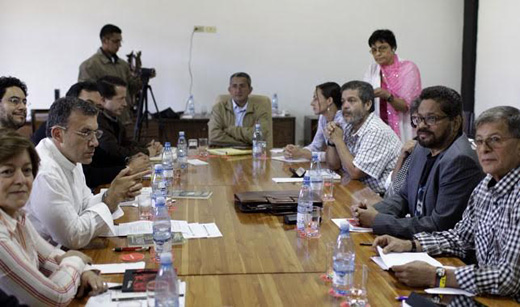 On December 15, peace negotiators for the Revolutionary Armed Forces of Colombia (FARC) and the Colombian government announced they'd reached agreement on the "Victims" agenda item after 18 months of discussion. One FARC negotiator thinks that these talks, ongoing for three years, are "all but certain" to end in peace, and soon.
"Victims" is the fourth agenda item on which agreements have been reached. There are now "agreements" on agrarian rights, illegal drugs, political participation, and victims. However, according to guidelines set prior to the talks, agreements are incomplete until the whole package has been accepted, so it may be more appropriate to call them "partial accords." The remaining agenda item to be dealt with is "Implementation, Verification, and Endorsement," and observers expect the talks will move quickly.
At the conference in Havana, lawyer and former Colombian vice president Humberto de La Calle and FARC Secretariat member Ivan Márquez, heads of the two negotiating teams, discussed terms of the recent agreement. Spokespersons for guarantor countries, Norway and Cuba, presented reports, as did Yineth Bedoya who spoke on behalf of victims' groups. Representatives of the Catholic Church, the United Nations, Colombia's National University, and Chile and Venezuela – the "accompanying countries" – were present. Cuban foreign minister Bruno Rodriquez also attended.
Joint Communique 64, released that day, provided an overview: "The armed conflict, which has multiple causes, has led to suffering and endangerment of the population unequaled in our history." The agreement will serve "transitional" (or "restorative") justice. A "comprehensive system" providing "truth, justice, reparations, and non-repetition" will "make amends to victims and honor their human rights." Unlike other attempted Colombian peace settlements, this one offers no general amnesty.
The "comprehensive system" includes a "commission for elucidation of truth," a unit for finding disappeared persons and, crucially, a "Special Jurisdiction for Peace." This autonomous court will include a "Chamber of Amnesty and Pardon" and a "Tribunal for Peace." The latter will "investigate, clarify, prosecute, and punish serious violations of human rights and international humanitarian law."
The joint statement lauded participation by ordinary people: "More than 3,000 victims spoke at four forums in Colombia organized by the United Nations and National University and 60 victims traveled to Havana to testify."
Outside lawyers earlier had joined negotiators to advise them on forming the Special Jurisdiction. The result was an agreement announced on September 23 with talk then of a final agreement on all points no later than March 23, 2016.
Humberto de La Calle rejected any "scheme of persecution and vengeance." There is "no space for impunity," he proclaimed. Both sides would provide reparations for victims with the Special Jurisdiction monitoring FARC contributions.
FARC leaders certified by the Special Jurisdiction as "recognizing the truth and [their] responsibility" would be "deprived of liberty" for five years via "monitoring and supervision." Late comers to recognition will spend five years in prison. Non-recognition entails 15-20 years of incarceration. For de La Calle, crimes like genocide, torture, and executions don't qualify for amnesty. "Political crimes" do.
He indicated "the state will develop a special regimen for judging state agents – its soldiers and the police – which will be simultaneous, balanced, and fair." Any FARC objections to that idea went unreported. .
Iván Márquez communicated "the good news of the Special Jurisdiction for Peace." He did point out that "the origin of the conflict was prior to the FARC's creation. The FARC was responding to "the violence … of the dominant power." He claimed the "right of rebellion."
Márquez called for "creation of a strong, durable social fabric," adding that peace "requires reconciliation and reconciliation requires normalization of political and social life." He seeks restoration of land to "all the small farmers who suffered plunder of land and inhuman violence."
Amnesty should extend to political prisoners, he declared, particularly those wrongly imprisoned for the crime of rebellion and for "exercising the legitimate right of social protest." The Joint Communique, however, said little about Colombia's 9,000 political prisoners.
Both that statement and de La Calle dismissed two other FARC concerns. First, paramilitaries responsible for murder and mayhem received short shrift. They had massacred Patriotic Union activists beginning in 1986, among them demobilized FARC guerrillas. The FARC has also proposed "special territories for peace," rationalizing that their mostly peasant combatants require familiar areas for settling down. Concentration would be good for "keeping their identity and social organizations" and easing their entry into regular politics.
Retired General Jorge Enrique Mora Rangel had already responded on behalf of the government's peace delegation. The issue for him is "a unified and indivisible Colombia."
Photo: AP