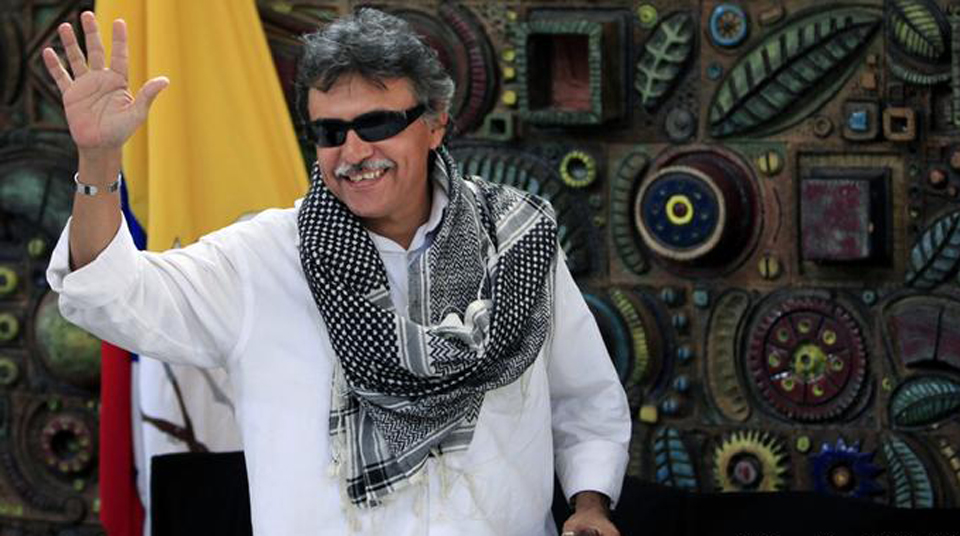 On April 9 prospects for peace in Colombia took a hit. That day agents of the Colombian state agents arrested FARC leader Jesús Santrich. He faces extradition to the United States.  Santrich began a hunger strike immediately; at this writing he's in a hospital. In a message sent from Bogota's La Picota prison, he bade farewell to his elderly parents. This would be his "last battle."
Santrich was a leader of the Revolutionary Armed Forces of Colombia (FARC). As a FARC negotiator in peace talks in Havana with the Colombian government, he played a crucial role while representing the FARC side in editing the final agreement.
Santrich has subsequently served as a leader of the People's Alternative Revolutionary Force, the political party formed by the demobilized guerrillas.  He and a few others were to have filled ten seats set aside (according to the peace agreement) for the new party in Colombia's Congress. Santrich was one of three FARC representatives participating on the "Commission for Promotion and Verification of Implementation" of the agreement.
The Attorney General's office accuses Santrich of trafficking in illegal drugs.  Cooperating with the U.S. Drug Enforcement Agency, its agents supposedly had been trailing Santrich and three others since June 2017.   An indictment issued by the Southern New York District Court accuses them of conspiring to sell 10 tons of cocaine for $15 million to the Sinaloa Cartel in México for shipment to New York.  The report on lapatria.com indicates New York prosecutors are holding "photos and hours worth of audio and video recordings."
The others arrested included: Marlon Marín, nephew of Iván Márquez, Santrich's close FARC colleague; Armando Gómez España, who suffers from stomach cancer; and Fabio Simón Younes, a 72 year old lawyer. DEA officials flew Marlon Marín to New York where he will testify for the prosecution.
With the signing of the peace agreement on December 1 2016, the FARC began laying down arms, thus ending decades of war. Now Santrich's arrest places the peace process "at its most critical point and it's threatened to be a true failure," according to Iván Márquez, the FARC's lead negotiator in Havana.
Indeed, assailants have been murdering former guerrillas.  Demobilized guerrillas sent to poorly-supplied rural settlements to prepare for civilian life live in isolation and are poorly housed. There is a Special Jurisdiction for Peace (JEP), set up to punish or pardon ex-combatants guilty of crimes, but it barely functions. Agrarian reform, first on the negotiators' agenda, remains a distant dream.
Interpol (The International Criminal Police Organization) routinely identifies alleged criminals sought for extradition by posting "red notices" on them. Interpol had already issued six red notices applying to other former FARC guerrillas long before it targeted Santrich on April 4.  Evidently Santrich's arrest was a hurry-up job.  Prosecutors say he committed crimes after the peace agreement was signed and thus isn't eligible for a pardon from the JEP.
Santrich's personal history is hardly consistent with his becoming a drug trafficker. Born in 1967, he studied law and social sciences. He joined the Communist Youth organization and the Patriotic Union, a left-leaning electoral coalition whose adherents later were murdered by the thousands.
State agents seeking to kill Santrich instead shot and killed his best friend and a fellow Communist Youth member. His name was Jesús Santrich. No longer would the Santrich of today be called Seusis Pausivas Hernández. He assumed the victim's name and fled to the FARC. He was 21 years old.
As a FARC leader, Santrich specialized in radio communications, propaganda, negotiations, and political analysis. He's a poet, painter, and player of the flute, harmonica, and saxophone. Almost blind, Santrich authored a book on indigenous peoples.
His defenders reject accusations that Santrich trafficked in illegal drugs, pointing out that he's been living in Bogota surrounded, for his protection, by soldiers and United Nations personnel. Experience with the FARC would have familiarized him with taxation of traffickers rather than with producing, processing, or distributing illicit drugs. Besides, the U.S. government is on shaky grounds in accusing Santrich of drug-trafficking given its own complicity with that crime apparent during the Vietnam War, the Contra War in Nicaragua,  and its facilitation of laundering drug-trade profits – evident here and here.
For Colombians, the issue of extradition is contentious. Left-leaning critics maintain that in complying with U.S. demands for extraditing alleged narco-traffickers, the government is bending to imperial power. Colombian sovereignty is at risk, they say.
It's been used as a political tool. Ex- President Alvaro Uribe in 2008 extradited 14 paramilitary chieftains to the United States for prosecution on drug charges. Their removal spared his government the inconvenience of punishing them for murders and human rights violations and staved off embarrassing revelations as to their good relations with politicians.
President Santos has promised his "hand will not tremble" when the time comes for him to authorize Santrich's extradition. In the United States, Santrich's extradition is on automatic pilot. "Once extradition requests are issued, it is almost impossible to call them back," one analyst explains.
Santrich's fate is a warning "of what can happen to demobilized FARC guerrillas if they don't behave," according to an observer who adds that Santrich "defended the legitimacy of the rebellion for almost three decades." He is "one of the few FARC leaders who have spoken clearly about the failure of the peace process" and who has shown a "dignity which for the oligarchy is arrogance."
Interviewed a week before his arrest, Santrich charged that, "The regime confronting us for more than half a century hasn't changed its character of injustice. This means that spaces for democratic struggle are still closed." "What's in store for the former FARC combatants," he predicted, "is the most stubborn and vengeful judicial persecution. It will go hand in hand with paramilitary persecution and every kind of non-fulfillment [of the accord]. So far, they've failed to set free more than 500 comrades in prison."