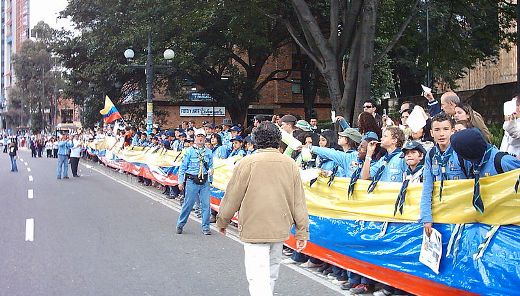 Leftist guerrillas released prisoners Josue Daniel Calvo on March 28 and Pablo Emilio Moncayo on March 30, thus bringing to 12 the number of hostages the Revolutionary Armed Forces of Colombia has released since 2008, not counting last year's army hijacking of a FARC release of 15 other prisoners. Unilateral hostage release is regarded as preliminary to "humanitarian exchange" of prisoners between the FARC and the Colombian government. That in turn is seen as a necessary prelude for seeking political solutions to 40-plus years conflict.
The FARC announced its planned release 11 months ago. The government only recently allowed the group Colombians for Peace, led by liberal Senator Piedad Cordoba, to make arrangements, stipulating involvement of the Catholic Church.
A Brazilian Army helicopter delivered Calvo to Villavicencio in Meta Department, en route to a hospital for care of wounds suffered during his capture 11 months ago. On April 1, the FARC delivered the remains of Julián Guevara to his mother. The army major died in 2006 after eight years in FARC hands.
Pablo Moncayo, a 19 year old draftee when captured 12 years ago, was one of the longest held FARC hostages. The efforts of Gustavo Moncayo, his father, converted Pablo into a symbol of hostage family grieving. From his home in Nariño Department, the high school teacher walked 712 miles in 2007 to Bogota, along the way calling for liberation of prisoners and peace in Colombia. As the "Peace Walker," Gustavo Moncayo walked in Colombia, Venezuela, and Europe, where he conferred with the Pope.
After Pablo Moncayo stepped out of a Brazilian helicopter in Florencia, Caqueta province, he cut off the chain joining his father's arms, long worn to symbolize Pablo's captivity. For the flight, a FARC officer earlier had delivered Pablo to Piedad Cordoba, officials of the International Commission of the Red Cross, and a priest. Cordoba reported delays occasioned by the unscripted proximity of Colombian Army units.
Interviewed by teleSUR, Gustavo Moncayo anticipated "a new era, a new stage of reconciliation, of looking for solutions," adding that, "We can not pass our lives in continuing conflict, in this permanent war stigmatizing persons, imprisoning persons, kidnapping persons, displacing, maybe killing, thousands of them." He and Pablo will visit Venezuela, Ecuador and Brazil to thank their presidents for helping with the release.
A FARC statement March 30 expressed appreciation for Brazilian logistical assistance. It attributed government foot- dragging to obsession with military rescue of hostages. Crucially, the FARC stated, "With this unilateral gesture, the FARC-EP considers that the road is cleared for the immediate exchange of prisoners of war as the only viable way for prisoners in the jungle to be liberated without danger to their physical well-being." Simon Trinidad and Sonya, two prisoners in U.S. jails known by their noms de guerre, were included in the proposed exchange.
Responding, Colombian president Alvaro Uribe conditioned prisoner exchanges on released insurgents not rejoining the FARC. Iván Cepeda, affiliated with Colombians for Peace, welcomed "more flexible conditions, on the part of the FARC as well as the government." No longer was the FARC requiring establishment of a demilitarized zone for talks. And the government seemed willing to consider exchanges.
Cepeda lost his father to assassination in 1994. Congressperson Manuel Cepeda, editor of the Communist Party newspaper Voz, was one of 5,000 Patriotic Union adherents killed over several years. Current Voz Director Carlos Lozano is associated with Colombians for Peace.
The FARC now holds hostage 20 Colombian soldiers and policemen, and the Government retains 500 FARC guerrillas as prisoners. For Voz writer Nelson Lombana Silva, the regime has "the syringe to inject peace or violence." He anticipates an uphill struggle with a "government resting on the dung heap of corruption, infamy, the crude exploitation of man by man, and the barefaced hand over of national sovereignty to the United States."
Analyst Azalea Robles takes exception to media harping on the 20 remaining FARC prisoners. She anticipates "distracting maneuvers" by the government aimed at rendering humanitarian exchange of prisoners impossible and at keeping a "second phase' of prisoner release out of public view, that of political prisoners. There are 7,000 of them, she writes. Most are "people who spoke out, social activists, students, peasants, unionists, teachers, and community leaders."
Photo: Colombians demonstrate against all kidnappings. Frank Ballesteros/CC