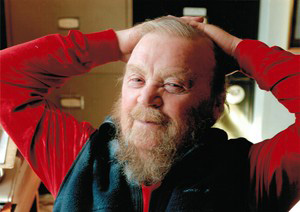 (MorningStar) — The Canadian author Farley Mowat, who died on May 12, wrote with humour, keen perception and passionate social commitment, completing over 40 books and numerous articles. He died at his home in Port Hope, Ontario.
His works were translated into 52 languages and his books sold more than 17 million copies. He achieved fame with his works on the Canadian North such as "People Of The Deer" (1952) and "Never Cry Wolf" (1963).
Mowat's advocacy for environmental causes and his own claim to never let the facts get in the way of the truth earned him both praise and criticism, yet his influence is undeniable. Noted Canadian environmentalist David Suzuki called him "an inspiration."
"Never Cry Wolf," a fictional narrative of a man living among wolves in the sub-Arctic was made into a successful film [in 1983 directed by Carroll Ballard]. It is credited with shifting the mythology and fear of wolves. After the Russian version was published, the government even banned the killing of the animal.
His stories are fast-paced, gripping, personal and conversational and descriptions of Mowat refer to his commitment to ideals, poetic descriptions and vivid images.
His first non-fiction work "People Of The Deer" became a classic. In it he documented the disappearing communist way of life of Canada's native Inuit people, among whom he lived while writing the book. He showed how a colonial arrogance and an exploitative system had driven the Inuit and their culture to the edge.
"The Siberians," written almost two decades later in 1970, showed how the Soviet Union, in contrast, was attempting to help the Inuit maintain their way of life but at the same time inter-relate with an industrialised society.
Mowat became a lifelong advocate of indigenous people's rights, labeling Canada's treatment of them abominable. Never one to shy away from controversy, Mowat was outspoken about many environmental and social issues.
During the WW II, Mowat was commissioned as a second lieutenant, rising to the rank of captain. After the war he returned to Canada, desperate to escape from what had been and seemed likely to remain a world run by maniacs. He fled north to live among the Inuit people. Many of his works such as "Owls In The Family" about childhood and "And No Birds Sang" about his experience fighting in the Second World War are autobiographical,
Mowat published a denunciation of the destruction of animal life in the north Atlantic entitled "Sea of Slaughter" in 1984. In 1985, as a part of the promotional tour for the book, Mowat was invited to speak at the university in Chico, California, but U.S. officials denied him entry: His security file indicated he should be denied entry for violating any one of 33 statutes. Reportedly, these statutes included being a member of a group considered radical by the U.S. government.
Ian Austen wrote in The New York Times that Mowat said he had been blacklisted for once telling a newspaper that he had fired his rifle at American bombers carrying nuclear weapons as they flew thousands of feet above Canada.
The result was a media circus, which brought worldwide attention to Mowat. The negative publicity eventually forced the Reagan administration to allow Mowat to enter the US but he declined because to accept would be undignified as the permission was valid for only one visit, his book tour. He documented the reasons why he was refused entry to the United States in his 1985 book, "My Discovery of America."
Mowat won a number of prestigious awards for his books and environmental work and the Sea Shepherd Conservation Society ship RV Farley Mowat was named in honour of him.
Mowat, a strong supporter of the Green Party of Canada, died less than a week before his 93rd birthday.
Elizabeth May, Leader of the Green Party of Canada and Member of Parliament for Saanich-Gulf Islands, said of Mowat:
Farley Mowat was a champion for the wild things. He spoke with unflinching courage against humanity's destruction of each other and of the other species with whom we share this planet.
He raised public consciousness of the famine that laid siege to the Inuit. Farley spoke for whales and seabirds, for tadpoles and mosses. He was possessed of a ferocious talent, able to write stories that provoked laughter, tears and action.
We owe him more than I can say."
Mowat's papers are held at McMaster University in Hamilton, Ontario.
"Now they tell me that I have my own website – my faithful typewriter is apoplectic about the indignity."
"Donations in Farley's memory may be made to any charity dedicated to helping animals or saving our environment."