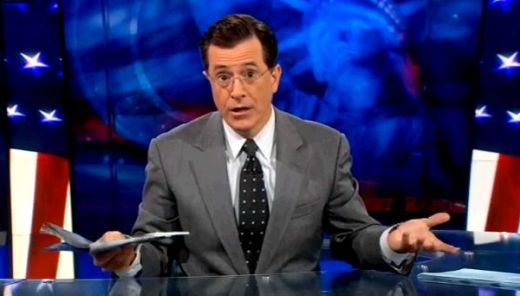 United Farm Worker President Arturo S. Rodriguez will appear on Stephen Colbert's "The Colbert Report" July 8 on Comedy Central at 11:30 p.m. Eastern, as part of a national "Take Our Jobs" campaign.
UFW aims to recruit unemployed U.S. citizens and legal residents to fill vacant jobs in agriculture where undocumented workers are the overwhelming majority.
While the show is sure to be a riot, the campaign is no laughing matter, says UFW.
Launched by UFW the campaign is a response to those who continue to blame undocumented workers as the country's unemployment problem. However it's precisely undocumented farm workers that continue to supply the food most Americans eat.
Rather than target undocumented farmworkers for the country's economic concerns, let's recruit unemployed U.S. citizens and legal residents to replace the tens of thousands of immigrant field laborers, UFW leaders say.
All who are interested or unemployed are encouraged to apply at: www.takeourjobs.org.
There is an ongoing need for immigrant labor in the U.S., says UFW. Eighty-five percent of all crop workers in American agriculture are foreign born.
"We are a nation in denial about where our food supply comes from," said Diana Tellefson, UFW's national vice-president.
She notes during hard economic times as of late, anxiety brings out the worst in people who in turn blame undocumented workers for problems created by Wall Street.
"It's time for an honest debate about high unemployment and undocumented people in the workforce," she said.
"It's time to recognize that the food we all eat – at home, in restaurants and workplace cafeterias including those in the nations Capitol – comes from the sweat and labor of undocumented workers."
Tellefson added those who want to deport the country's estimated 11 million undocumented immigrants would destroy the current agricultural industry.
Since the late 1990s, at least 50 percent of the crop workers have not been authorized to work legally in the country.
"So we're opening it up and asking lawmakers and those who lament about immigrants to send us workers from their districts to take on the agricultural work," said Tellefson.
"It's on them. If they are going to complain that undocumented workers take American jobs then find us workers to sign up to work on the farms."
According to the U.S. Bureau of Labor Statistics working in the agricultural farm fields is one of the top 10 most dangerous in the nation.
Tellefson says it's not right when she hears people say the workers who help feed American families across the nation don't have a right to live and work here.
The appearance of Rodriguez on the Colbert show is an opportunity for UFW to generate public interest in the "Take Our Jobs" effort.
It's also a way to urge Congress to fix the broken immigration system and pass the bipartisan AgJobs bill that UFW has negotiated with growers in the industry over the last decade, said Tellefson.
The measure would give undocumented farmworkers currently here and their family members the right to earn legal status by continuing to work in agriculture.
It's an earned path to citizenship that will also provide more stability and accountability and give farm workers the means to speak up for their rights, says Tellefson.
"It's incredibly important because it also works toward implementing better working conditions for farm workers and really all workers," she said.
Tellefson says the Colbert Report contacted UFW who pitched the campaign to the producers and they loved it.
"We're very excited for the opportunity and it's a good way to confront the reality of the dire situation using humor," she says.
Passing comprehensive immigration reform is key because granting legal status to immigrant workers can only benefit our country economically as a whole, she adds.
"There is a lot of work to be done," says Tellefson.
Currently there are over 27,000 members in the UFW.