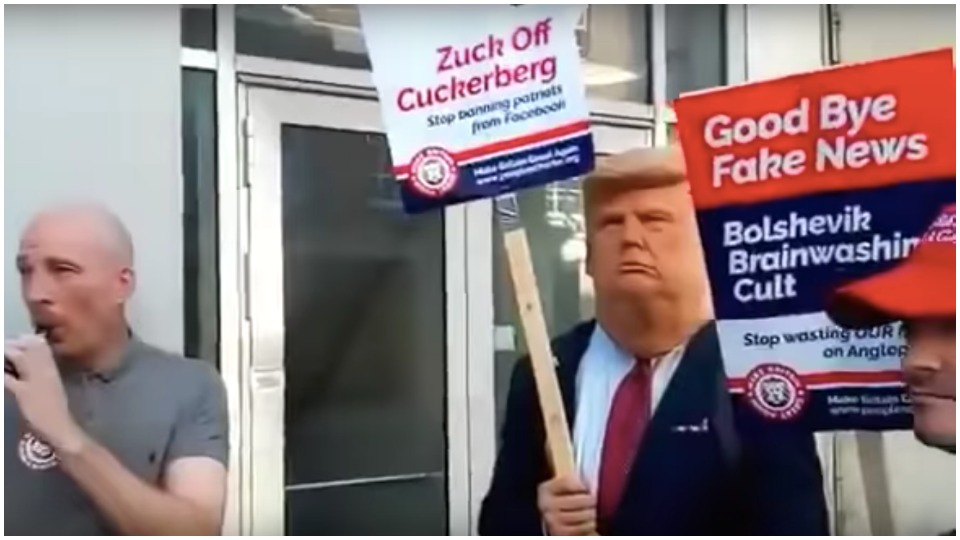 LONDON—Fascist thugs rampaged through socialist bookstore Bookmarks in central London in broad daylight Saturday.
The gang trashed the left-wing store on Bloomsbury Street, which stocks socialist publications and is also the bookseller for the Trades Union Congress, Britain's main labor federation.
About a dozen fascists stormed into the bookstore close to closing time, attempting to intimidate staff and customers as they destroyed books and materials.
Staff member Noel Halifax had just left but saw the gang approaching the premises. He called the remaining member of staff, Senan Mortell, warning him to close the store, but it was too late—the thugs were already piling in.
Mortell told the Star: "There were 12 or 13 of them. One of them was wearing a Donald Trump mask.
"They were chanting stuff about Muslims. Then they smashed our book displays. We have magazines from Unite Against Fascism. They ripped up the magazines and threw them around the shop. They made threats to return and 'show what they can do.'
"Seven or eight of them were well-dressed, the other four of them were more like boot-boys. I recognized one of them. He'd been in a couple of weeks earlier and had shouted racist stuff."
The gang made off after wrecking the store. Mortell added: "They're confident enough to do this at 6:30 pm in a bookshop in central London."
Video footage posted online by Far-Right Watch.
The Metropolitan Police has been slow off the mark, downplaying the seriousness of the incident in a statement today. The force said: "Police were called at approximately 18:35hrs on Saturday August 4 to reports of a protest inside a shop on Bloomsbury Street, WC1. No other offences were disclosed at the time. Police received a second call a short time later stating that the group had left the premises after causing some damage inside the shop. There were no injuries. An appointment has been made for officers to speak with the complainant. No arrests have been made."
Campaign group Stand Up To Racism are taking the incident more seriously. Spokesman Michael Bradley said: "Luckily, no one was hurt this time, but this is a sinister development that indicates the growing confidence of the far right, who feel they can attack a bookshop in central London in broad daylight.
"Attacking a bookshop also exposes their claims to be defenders of free speech as hollow."
Video of the fascists entering the bookstore showed them carrying placards that said "Bolshevik Brainwashing Cult" and chanting, "We Love Trump!" The same signs had been seen earlier in the day at a far-right protest, as were the "Make Britain Great Again" caps were worn by the vandals.
Sunday, the Kensington branch of the Labour Party tweeted: "Buy your books from Bookmarks, who were attacked by masked people shouting fascist slogans last night. You don't have to be a Red Flag-flying communist to understand that this is deeply alarming. This is where the Tory 'hostile environment' leads. Challenge it."
Rupa Huq, member of parliament for Ealing Central and Acton, was quick to respond to the "utterly despicable" incident on Twitter, saying: "Free speech and independent bookshops—under threat in an age where intolerance and Amazon flourish—should be cherished. Utterly despicable."
Morning Star