WASHINGTON (PAI) – Union and worker lobbying, combined with GOP senators' qualms about his issue stands and business practices, forced fast-food magnate Andrew Puzder to drop out of being GOP President Donald Trump's nominee as Secretary of Labor.
Puzder's Feb. 15 withdrawal came after reports that four or five Republican senators definitely decided to vote against him and that he might lose as many as 12 GOP votes. With Republicans holding 52 of the 100 Senate seats, that political loss doomed Puzder.
Unions and their allies hailed Puzder's withdrawal and urged Trump to nominate someone who would speak for workers, not for the corporate class. The Senate Labor Committee planned to hold Puzder's often-postponed confirmation hearing on Feb. 16.
AFL-CIO President Richard Trumka called Puzder's withdrawal "great news for everyone who wants an America where wages rise, benefits are strong and unions are growing. It's a reminder of the collective power of working people and a clear message to President Trump that it's time to change course completely, not double down."
Like other Puzder foes, Trumka singled out multitudes of wage theft violations at Puzder's fast food restaurant chains, his disrespect for workers, his opposition to raising the minimum wage and expanding overtime pay eligibility and, as Trumka put it, Puzder's use of his position as CEO of CKE Restaurants "to enrich himself at the expense of working people."
"People want a Labor Secretary who will hold employers accountable for paying a fair wage and providing a safe workplace while ensuring our right to a voice on the job. President Trump made a lot of promises on the campaign trail about supporting working people. It's time to start turning those promises into action," Trumka warned.
The Communications Workers called Puzder's withdrawal "a victory for working families" which "shows the power of grass-roots resistance." The union also warned "CWA will fight any nominee" for the Labor Department "who doesn't support workers." Government Employees (AFGE) President J. David Cox hailed Puzder's withdrawal as "a victory for working people everywhere."
Cox, too, noted that Puzder is "a vocal critic of the wage and labor regulations he would have been in charge of enforcing as Labor Secretary" and that his fast food chains have led that sector in federal discrimination lawsuits and wage theft cases.
"If he can't stand the heat, he should get out of the kitchen," tweeted Senate Labor Committee member Elizabeth Warren, D-Mass. She had sent Puzder a 28-page letter full of questions about his employment practices and views.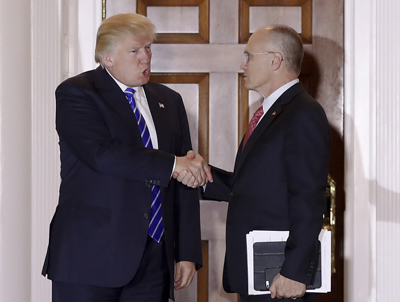 Former Labor Secretary Thomas Perez, whose term ended with Democratic President Barack Obama's time in office on Jan. 20, reminded reporters that Trump is ultimately responsible for Puzder – and for the chaos around the nomination.
"Through this appointment he (Trump) was trying to make it harder for workers to get ahead and stay ahead," Perez said.
Before Puzder dropped out, his nomination prompted protests on Feb. 13 in 24 cities by Fight for 15, the union-backed coalition of fast food workers, including workers at Puzder's eateries. The workers also shut down CKE corporate offices in St. Louis and Anaheim, Calif.
"When we fight, we win!" Fight for 15 tweeted after Puzder withdrew.
And Puzder's stands against basic worker protections led up to 100 current Labor Department employees and 100 retirees to endorse a letter opposing him. They doubted Puzder would enforce laws – against wage theft, equal pay, job safety, and sex discrimination – that he opposes and that his restaurants routinely violate.
The current and former DOL workers started their letter to senators by noting that "none of us has joined a letter like this one before; we feel compelled to do so now because of our serious concerns" about whether Puzder would enforce those laws and "the precious rights the department is responsible for protecting." AFGE Local 12 represents DOL workers.
"We believe that three specific factors disqualify Mr. Puzder from serving as the head of an agency whose primary mission is to protect America's workforce: (1) Mr. Puzder's own business practices; (2) his derisive public comments about his restaurants' employees and other low-wage workers; and (3) his equally troubling public comments and behavior towards women," they wrote.
Added former Labor Secretary Perez: "If I had half the transgressions of Andy Puzder, I never would have gotten through" Senate confirmation.
"From the very start, it was clear that fast-food CEO Andrew Puzder was unfit to lead the U.S. Department of Labor," said Christine Owens, executive director of the National Employment Law Project. "Thanks to fierce opposition from a diverse group of Americans, including people deeply concerned about the treatment of workers and of women, enough senators came to the same realization, forcing Puzder's withdrawal."
"Our base authored hundreds of op-ed letters to news outlets, and generated thousands of calls to senators shedding light on Puzder's disqualifying record," said Jobs With Justice, which, with NELP, co-ran the anti-Puzder drive. "All these collective efforts today paid off! This is a significant victory for working people everywhere." And JWJ declared "We will be ready!" to oppose "another questionable candidate" for Labor Secretary.
Cox said Trump must "nominate someone who will fight to protect workers from discrimination and believes that all employees are entitled to fair wages and safe workplaces."
The White House gave no indication on whom Trump would name in Puzder's stead.