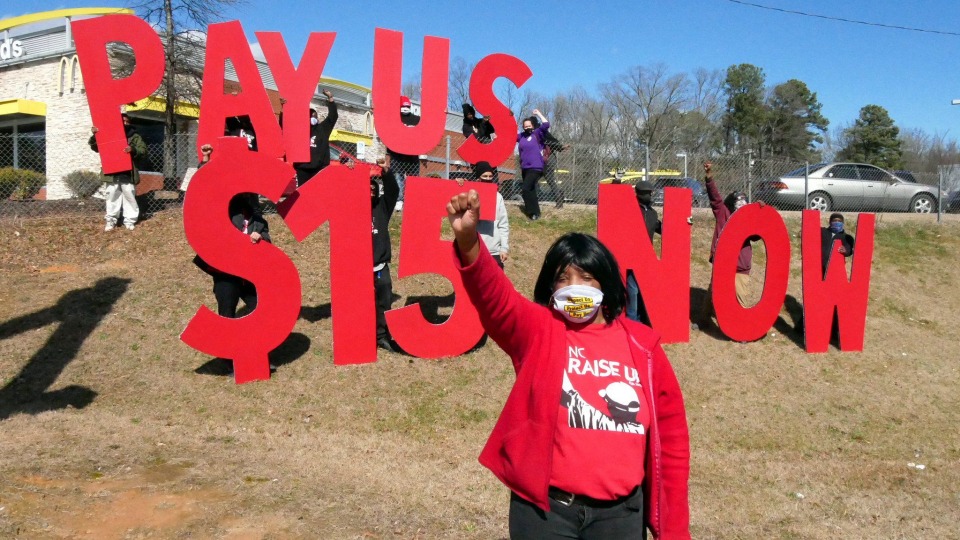 ST. LOUIS (PAI)—For 40 years as a Black pastor in St. Louis, the Rev. Darryl Gray has seen the impact of low-wage jobs not just on his congregants, but on their kids. That's why he and a wide-ranging ministers' coalition support the Fight for $15 and a Union movement—and raising the federal minimum wage to that figure.
"We think it's one of the most vital issues facing our community today, especially communities of color," Gray said during a Feb. 16 Zoom call featuring pastors and St. Louis fast food workers.
"Within service industries" such as fast food, "when America catches a cold, Black America catches pneumonia."
The St. Louis fast food workers walked out that day to demand that wage hike—and that their employers, McDonald's, Subway, Burger King, Jack in the Box, and Raising Cane's, pay them $15 an hour, too.
So did fast food workers in other cities from coast to coast: Chicago, Atlanta, Charleston, S.C., Detroit and Flint, Mich., Raleigh-Durham, N.C., Miami, Tampa and Orlando, Fla., Houston, Milwaukee, Wis., and Oakland and Sacramento, Calif.
Workers in L.A., upset by fast food firms' failure to protect their workers against the coronavirus, had walked out the week before, union-backed Fight for 15 said.
"Most parents are working two full-time jobs just to get one full-time salary," Gray said of his parishioners. "When you have to work like that, it takes time away from the family unit and results in a lot of other things."
The "other things," Gray and other speakers said, are unsupervised kids, who don't do homework, hang out on street corners selling drugs–especially to help their parents make ends meet—and eventually wind up in trouble with the law."
"My grandchild is 20 and he's lost in this society," said fast food worker Frances Holmes. "He feels he could earn more money selling drugs than going to work every day. Fifteen dollars and a union, a livable wage," would put him on a career path.
The pastors and workers kept repeating that point, that a $15 hourly minimum wage, especially through federal legislation, could lift workers and, more importantly, their families out of poverty. Many social problems could be solved if the parents could make a decent living wage, both the pastors and the workers declared.
Congressional Democrats appear to be listening. On a party-line vote on Feb. 9, the Democratic-run House Education and Labor Committee included the $15 minimum wage hike in its section of the "reconciliation" spending bill—Democratic President Joe Biden's $1.9 trillion economic aid bill to battle the impact of the coronavirus pandemic.
Lack of protection against the pandemic prompted the fast food walkout in Los Angeles. Since it was declared last March 13, the plague has seen 27.72 million people test positive nationwide, and 486,812 die through mid-day Feb. 16. That's 186,236 more people than live in St. Louis, and 9,000 short of the population of Kansas City, Mo.
But it's not just the pandemic plague that led the walkouts around the U.S. It's the poverty that low minimum wages plunge people into. The federal minimum wage, $7.25 hourly, hasn't risen in 12 years. The $2.13 federal minimum for tipped workers, such as servers, porters, and taxi drivers, hasn't risen in a quarter of a century.
The Democrats' bill would raise the regular workers to $15 an hour in 2025 and the tipped workers and young workers to that in 2027. "Passing a $15 an hour minimum wage is a moral imperative," Service Employees President Mary Kay Henry said before the latest walkouts. Her union has provided huge support to the Fight for 15 campaign.
"It's what we must do to help working people put food on the table, pay rent and support their families. Only by addressing the problems in our economy that have left workers on a razor's edge can we build back better from our current crisis."
"Congress has used its rules to pass trillions of dollars in tax cuts for billionaires and massive corporations, so now it's time for our leaders to give tens of millions of essential workers a raise. We're not going to stop fighting until we win $15 and a relief package that allows every community to thrive."
Holmes, the St. Louis fast food worker, made one other point that foes of raising the minimum wage, and of the workers' walkouts, ignore: Raising workers' pay puts money in businesses' pockets, too.
"With a $15 an hour minimum wage, those small businesses can pay their employees, who'll put money back into the economy. It'll make the money right and it'll make you right." Other speakers noted the higher minimum wage would reduce worker turnover and retraining costs and boost morale and sales.
"You do a lot of jobs no one else will do," Gray said of fast food and other minimum wage workers. "That's why we'll push and apply voters' pressure on public officials" to support the wage hike.
"We're going to keep fighting for $15 and a union because the 15 won't work without the union," Holmes declared.