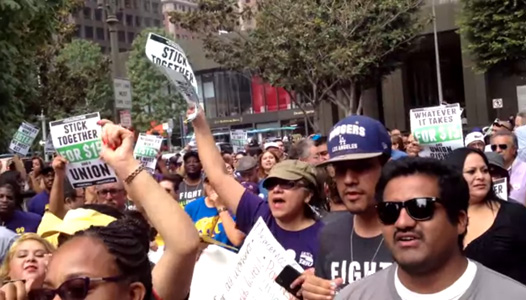 LOS ANGELES – Fast food workers – Black, Brown, White, and Asian united – started out their day Sept. 4 here by picketing at several fast food locations. Workers and supporters picketed a McDonald's in the South L.A. area, entering the restaurant, chanting and leaving.
Then mid-morning, at a Downtown McDonald's, another action took place where workers picketed, and entered the restaurant chanting, "I believe that we will win!" and "15, Union Yes!"
Mid-day they then joined a few hundred supporters waiting for them to march to another McDonald's a few blocks away.
Marching through the streets of Downtown Los Angeles, demonstrators chanted, "When we fight we win" and "15: if we don't get it, shut it down!"
"I'm trying to get through school and pay my bills, and minimum wage is not enough for me to survive," said Jessie Benavides.
Strikers and supporters entered the McDonald's and shut down sales, demanding the right to a union and a livable wage of $15 per hour. Pastor William Smart, speaking as a supporter, stated the unfairness of workers not receiving a livable wage, many with families to support. He also asked for reassurance that the strikers would not suffer any retaliation as a result of their action. The manager agreed that there would be no retaliation and the protesters left the restaurant.
Once outside, the demonstrators sat in the middle of the street in an act of civil disobedience and chanted, "Hold the burgers, hold the fries, make your wages super size!!" and "Union! YES!"
Ten demonstrators were arrested in a show of their commitment to winning a livable wage. Supporters thanked them for their commitment as they boarded the police wagon, recognizing that their wage increase would be a boost to all workers.
Check out the video to get a sense of the action:
Video and photo by Rossana Cambron/PW