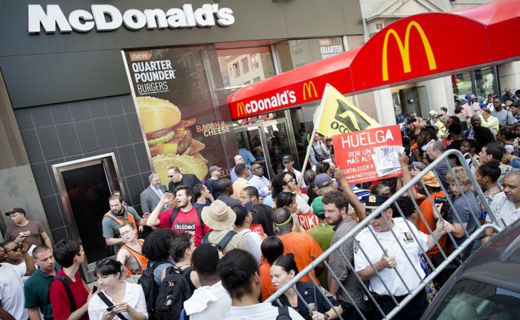 CHICAGO – Fast food workers in cities across the United States are planning strikes and civil disobedience tomorrow, according to organizers.
Preparations for civil disobedience actions have been underway all week, they say, adding that workers are prepared to take arrest in order to get across their message that strikes and protests will not cease until the Fight for $15 movement is successful.
Organized labor, particularly the Service Employees International Union, is backing the protests Thursday. Numerous other unions and a host of community organizations are expected to come out and show their support for the striking workers from McDonald's, Burger King, KFC, Wendy's, Domino's, and other fast food companies.
If fast food workers are arrested here tomorrow, it would not be for the first time.
More than 100 were arrested for trespassing at a peaceful civil disobedience action last May at the McDonald's headquarters in Oak Brook.
A worker at a McDonald's in St. Louis said she was thinking back to the days of the height of the civil rights movement when she accepted the idea of being arrested in order to win a living wage. "I was at the convention in July," she said, "and all of us decided right then and there that it is our duty to do whatever it takes to win this campaign, to fight for our dignity as human beings." She was referring to a massive gathering of fast food workers that met here in the summer. The workers in attendance planned a continuing national strategy of strikes and civil disobedience actions.
She said she needed to strike tomorrow because, after five years at McDonald's, she was making only 75 cents more than the minimum wage and that her hours had recently been reduced. "I'm lucky if get paid $300 every two weeks," she said "and I have to struggle so hard just to make it with the bills. I'm ready to do whatever is necessary to bring the company to talk about increasing pay to $15 an hour."
The national strikes come at a time McDonald's is still reeling from a July ruling by the National Labor Relations Board that says the hamburger mogul is responsible for working conditions at its individual stores even though those stores are franchises.
Photo: AP