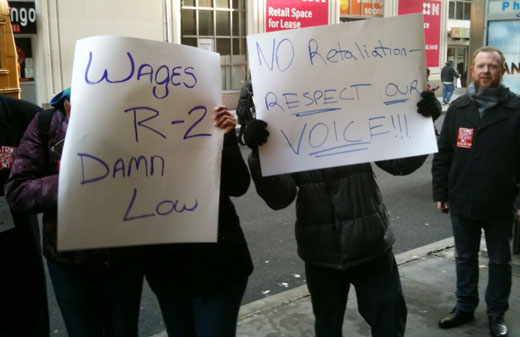 NEW YORK – Low-wage workers with the help of community groups and labor unions are sending a message to the fast food industry Nov. 29, "We can't live on minimum wages and we won't be intimidated." Fast food workers were the latest to take action for dignity and better wages, joining a movement of Walmart retail and warehouse workers, office cleaners and janitors who say, "Stand up! Join together for a better life."
Shaday Martin from New York Communities for Change (NYCC) was on the line at a Burger King here in downtown Manhattan.
"I'm here to help fast food wage workers to fight for fair wages and respect in their stores. Fast food workers have been under paid and working out of class and disrespected and cheated out of money for years," Martin said.
Just about every grassroots movement in New York City is involved in this quest to help those who have to make choices every day: either pay bills or buy food or get health care for themselves and their families.
NYCC, Make the Road New York and La Fuente – to name just a few grassroots organizations involved – along with the NYC Central Labor Council, SEIU and the entire labor movement has taken up the mantel, along with elected officials.
Donovan Richards, chief of staff to Councilman James Sanders Jr., joined the action.
"I'm here to support the workers of Burger King and all the fast food places, it's time for these corporations to do better by their workers. The way they say we want to super size our fries, they should super size these people's pay checks."
He continued, the workers "should be able to afford to come into their own store and buy a whopper and transportation back home. So it's very important that we are here today. We are super sizing the pockets of these corporations; it's time for them to super size the working people's pockets."
The inertia for this growing movement has roots in the Walmart actions that have been taking place around the country. Black Friday was a high water mark of actions against poor working conditions and low wages at the giant retailer.
Burger King's CEO Bernardo Hees' compensation for 2011 was $4 million. The former CEO, John Chidsey, who stepped down in April 2011, left with total compensation $20 million. Those who do the work earn $7.25. Managers don't fare much better at $8.75 in most cases.
Stanley, who has worked in the fast food industry for five months, was on the line, too. He had this to say, "We work hard and we need more money. $7.25, there is no way we can survive with $7.25, the average money, we can't pay bills. We deserve more money we work hard."
As the workers marched on the sidewalk in front of Burger King, their message was clear: we need to be heard, we want respect and living wages. Some were leafleting, as workers inside Burger King came to the front door and smiled broadly, clearly wishing they could join in.
The people's movement that re-elected Obama is on the move. The atmosphere is charged. One observer said, it's unlike 2008 when the movement seemed to sit back expecting the president to fix the economy without the participation of the people's movement. Actions at fast food establishments took place all day around New York City.
Photo: PW/Gabe Falsetta